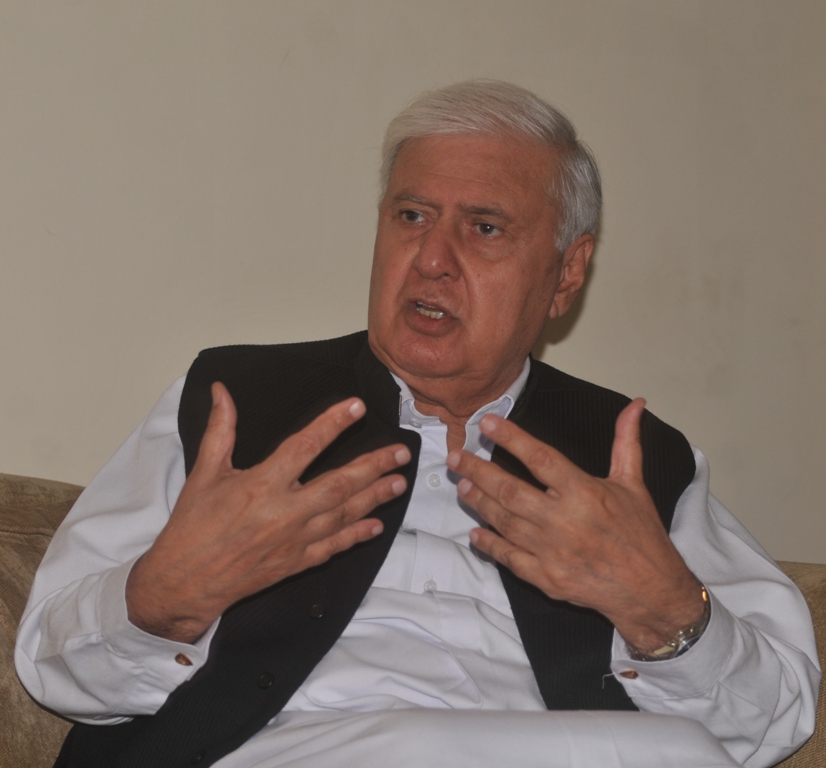 ---
PESHAWAR:



Vowing not to allow anybody to derail democracy, Qaumi Watan Party (QWP) Chairman Aftab Ahmad Khan Sherpao accused the federal government of mishandling affairs of the state and creating a sense of deprivation among people of smaller provinces.




"The federal government has turned a blind eye to the problems being faced by residents of the smaller federating units," he said at a news conference at Watan Kor, the QWP's central secretariat, on Sunday.




"The threat to the federation is more serious than the one to democracy," said Sherpao, "so the federal government should address issues which the smaller provinces are dealing with."

Pakistan Tehreek-e-Insaf (PTI) Chairman Imran Khan was indulging in non-issues as "he does not have the vision to solve problems being faced by Pukhtuns," added the leader. The QWP will soon convene Pukhtun leaders at a conference to seek solutions, said Sherpao.

"We will gather all stakeholders on a single platform to discuss the challenges that confront [our people] in the province," he added.

"There has been injustice with our province," said Sherpao. "We are not interested in 'non-issues'. We want our Pukhtun leaders to sit together and highlight their real issues."

Sherpao also accused PTI of using state machinery to mobilise the Azadi march. Each minister was given Rs15 million to drum up support for the long march, said the QWP leader.

The chief minister (CM) of K-P and his cabinet members misused their authority and wasted public funds, said Sherpao.

"The chief minister was dancing in Islamabad while over 15 people were killed and 60 were injured in the provincial capital," he said, adding there was also damage to the city's infrastructure.

"The CM should have been in Peshawar to monitor relief efforts for displaced families from North Waziristan," he added. Opposing the dissolution of the K-P Assembly, the QWP leader said the PTI-led provincial government had failed to provide any relief to the masses over the last one year.

"The PTI rulers could not improve the working of a single department and now they are looking for excuses to quit power."

Published in The Express Tribune, August 18th,2014.
COMMENTS (1)
Comments are moderated and generally will be posted if they are on-topic and not abusive.
For more information, please see our Comments FAQ