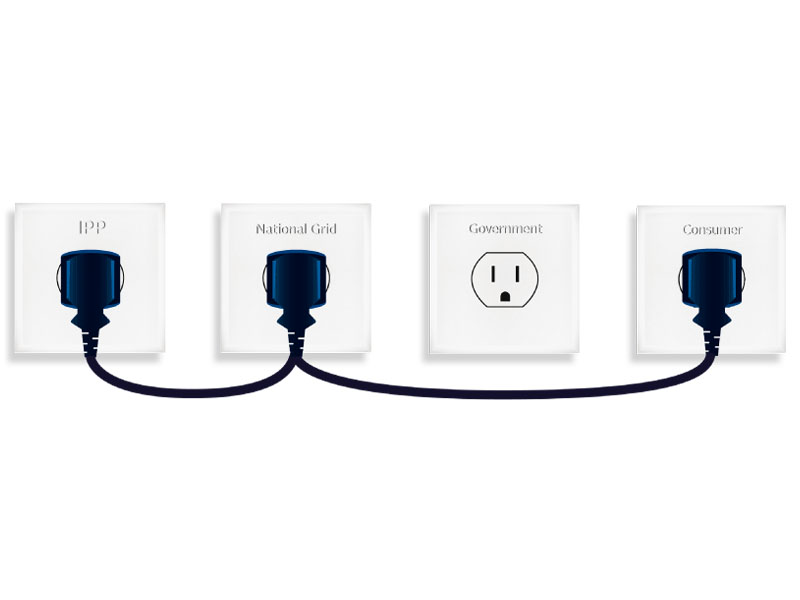 ---
KARACHI:



Pakistan has knocked on a lot of doors, searching desperately for an answer to its persistent power crisis. Inaugurating power projects, looking for alternative fuel sources and signing deals with various investors and countries were a few steps Pakistan took to try and increase the output of the national grid.




For years, Pakistan has also relied on independent power producers (IPPs), the privately run power plants, to meet its pressing electricity needs. Very often that has dragged politicians and bureaucrats into controversy over allegations that they offered undue benefits to crony capitalists. However, this is about to change.

Fatima Energy, a subsidiary of Fatima Group, which has interests in the fertiliser, textile and sugar sectors, has started work on a 120-megawatt (MW) IPP that will sell power directly to bulk customers, eliminating the uproar that surrounds inefficient power producers being allowed to cheat public.

This would be the first time an IPP would not rely on government guarantees, subsidies, tariffs and all the other assorted benefits to carry the business of producing and selling energy, according to company officials and government documents.

"The beauty of this model is that the market will decide the price of electricity," said Toseef Ijaz, Fatima Energy's project director. "Customers will choose if they want to buy electricity from us at Rs10 or Rs15 (per kilowatt hour kWh)."

Under a wheeling agreement, which covers the use of national grid by power producers, Fatima will pay Multan Electric Power Company (Mepco) a certain fee to use its transmission lines for supplying electricity to its customers.

Currently, IPPs sell electricity to the government-owned national grid against a guaranteed and fixed rate of return of around 17%. All the fuel cost, be it gas, furnace oil or diesel is passed on to consumers. The returns are even indexed to neutralise exchange rate fluctuation and the effect of inflation.

But, the energy supply system crippled by its high cost, theft and leakages, often leaves the government under a huge debt as it subsidises consumer tariff before struggling to come up with the finances to pay the IPPs on time.

According to National Electric Power Regulatory Authority (Nepra), the government ends up owing Rs45 billion a year only as mark up on delayed payments.

Fatima's project

The power plant, being built in Muzaffargarh, Punjab, is based on co-generation technology. It will use bagasse, a by-product from its sugar mill located nearby, along with imported coal to produce around 118MW, according to the tariff petition it filed in May 2013.

Initially, the company had estimated the project cost at $235 million with a debt component of $175 million. But it recently announced achieving financial close of Rs21 billion, which comes to around $212 million. The company says the cost has gone up due to rupee depreciation.

When the project was conceived, sponsors were hoping to sell half the power to the national grid – National Transmission and Despatch Company (NTDC) – but that was severely criticised by some officials who insisted that Fatima Energy Limited was more like a captive power plant than an IPP.

Now, the company is going to sell the power to bulk customers who are subsidiary companies of the Fatima Group that include Fatima Sugar, Fazal Cloth Mills, Reliance Weaving Mills and Pak-Arab Fertilizer after signing separate power purchase agreements.

"Normally captive power plants are planned to serve a fixed internal customer mostly as backward integration," said Fatima's project director Ijaz. "This project is a step into opening the market by tapping to a wider customer base."

He says the company is in talks with other bulk customers as well. "We are already seeing a lot of interest in this model. It's a simple equation of someone needing power and us being there to supply it at a competitive price."

The project will come online in March 2016.

The cost factor

The plant will use 496,000 tons of bagasse and 207,000 tons of coal annually. Coal will be imported and transported on trucks from the Karachi Port Trust. Bagasse will be used for four to five months since a sugar crop period lasts this long.

It is also the largest coal- and bagasse-fired power plant in Pakistan.

In its petition, the company calculated the tariff at Rs11.847 per kWh, less than the IPPs using furnace oil.

But the tariff has gone up since the petition was filed last year because of rise in related costs, the company said, without sharing the exact tariff. However, it said the revised tariff is still less than the industrial tariff, which in Mepco's system averages at Rs16 per kWh.

Fatima says that bagasse is used inefficiently in the country and its consumption to generate electricity will add to revenue and profitability of group companies.

What it means moving forward

A wider use of wheeling agreements will change the way consumers are supplied electricity. But, this departure from the existing framework, which greatly favours investors over consumers, depends on how the market reacts to Fatima Energy's initiative.

Former Pakistan Electric Power Company's (Pepco) managing director Munawar Baseer Ahmad said the free market model works when supply exceeds demand or, at least remains enough to meet existing needs.

"That is when a consumer will have a real choice to decide between multiple suppliers," he said. "Right now, the situation is such that people don't have electricity. So they have no choice but to buy it at whatever price they get. I don't see that as a free market."

Wheeling agreements could actually force existing IPPs to cut their profits and lower tariff if more power suppliers like Fatima Energy spring up in the future and convince bulk customers to switch over to them.

Multan Chamber of Commerce and Industry (MCCI) President Khawaja Muhammad Usman said that IPPs' direct sale to bulk customers is need of the hour considering incessant power breakdowns faced by factories across Punjab.

"In the Multan region, we deal with load-shedding spread over 14 to 15 hours a day. Now the problem is even worse since the government no longer prioritises industrial consumers over households or commercial entities," he said.

More importantly, he sees a complete shift from state-run grid to a privately controlled one. "Considering the problems, in a matter of years, businessmen will even be investment in transmission lines to serve bulk customers."

Published in The Express Tribune, August 17th, 2014.

Like Business on Facebook, follow @TribuneBiz on Twitter to stay informed and join in the conversation.
COMMENTS (2)
Comments are moderated and generally will be posted if they are on-topic and not abusive.
For more information, please see our Comments FAQ