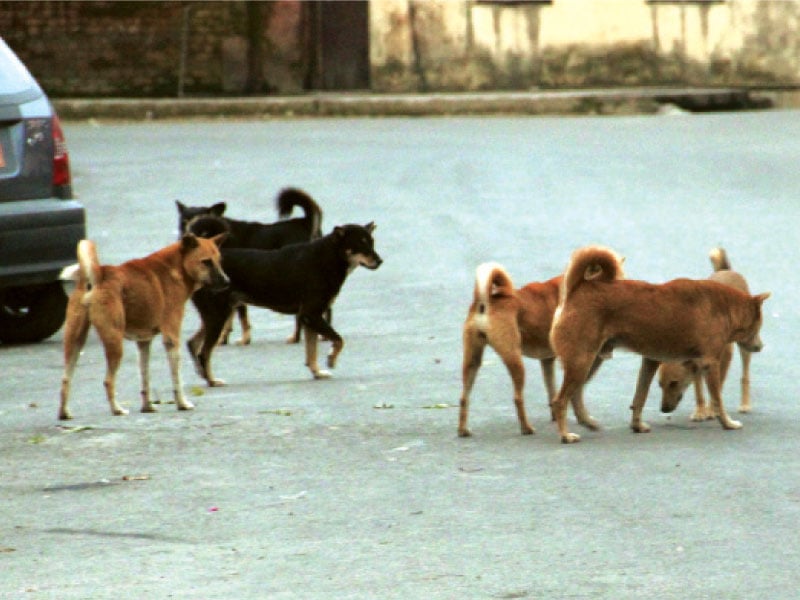 ---
FAISALABAD:



Stray dogs bit more than 1,550 people in Faisalabad and its adjoining areas in July.




Feral dogs cause a number of accidents on roads, especially at night. Herds of stray dogs can be seen roaming almost every locality of the city at night.

Akram Haidar, a resident of Chak 376-GB, told The Express Tribune that his grandfather was bitten by a stray dog on August 10. "We immediately took him to the rural health centre for medical treatment. A doctor told us that there was no vaccine available there. He advised us to take the patient to the Allied Hospital in Faisalabad," he said.

"We immediately hired a private car to take the patient to Faisalabad as there was no ambulance in the rural health centre," he said.

"There are many dogs in our village. No official or team of the Health Department has ever come to kill the stray dogs," Akram said.

Dr Adnan, a spokesman for Health Department, told The Express Tribune that the department had launched a campaign against stray dogs. "During the last week, our teams killed more than 350 stray dogs in various parts of Faisalabad," he said.

He said that there were a lot of stray dogs in Faisalabad and killing them required more time. "All stray dogs in Faisalabad district will be killed in two to three months," he said. Dr Habib Buttar, the Faisalabad Divisional Headquarters Hospital additional medical superintendent, said that the 1,550 dog-bite victims were brought to the Allied Hospital and the Divisional Headquarters Hospital for medical treatment during July.

"Out of them, 700 patients were treated at Divisional Headquarters Hospital and 850 were taken to Allied Hospital for anti-rabies vaccination," he said.

Dr Buttar denied that there was a shortage of the vaccine. "Ample stock of rabies vaccine is available at the hospitals," he said.

He said that anyone bitten by a stray dog should be vaccinated for rabies without delay.

Published in The Express Tribune, August 17th, 2014.