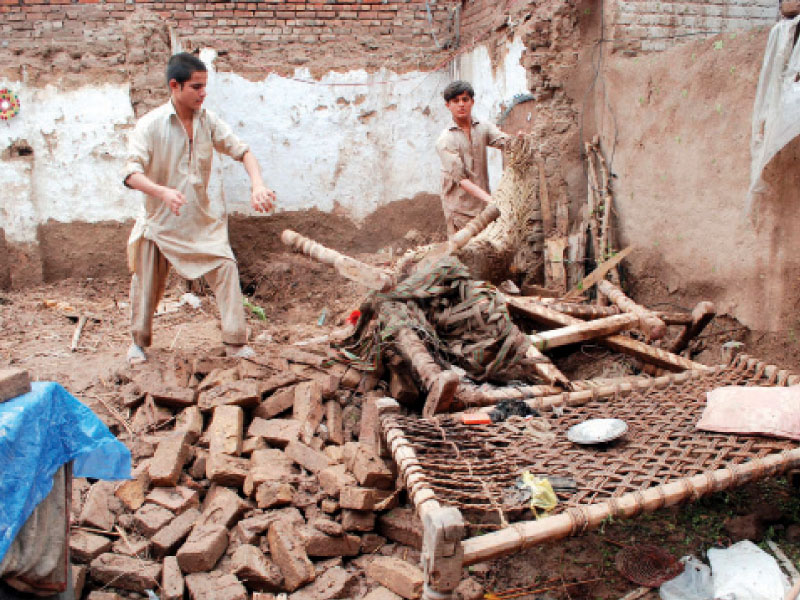 ---
ABBOTABAD/ PESHAWAR:



Fatalities from rain-related accidents in the provincial capital on Friday have now left 21 dead and more than 50 injured.




Spokesperson for Rescue 1122, Bilal Faizi, told The Express Tribune that most of the incidents had taken place due to collapsing walls and roofs, while uprooted trees had also injured people.

Two sisters in Gujarabad area of the city, six-year-old Amna and two-year-old Ayesha, daughters of Younas Khan were killed. Two of Younas' other daughters, Noor and Kainat, were also injured when the roof of their room collapsed after a nearby wall fell on it.

"The father of the girls is a poor man, so I have shifted the family to my house, but the inaction of the government is unfortunate," said Safi, adding that MPA Nighat Orakzai had called them and offered condolences on behalf of Bilawal Bhutto Zardari.

Meanwhile, three people were also killed when a roof collapsed in Landi Sarak on the outskirts of the city.

Khattak steps up

In a statement issued from his office on Saturday, K-P Chief Minister Pervez Khattak announced compensation for the families of the deceased and injured, and declared an emergency at all major hospitals of the metropolis.

The compensation package includes Rs0.3 million for the family of each killed, Rs50,000 for each injured and financial assistance of Rs0.1 million for any person disabled in the incident.

Khattak contacted Peshawar Division Commissioner Munir Azam and directed him to constitute teams to conduct a survey of damages to standing crops and other properties. He also directed the dispatch of relief teams, shifting the injured to nearby hospitals and paying full attention to their treatment. He expressed sorrow over the loss of human lives, properties and crops in the natural calamity.

In his statement, the CM expressed concern over long power outages in the city and directed Wapda authorities to repair the power supply system and redress public complaints. He stressed that besides residential areas, power supply to hospitals and medical facilities should be restored on a priority basis.

Meanwhile, Pakistan Muslim League-Nawaz (PML-N) MNA Marvi Memon visited LRH on Saturday to inquire after the injured and families of the deceased of Friday's incidents.

Speaking to the media on the occasion, Memon said she was visiting the hospital on the directives of Prime Minister Nawaz Sharif. She accused the Pakistan Tehreek-e-Insaf-led government of leaving their people in the hour of need to join a long march to Islamabad. "It is the responsibility of the provincial government to take care of their people and make every kind of arrangement for them during such challenging times." Memon announced Rs100,000 for each family of deceased and Rs50,000 for any injured.

Qaumi Watan Party leader Sikandar Hayat Khan Sherpao visited various parts of the provincial capital to extend condolence and sympathy to the bereaved families on Saturday

While speaking to families that had lost their loved ones, Sherpao said QWP shared their grief and would not leave them in the lurch. He added that power supply was still suspended to many localities, where residents also faced a shortage of clean drinking water. He said rainwater had inundated low-lying areas, but no step had been taken to pump out the water.

In a joint statement issued from Bacha Khan Markaz, Awami National Party President Amir Haider Hoti, General Secretary Mian Iftikhar Hussain and Secretary Information Sardar Hussain Babak expressed condolence for families of the deceased and injured and promised financial compensation for them.

Landslide suspends traffic in Kohistan

The heavy rain that started lashing Kohistan on Thursday evening caused havoc on the roads, suspending traffic on the Seo-Komila road.

Local police and residents reported that the one-kilometre-long road, the only land route between Seo and Komila, was shut at several places after severe landslides. Trees were also uprooted and added to the blockade, forcing villagers to travel on foot as government officials have yet to start clearing the road.

Gulsher Khan, a resident of Seo, said local residents have started clearing the road on their own, but are unable to remove heavy debris which required machinery. Several vehicles have been left stranded, he added. Two chairlifts are the only other means of transport between the two villages along the Indus River, but both have been out-of-order for months.

The heavy rains also caused landslides in various areas of Mansehra, Battagram and Abbottabad.

Published in The Express Tribune, August 17th, 2014.
COMMENTS
Comments are moderated and generally will be posted if they are on-topic and not abusive.
For more information, please see our Comments FAQ