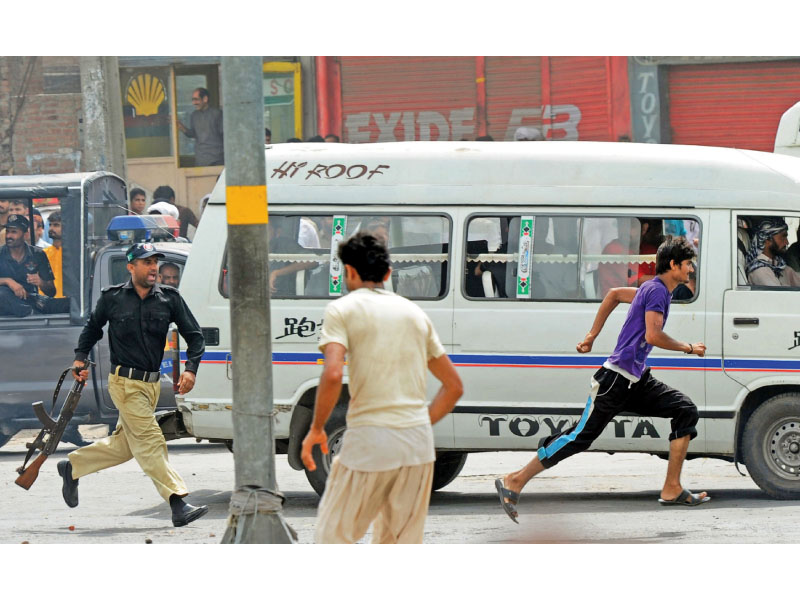 ---
LAHORE:



Azadi march participants were pelted with stones and shoes in Gujranwala when some of them had a verbal spat and a sloganeering match with PML-N activists as the PTI caravan drove past the office of PML-N MPA Imran Khalid Butt.




PTI chairman Imran Khan, vice chairman Shah Mahmood Qureshi, party's Punjab president Ejaz Chaudhary, Women's Wing president Monaza Hassan, Punjab Information Secretary Andleeb Abbas as well as Awami Muslim League chief Sheikh Rashid, who were standing on the shipping container, had to lie down to protect themselves, Abbas told The Express Tribune.

She also claimed that men, some atop police vehicles parked on GT Road, hurled stones and began rioting. Four people received minor injuries in the melee. Imran tweeted on microblogging website Twitter that 300 to 400 PML-N men resorted to stone-pelting.

Workers from the office of Khalid Butt, led by his brother Pumi Butt – who reminded many of the infamous vandal Gullu Butt at Model Town on June 17 – carried out a planned attack against the PTI as men were throwing stones from high-rises adjacent to GT Road, alleged Rana Nadeem, a PTI provincial leader.




PML-N workers also resorted to firing, Abbas and Nadeem claimed. However, an AFP photographer travelling with the Azadi march caravan said he heard no bullets being fired. A group of miscreants also cut the generator's wire, which was used for the sound system at the rally, Abbas added. Workers from both sides also hurled and waved shoes at each other and at the container carrying the PTI leadership.

During his address, Imran said Sheikh Rashid saw the men who opened fire at the rally. "We will approach the courts," he added.

The PTI chief requested all the participants to rush to Islamabad where he will "make an important announcement". The PTI would not allow a Gullu Butt-like government to come in its way and "I would even sacrifice my life for this change", he added.

Gujranwala police told The Express Tribune that it received a call from the DSP traffic that some men had gathered outside Khalid Butt's office and they were blocking the road. Later, the Gujranwala city assistant commissioner said he called relevant police stations.

However, moharrars at Sabzi Mandi, Model Town, Roup and Thulla police stations denied they were contacted and also rebuffed claims any such incident took place. "We got information through the media about this happening," one police officer, requesting anonymity, said.

After consultation with senior party officials, Imran and others left the shipping container and boarded a bullet-proof SUV. The rally finally left tumultuous Gujranwala about 5pm. The deployment of police contingents was increased along the rally route to ensure protection of participants.




The PTI rally had arrived in Gujranwala at 10am on Friday and workers welcomed the convoys with celebratory firing and horse dancing. Imran, along with top party colleagues, had breakfast at the residence of Ali Ashraf Mughal, a party ticketholder.

Information Minister Pervaiz Rashid denied having any knowledge of who was responsible for the clashes. "It is not PML-N's policy to attack a rally," he told Express News. He added that creating hurdles in the way of political rallies had never been the policy of the ruling party.

Action would be taken against any worker who breaches party policy, he added. "We should not jump to any conclusion as it is yet not clear who attacked the rally," Rashid said. He said that he had asked PML-N MPAs to shut their offices located on the route of PTI's rally to avoid clashes. Referring to Pomi Butt, Rashid said if he was found guilty, action would be taken against him

CM takes notice

Condemning the Gujranwala standoff, Punjab Chief Minister Shahbaz Sharif took strict notice of the incidents and ordered an inquiry. He has also sought a report from the IGP Punjab and directed for the arrest of those who pelted stones at the PTI rally. Additional security should be provided to the procession, ensuring foolproof security to the procession as this is the responsibility of the government, he said in a statement.

Pumi Butt arrested

A criminal case had been registered at Sabzi Mandi police station against Pumi Butt and his accomplices for the assault. Security officer at Sabzi Mandi police station Mukhtar Ahmed said an FIR has been lodged under Sections 506, 147 and 149 of Pakistan Penal Code against 35 to 40 persons including Butt. Pumi had surrendered and was arrested with his accomplices, he added.

Published in The Express Tribune, August 16th, 2014.