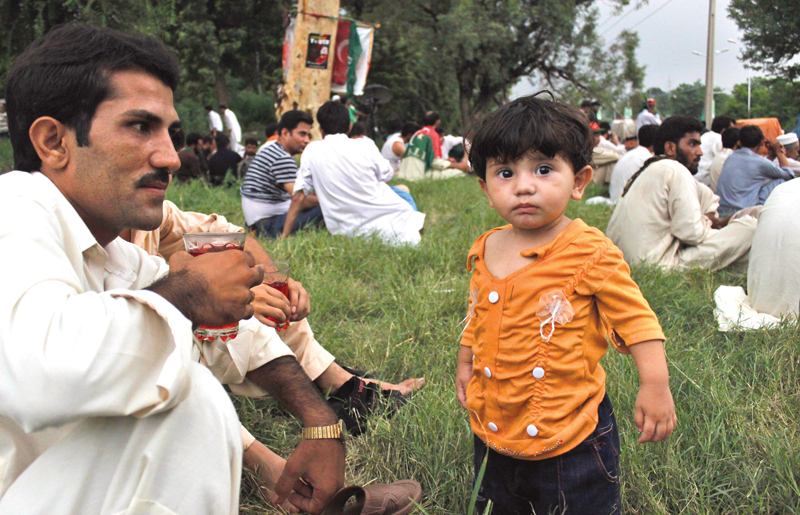 ---
ISLAMABAD: Uncertain about radical 'change' in their province, participants of Pakistan Tehreek-e-Insaf (PTI)'s 'Azadi march' from Khyber-Pukhtunkhwa (K-P) have converged on capital with their leadership for a 'Naya Pakistan'.

Hundreds of PTI workers reached Zero Point Interchange on Thursday night. They can be found dancing and roaming around the area.

They have come all the way from different parts of K-P. But when asked about the purpose of their visit and what they were likely to achieve, most of them were unable to give any convincing answers.

"I know there is not much change in our province and area but we are here on the call of our leader Imran Khan and will stay here till he calls it off," said Hamza Shinwari from Mardan.

Shah Khalid, who belongs from Kohat was of the view that in their area although, there was no radical change but matters in education and health sectors were comparatively better than was the case during the previous government.

Jan Wali, who hails from Nowshera had no clue about the purpose of his arrival but said that he was here because his friends told join them. "Yes, I agree that things in K-P are not up to the expectations, but what we can do," he said curtly.

Many PTI workers were disgruntled as they were left by the party leadership to spend the night under the open sky.

On the other hand, the provincial ministers spend the night at the K-P House. The K-P chief minister and cabinet ministers including Shah Farman, Mushtaq Ghani, Atif Khan, Shaukatullah Yousufzai visited Aabpara Chowk and met the participants.

When K-P Information Minister Ghani was asked why they were here for the march though the people of K-P have yet to see 'change' in their province, he said, "No one can imagine what we have done in such a short time in K-P," while admitting, "People are somewhat satisfied, but a lot still has to be done."

K-P Minister for Public Health and Culture Farman was certain that the days of the federal government were numbered and "change" would hit the whole country.

While talking to The Express Tribune, a number of youngsters kept referring to Imran Khan instead of giving any convincing reply to the questions. "We are here on the call of our leader. Wait for him [to respond to these questions]."

Tawakul Shah, who has come to the capital from Dera Ismail Khan, sat on a green belt, listening to PTI songs being played from a nearby truck. Shah works at a medical store in DI Khan city area.

"Honestly, we have heard a lot about change in the attitude of the police, passage of several laws but the thing which matters most is change in the life of common man," he remarked adding, for that the [K-P] government should be given few more years to prove itself.

But Shah went silent when asked about giving the same 'few more years' to the federal government.

Mohammad Adeel, a PTI supporter from Peshawar said that all of his friends strongly support Imran Khan but they were not clear what 'change' was trying to bring.

Ishtiaq Gul another PTI supporter and a daily wage earner, said, "I wanted to see Islamabad that is why decided to join my friends who were coming here."

He said that he had not brought any food or water with him and had no clue where he was going to stay.

Published in The Express Tribune, August 16th,2014.
COMMENTS (11)
Comments are moderated and generally will be posted if they are on-topic and not abusive.
For more information, please see our Comments FAQ