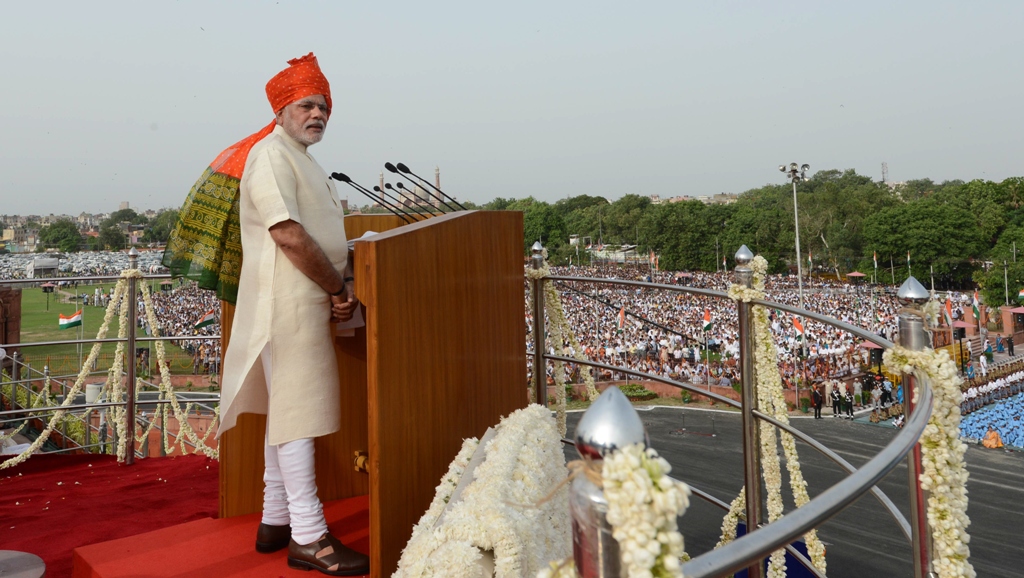 ---
NEW DELHI: Prime Minister Narendra Modi condemned a spate of rapes as a source of shame for India and urged an end to communal violence Friday as he vowed to improve the lives of the nation's poor in his first Independence Day speech.

Modi, the son of a tea vendor who won a landslide election in May, also delivered a withering assessment of the ruling establishment from the ramparts of New Delhi's 17th century Red Fort.

While insisting India had much to be proud of, Modi addressed sometimes taboo subjects such as sexual violence, religious unrest, farmer suicides and a lack of toilets which he said was intolerable in the 21st century.

The right-wing Hindu nationalist also restated his solidarity with the wider South Asian region but held back from mentioning India's great rival Pakistan which is also celebrating its independence 68 years ago.

"We have to improve our national character and we have to put selfish thinking to one side," said the 63-year-old who steered his Bharatiya Janata Party to a first parliamentary majority for three decades.

In one of the most eye-catching passages of a 45-minute speech, Modi said that the levels of rape had shamed India, and he urged parents to take responsibility for the behaviour of their sons rather than put the onus on their daughters.

"When we hear about these rapes our heads hang in shame," Modi said.

"The law will take its own course but as a society every parent has a responsibility to teach their sons the difference between right and wrong."

Anger among Indians over sexual violence has been steadily rising in the last two years, fuelled by a series of high-profile assaults including the fatal gang-rape of a student on a bus in New Delhi in December 2012.

And there was widespread outrage in May when two teenage cousins were found hanging from a mango tree after they were gang-raped in their village in the state of Uttar Pradesh.

The girls, who were aged 14 and 15, were attacked while going to the toilet in fields after dark as -- like hundreds of millions of Indians -- they did not have a toilet in their own home.

"We are in the 21st century and yet there is still no dignity for women as they have to go out in the open to defecate and they have to wait for darkness to fall. Can you imagine the number of problems they have to face because of this?" Modi told the assembled ranks of VIPs.

"People may criticise me for talking about toilets from the Red Fort. But I am from a poor family, I have seen poverty first hand. For the poor to get dignity, it has to start from here."

Modi said India should strive to ensure that every household should have a toilet within the next four years and pledged to ensure that all schools had separate toilet facilities for girls and boys.

Uttar Pradesh, which is India's largest state, has also been the scene of several recent flare-ups in communal violence between Hindus and minority Muslims.

Modi said that communal violence was "stalling the growth of the nation" and had gone on for "too long".

Before becoming prime minister, Modi was the chief minister of the western state of Gujarat where he was in charge in 2002 during one of the India's deadliest chapters of communal violence since independence.

While Modi was accused by his opponents during the election of being too business-friendly, he said his government would take action to allow even the poorest members of society to open a bank account.

Hundreds of farmers have committed suicide in the last decade in a trend that Modi attributed to their inability to pay back private loans.

"It's because they have to take money at huge interest rates from the money-lenders," he said.

"We will have a prime minister's people wealth scheme so that even the poorest of the poor can have a bank account of their own."

Modi said the government would set up a scheme to provide farmers with special guarantees in exceptional circumstances worth up to 100,000 rupees (around 1,650 dollars).

Modi, who has long stressed his "outsider" status, said that since becoming premier he had been taken aback by the departmental infighting and discord between ministries.

"Government should be an organic entity, moving in one direction with a common aim goal. I am trying to break down these walls," he said.

"We have to strengthen the systems in order to realise the dreams of the people."
COMMENTS (24)
Comments are moderated and generally will be posted if they are on-topic and not abusive.
For more information, please see our Comments FAQ