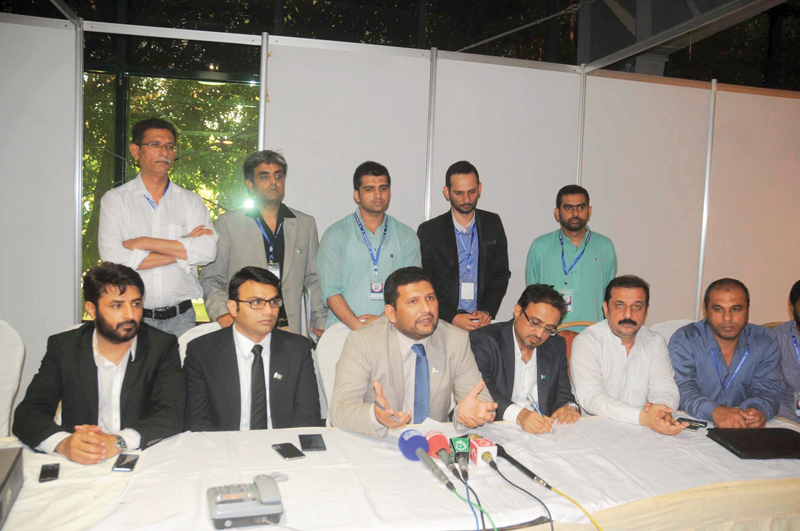 ---
KARACHI: Foreign companies participating in the ABAD International Expo 2014 have signed $200 million worth of trade and investment agreements during the three-day event, which is also expected to lead to further investment agreements valuing $800 million in the next few months, organisers say.

"The building and construction exhibition brought extraordinary results as besides domestic companies, 24 international firms also set up their stalls in the fair," said Mohsin Sheikhani, Chairman of the Association of Builders and Developers Pakistan (ABAD), the organisers of the event that ended on Thursday.

Speaking at a press conference, Sheikhani, flanked by Senior Vice Chairman Saleem Qasim Patel and Vice Chairman Hanif Gohar, said three Chinese building material companies producing switches, tiles and ceramics had expressed interest in setting up their units in Pakistan.

During the exhibition, housing and trading projects worth Rs150 billion were designed and the construction industry planned to initiate more projects valuing Rs600 billion by the end of 2014.

Stressing the need for developing a master plan for the whole country, particularly Karachi, Sheikhani warned that if it was delayed, it would increase problems for the coming generation with the mushrooming of slums.

"Twenty years ago, slums constituted 17% of the area in Karachi, but now the ratio has jumped to 57%," he said. "If the construction industry develops, it will boost the pace of economic growth and create thousands of new job opportunities." In an effort to provide employment to young students, the association of builders has approached many universities for imparting training to fresh graduates in its ongoing projects.

According to Sheikhani, investors from Germany, Malaysia and many other countries want to come to Pakistan, who could assist in reducing the housing shortage. Separately, the builders association has come up with suggestions of low-cost housing schemes for the poor and reconstruction of slums.

"If the government helps execute the plan, a large number of people will get shelter for their families and a society based on equality will develop." He also called for introducing one-window operations for addressing the problems besetting the construction industry.

On the last day of the exhibition, Independence Day celebrations were a prominent feature during which star cricketer Shahid Afridi was also present.

Pakistan Peoples Party Senator Saeed Ghani visited different stalls and said the expo would not only lead to development of the construction industry, but also boost the country's image.

Published in The Express Tribune, August 15th,2014.
COMMENTS
Comments are moderated and generally will be posted if they are on-topic and not abusive.
For more information, please see our Comments FAQ