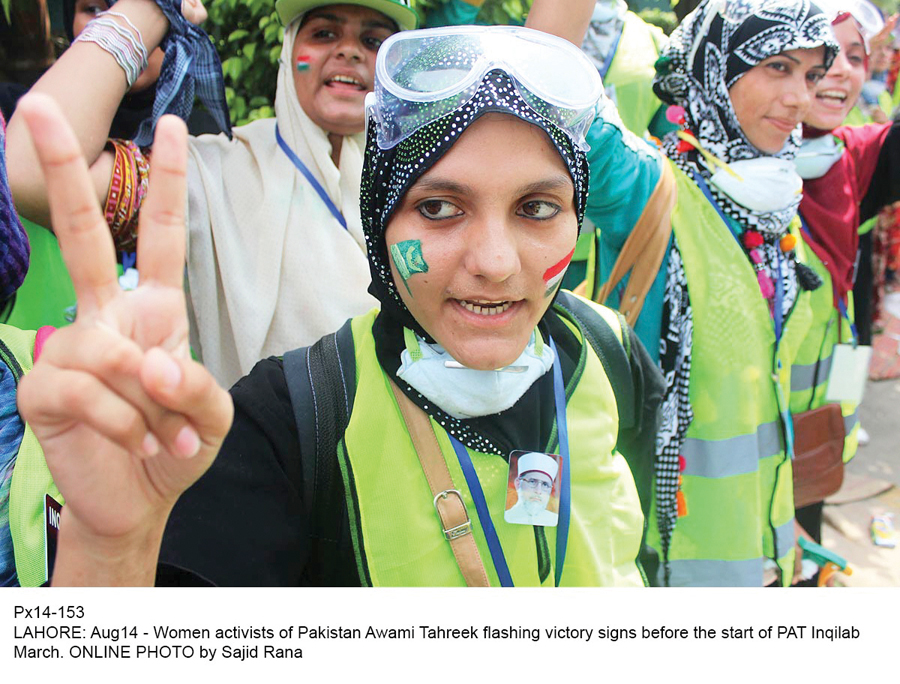 ---
LAHORE:



On Thursday morning, as activists of the Pakistan Tehreek-e-Insaf (PTI) prepared for a long march from Lahore to Islamabad, Robina Shaheen, president of Union Council 95 in Lahore, was busy making several early morning wake-up calls and gathering a brood of supporters at her home for a breakfast of qeema parathas.




"At times you have to be the motherly figure," Shaheen explains, saying she rallied 70 supporters for the day, including eight women from her neighbourhood.




Shaheen is just one of many women who brought together PTI supporters from their respective neighbourhoods and came forward to join teams ensuring security or rescue efforts during the long march.

"From helping to set up tents to making arrangements for the women, several women have engaged in the voluntary preparation of food for their fellow party workers," said Women's Wing Lahore Vice President Tanzeela Imran.

With the rally initialed to leave Zaman Park at roughly 10am, supporters flocked here early and the number of female supporters had greatly increased by the afternoon. An estimated 500 women led by PTI leaders Fauzia Kasuri and Women's Wing Punjab President Saloni Bukhari arrived at the venue as party chairman Imran Khan addressed those gathered.

"The number of women on the march will continue to increase as we move forward," said PTI Central Women's Wing President Munazzah Hassan, who explained that more women were expected to join from Lahore and other areas of Punjab as the convoy proceeded.

While she did not have exact figures on the number of women present, she estimated that thousands would join in as the convoy reached Islamabad.

"We are ready for all challenges and the men in the party have ensured security to the women here," Hassan said. A truck carrying members of the Women's Wing was heavily guarded by male supporters while other women joined the march in their private vehicles.

PAT women prepared for any attack

Female members of the Pakistan Awami Tehreek carried rucksacks, gas masks and bamboo sticks for their protection as they emerged from the Minhajul Quran Secretariat on Thursday. The women formed orderly queues and communicated with other party workers through walkie-talkies.

"We have been victim to the government's aggression before and all our supporters are responsible for their own protection," said PAT Women's Wing Coordinator Farah Naz. According to PAT's official figures, roughly 20,000 to 25,000 women are expected to be part of the rally from Lahore.

Each group of women had a designated 'guide' and male PAT workers accompanied each group. "We were left without water due to the containers around the Secretariat and the water supply was shut off," said 19-year-old Maria Arooj, a student from Rawalpindi who joined one of these groups travelling on foot.

By the evening, many women reported cases of dehydration and fatigue as the rally continued out of Model Town. The rescue teams provided water and aid to these women. Head of one rescue team Kiran Afreen explained, "We are not terrorists, we are common people with genuine concerns and these are ordinary women who have no training in self-defence but they are embarking on this journey on foot."

Published in The Express Tribune, August 15th,2014.