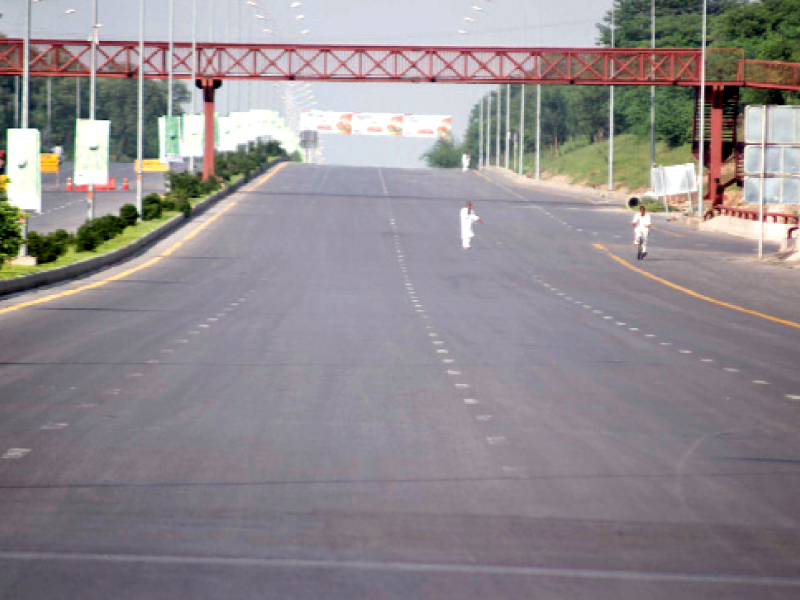 ---
ISLAMABAD:



It seemed that the traditional patriotic zeal was missing from Independence Day celebrations in Islamabad. Although celebratory events were observed at state level, citizens of the capital seemed more inclined to enjoy the festivities from the comfort of their living rooms, with more life seen on social media than in the streets.




That, of course, only extended till the first batch of people planning to participate in the pairing of planned rallies began pouring in from around the country.

The federal capital appeared to be a ghost city, as only a few motorcyclists were seen riding their two-wheelers on the deserted roads. While some enjoyed being one with the roads, others were fuming over being one with the bus stop, as they could not find any transport to move around town.

Small public gatherings and motorcycle rallies were visible around Faizabad Interchange area, but in Blue Area, Aabpara, Jinnah Super, Supermarket and other areas frequented by citizens young in age or just at heart, it appeared as if these hot spots had lost their charm, which could largely be credited to people taking advantage of the long weekend to seek refuge from the country's 'container capital'.

Nevertheless, little has changed for 55-year-old Raja Lahrasab Khan, who followed his decades-old ritual of visiting the capital on his decked up bicycle. "I've been riding my bicycle around the streets on every Independence Day for the last 40 years," claimed Khan.

Khan, clad in a white shalwar kameez with a brown waistcoat, a Jinnah cap and badges over his heart to properly complete the accessory requirements, said that though Independence Day felt different this year, he "wasn't really bothered by it. I celebrate independence throughout the year. On August 14, I can't help but ride through the city on my bicycle."

Ghulam Murtaza, a young rag picker in Blue Area, was not sure how old he is, but he was quite sure it was a day for celebration and fun. Pointing to the plastic flag mounted on his head, he said, "I have put the flag on my head to show people that even poor labourers like me are celebrating Independence Day." Murtaza added that the city appeared as if no one lived in it.

Welcome revolutionaries!

As the evening set in, empty city streets welcomed PTI rally participants from different parts of Khyber-Pakhtunkhwa and northern Punjab. No local leader, however, were on hand around Kashmir Highway to welcome the out-of-towners, and even local supporters only got to the area after seeing the news on television and social media.

While empty streets do not always guarantee safety, no untoward situation arose, and the baton-wielding, gun-toting police contingent seemed overjoyed at the lack of policing they needed to do.

The district administration, however, was busy shuttling containers from one road to another, confused over which roads to block and which ones to leave open.

One such example was evident when roadblocks on Islamabad Expressway near Faizabad interchange were removed, and then restored within an hour.

Later in the evening, the containers were moved to Aabpara Chowk, allowing the participants to use Kashmir Highway for sit-in. The police blocked Shakarparian Road and Seventh Avenue with containers and barricades. A heavy contingent of police was also deployed along both roads.

"We won't allow the participants to go beyond this point," said Traffic SP Asmatullah Junejo. He said the overhead bridge would be used as stage for the leaders. In addition, even though the expressway would be crowded with thousands of protesters, the SP claimed the road would be kept open for traffic.

Edited by Vaqas Asghar

Published in The Express Tribune, August 15th, 2014.
COMMENTS
Comments are moderated and generally will be posted if they are on-topic and not abusive.
For more information, please see our Comments FAQ