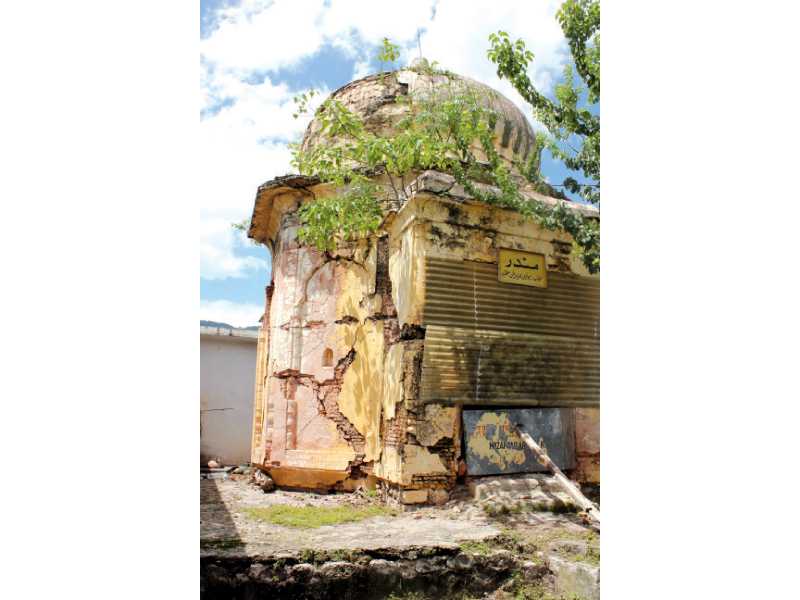 ---
ISLAMABAD:



A number of historical and archaeological sites in Azad Jammu and Kashmir (AJK) continue to face neglect in terms of documentations and preservation.




The region abounds in centuries-old forts, temples and caves, however, most of these sites present a gloomy picture today after years of neglect.

A research group of the Taxila Institute of Asian Civilisation (TIAC) has mapped 100 heritage sites in four AJK districts that need to be mapped. The research shows that most of the monuments are on the verge of destruction.

AJK Tourism and Archaeology Department has the mandate to identify and preserve historical sites. The department, however, has been focusing on tourism only. TIAC Director Muhammad Ashraf says the archaeological sites in AJK need urgent preservation. He said parts of various forts have vanished and the rest are covered by wild bushes.

AJK Tourism and Archaeology Department Director Arshad Pirzada said the department lacks funds to carry out documentation and preservation of the sites. "The tourism department has only the word 'archaeology' attached to it. We do not have funds or staff for archaeological projects," he said.

He said the department is collaborating with the Federal Ministry of Information, Broadcasting and National Heritage and some universities in Pakistan to start excavation work on these sites. The department is also trying to get Rs1 million funds from Unesco for archaeological projects.

Owen Fort

Used as a watch tower, Owen Fort is situated on top of a hill near Jhelum River. Dogras used it to protect the route to Kashmir from robbers and for sending signals through light to the surrounding areas.

The fort has four octagonal bastions at corners with six slits. The different-sized slits were used for sending light signals. The gate has multifoil arches and there are remains of six steps. Stone with lime plaster masonry were used to build the fort. Two wells were constructed with sand stone almost 200 metres from the fort.

Ranbir Singh Baradari

Decorated with various floral and geometrical patterns, the Ranbir Singh Baradari was constructed by Ranbir Singh at Domel, the junction of Neelum and Jhelum rivers, in Muzaffarabad in 1885.

The Baradari (literally meaning twelve doors) is sort of a summer house with entrances on all sides and open arched doors, supported by fluted columns. The two-storey building containing multiple rooms was constructed when Sikh rule was on decline after the sale of Kashmir by the British to Maharaja Gulab Singh under the Treaty of Amritsar. Made in limestone masonry, the Baradari is spread on both sides of the Quaid-i-Azam Bridge.

Shiva Temple

Dedicated to Hindu Lord Shiva, the temple is different from others due to its lingams. In the primary religious ritual, it is honoured with offerings of flowers, milk, water, fruit, leaves and rice. Shivalinga symbolises the creative power of Shiva.

Chak Pandit Temple

The Hindu temple with two shikaras (houseboats) is located in Chamb, Bhimber District. Architectural features of this temple are two shikaras, Garbha-griha, place for lingam, outlet for milk framed panels and stairs. The temple is said to be dedicated to two deities, Lord Krishna and Shiva.  Some parts of the temple have been destroyed.

Published in The Express Tribune, August 15th, 2014.
COMMENTS (3)
Comments are moderated and generally will be posted if they are on-topic and not abusive.
For more information, please see our Comments FAQ