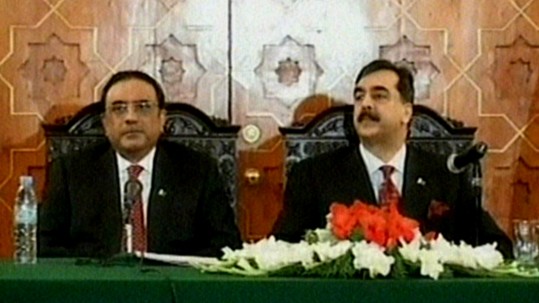 ---
ISLAMABAD: The core committee of Pakistan Peoples Party (PPP) asked the government to immediately implement the UN inquiry report on the assassination of Mohtarma Benazir Bhutto while President Asif Ali Zardari was of the view that the assassins of Benazir Bhutto will be brought to justice at all costs.

According to sources, the meeting of the core committee was held here at Aiwan-e-Sadr with President and Co-Chairman of PPP Asif Ali Zardari and Prime Minister Syed Yousaf Raza Gilani in the chair, which discussed the future course of action regarding probe into the murder of Benazir Bhutto after UN commission's report.

It also discussed other important matters including overall political situation in the country and the ceremony to be held in the presidency for the signing of 18th amendment by the president.

Speaking on the occasion, President Asif Ali Zardari said that the UN inquiry report has vindicated the PPP's apprehensions and that the assassins of BB will not be spared. The death of Benazir Bhutto not only deprived the nation but also the entire world of an international leader. He reiterated that murderers of BB will be unmasked at all costs.

The president vowed to take the reconciliation process forward with all political parties for sustainable democracy and stability in the country. He said the PPP believes in democracy, reminding it had rendered unprecendented sacrifices for the cause.

According to sources, senior PPP leaders during the core committee meeting were of the view that the UN commission's report on BB's murder be implemented forthwith. They said the report points fingers to certain persons and action must be ensured against them, even if they belong to the government.

During the meeting, PPP leaders said though the UN report contains nothing new, delay in the implementation of the report will create further doubts in the minds of the people which will be detrimental for the political future of the party. They further stated that not only the former regime but also personal security of Benazir Bhutto were responsible for her security who did not fulfil their responsibility.

The party leaders said that Pakistani agencies should immediately complete investigation into the murder of Benazir Bhutto and findings be made public. The meeting was attended among others by Minister for Interior Rehman Malik, Minister for Food and Agriculture Nazar Muhammad Gondal, Defense Minister Chaudhary Ahmad Mukhtar, Information Minister Qamar Zaman Kaira, Petroleum Minister Naveed Qamar, Minister for Labour and Manpower Syed Khurshid Shah and Senator Faisal Raza Abidi.