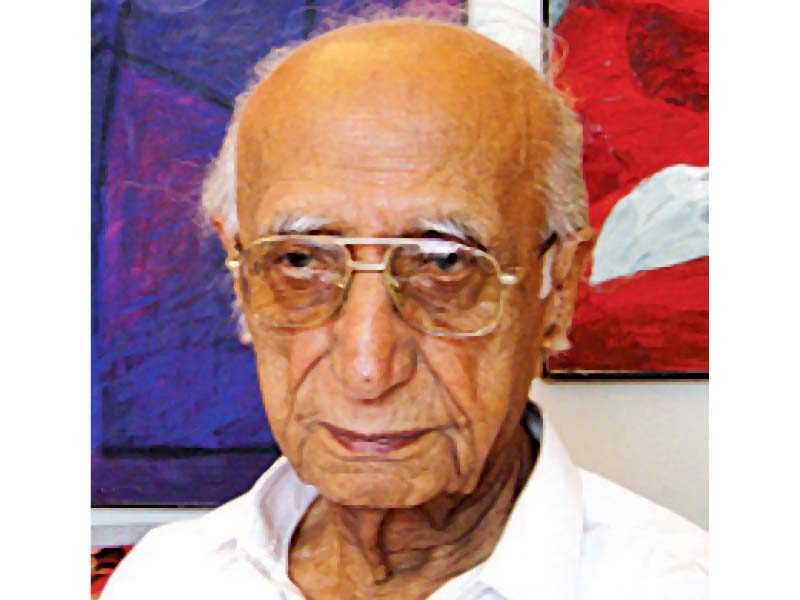 ---
HYDERABAD:



"My life-long contributions to the fields of learning, writing, teaching and education have been my political services for the people," said Muhammad Ibrahim Joyo.




The living legend of literature, who has written, translated and edited hundreds of books and brochures entered the 100th year of his life on Wednesday. Literary notables, academics and the Sindh government's culture department have announced to organise several events around the year to pay homage to Joyo.




In a rare interview on Tuesday, Joyo struggled to recall memories of his parents, school, teachers, books and struggles. He took considerable time to jog his memory to answer the questions and restricted his response to a few words at best.

"My soul guided my pen whenever I sat down to write my books." he said. "I have never asked for royalty for my books because my intention has always been to enlighten the people with knowledge."

Early life

Born on August 13, 1915, in village Abad, located in present day Jamshoro district, Joyo acquired his early education from the local schools and passed his matriculation in 1934 with a distinction from Sindh Madrassatul Islam. He graduated from DJ College, Karachi, in 1938 and started teaching at the Sindh Madrassatul Islam in April 1938, where he stayed for the next two years.

In 1941, he completed his Bachelor's in teaching degree from Bombay, India. On his return, he would introduce himself as a Marxist in Karachi where he continued to teach at the SMI until the year 1947.

The same year, his first book, 'Save Sindh: Save Sub-Continent from Feudal Lords, Capitalists and Communalism' was published.

Political inclinations

His partiality for the communist movement and the men who personified it is still reflected on his bedroom walls where Karl Marx, Friedrich Engels, Joseph Stalin and Vladmir Lenin are the only figures to have found space, besides his own pictures.

He spends most of the day alone in his room, although he likes to meet visitors. Despite his old age, the reading habit has not changed albeit the quantity of reading material has decreased to a few. "I have no interest in television or newspapers. But I still read books with the same interest as in my youth," he said.

Literary works

Joyo has written 52 books, some of which include translations of Rousseau, Plutarch, Voltaire, Paulo Freire, TS Elliot, Shelley, Rabindranath Tagore, Stefan Zweig and Francis Bacon. He has also edited over 50 books of writers and poets the likes of late Shaikh Ayaz and the revolutionary nationalist leader, the late GM Syed.

"I love all the books that I have written or edited because I did this work out of passion, not as a source of income," he said. Joyo claimed he liked his translated book, 'Wehshi Jeewat Ja Nishan' (Savage Survivals) the most. The range of subjects he has written on includes drama, folk stories, history, politics, women rights, sufi saints, language and religion.

His love for books is such that the only schoolteacher he remembers is the late Teeka Mal, the one who instilled in him the reading habit. "I remember him because he helped me develop an avid interest in learning and acquiring new knowledge. He used to worry about the education of his students as if they were his own children."

The centenarian said that the reason for his health and longevity is eating less. "When I was a child, my grandmother used to make me eat butter and yogurt. Since then, these two things have remained an essential part of my diet."

He founded the Sindhi Writers Cooperation Fraternity in 1973, Sindh Friends Circle in 1978, Servants of Sindhi Society in 1980, Sindh Education Trust in 1995 and Shaikh Ayaz Foundation in 1998. He also co-founded several other important organisations and institutions such as the Sindhi Language Authority.

Published in The Express Tribune, August 14th,2014.

 
COMMENTS
Comments are moderated and generally will be posted if they are on-topic and not abusive.
For more information, please see our Comments FAQ