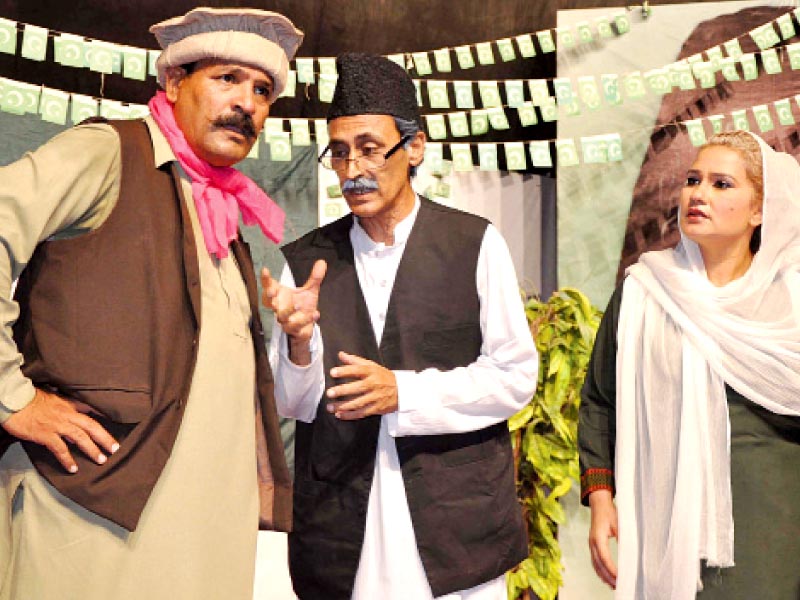 ---


The Rawalpindi Arts Council (RAC) staged 'Hum Zinda Qaum Hain' in the wake of the 68th Independence Day of the country.




RAC Resident Director Waqar Ahmad was the guest of honour at the occasion while Taqrebat-e-Azadi Committee Divisional Convener Sardar Naseem, accompanied by Naheed Manzoor, were also in attendance among a large audience from the twin cities.

The play, written and directed by senior artist Anjum Malik, focuses on multiculturalism in Pakistan and the courage of people to stand united as a nation in face of any catastrophe.

The cast included Sapna Shah, Yar Muhammad, Saleem Afandi, Salman Sunny, Hameed Baber and Dildar Khan, along with Imran Rushdi, Ismael Bshir, Pervaiz Agha and Shehzad Papu in leading roles.

The story's plot starts from a tea house owned by a Pashto speaking family which was visited frequently by people from Punjab, Balochistan, Sindh and Gilgit-Baltistan. The play reaches its climax when some miscreants obstruct the unity of the people by trying to use them for some 'evil' deed. However, the play takes a turn when people unite again in the face of the issue despite their differences.

The play received immense applaud from the audience and Sardar Naseem stated that it reflects the culture of all the provinces of Pakistan. He added that conducting such programmes, especially in the spirit of Independence Day, could assist in the progress of the country.

The chief guest commended the efforts of RAC and stated that the play not only aimed to provide entertainment to people but also a strong message.

Published in The Express Tribune, August 14th, 2014.