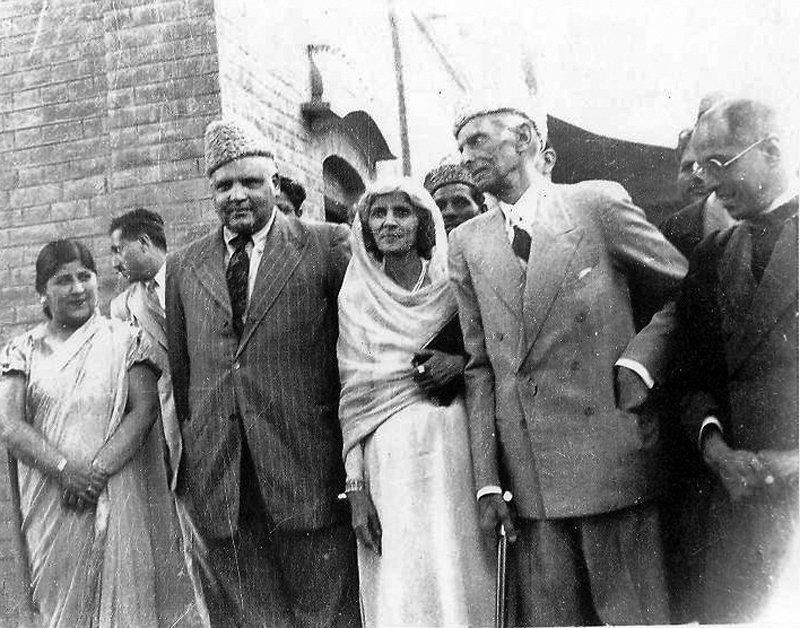 ---
PESHAWAR:
"There was a strange type of joy, when it was announced on the radio that the Pakhtuns had become part of a newly-created country called Pakistan," said Barrister Zahoorul Haq, who was then in his first year at Islamia College Peshawar.



Barrister Zahoorul Haq. PHOTO: FILE




Haq was born in 1931 in Prang near Charsadda and the barrister is considered one of the top criminal litigators in the province. Still practicing, Haq is known for his work on several high profile cases, including the Daniel Pearl murder case in which he was one of the senior prosecutors representing the state. He was also part of the prosecution team in the case against Prime Minister Nawaz Sharif for attempting to divert the plane of General (retd) Pervez Musharraf in 2009.

At birth

On that day [August 14, 1947], the city was lit up," Haq told The Express Tribune. "Huge gatherings and celebrations could be seen around the city," but massive riots in Punjab and other parts of the sub-continent marred the jubilant mood.

"But there were hardly any riots in our province; everything was peaceful and smooth, despite the fact that we had a large number of Sikhs and Hindus, especially in Tirah Valley and Peshawar."


A picture from Life Magazine where Political Agent Nawab Sheikh Mahbub can be seen (at the table) collecting signatures of Swat Ranezai tribesmen for their agreement to be governed by the state of Pakistan. PHOTO COURTESY: FACEBOOK.COM/QISSAKHWANI.

The youth, especially students of Islamia College, had arranged rallies to mark the birth of a new country. The whole day the city resounded with "Pakistan Zindabad", and the streets of Peshawar felt like a festival, said the barrister.

Marching alongside

A few months before the creation of Pakistan, there were several political rallies which could have been polarising—if not outright violent—but were not, said Haq. "The Sikhs arranged their own rallies in support of the Indian National Congress, as did the Hindus. Meanwhile, the Muslims held their own peaceful gatherings," said Haq, "but they never infringed on each other's right of speech."

"Some people left [for India] of their own will while others stayed behind and lived in peace," said Haq. Many Hindus, Sikhs, Christians and others chose to live in Peshawar after Partition because, for them, it was the country of their ancestors. Even if they supported the Indian National Congress throughout the Freedom Movement.

There was an excitement in the air and, "it was that excitement and those emotions that led to the birth" of two new countries.

"It was not about religion, [in K-P] it was never about religion; there was a zeal for Pakistan. And we got Pakistan but then we had to face the music," said the senior barrister. "The anti-Ahmadi riots in Lahore in 1953, the mini martial law…"





Processsion going through Qissa Khwani, April 1947. PHOTO COURTESY: IBRAHIM ZIA.




There wasn't much unrest in Peshawar around Partition, as there was in other parts of the subcontinent, he reiterated, because people who lived in what was then the North West Frontier Province (NWFP) were more about the politics. After all, people of all religions coexisted there for centuries, he added.

He recounted the excitement was palpable, especially in Kohat, Karak, Abbottabad, Bannu and Peshawar. But, Haq added, in a few areas like Charsadda, there was pent up anger against the British government and the way things were dealt with, said Haq. "But even then, they never regretted the creation of Pakistan."

The first bullet

Everything was going peacefully, said Haq. "But then news of bloodletting in other parts of divided India slowly started stirring up things in the city."

It was the beginning of September 1947 when the Sikh sentry in Peshawar's cantonment got into a heated argument with some Muslims over 'Pakistan' and allegedly shot a Muslim man dead.

As a result, on September 7, 1947 a number of Sikhs and Hindus were killed by a senseless mob and properties were vandalised. According to Ibrahim Zia's book Peshawar mazi ke dareechon se, Lord Cunnigham, the first governor of the erstwhile NWFP, wrote that some 100 Hindus and Sikhs were killed in riots. The police was unable to control the situation, at which point the Kurrum Militia was called in to restore peace in the city.

"There was nary a single day's riot in Peshawar but by that evening, things had changed," Centenarian Haji Nazir Khan told The Express Tribune.

Khan owns a Peshawari chappal shop in Saddar but doesn't run it himself due to his delicate health. At the time of Partition, Khan used to work in the Copy Shop Market in Islamia College. He had worked there since before the creation of Pakistan.

"The accident tarnished the people's joy of Pakistan. Security forces rushed to the city and the non-Muslims were taken into protective custody and packed off to India."

The ties that bind

Elders who were around those days often like to narrate that even though non-Muslims were sent over to India, "Unh ko barri izat seh rukhsat kia tha, hum unh ko railway station tak khud chorh keh ayay thay."

It is said two homes in Dagbehsud village in Pabbi which belonged to Hindus who were made to leave still stand today. Their belongings, including their books, were kept safe for a long time.

Many of the affluent Hindus in the province left their valuables and bags of riches in a rush to safety and as popular stories (told in many villages) go, their neighbours ran after them to the station in a bid to make sure their neighbours went off to India with their riches.

On the flip side, many an honest old man and woman have admitted that since many Hindus were well-off, those who were in their debt were less than sad to see them go.

Times of change

In the days around Partition, said Khan, Chowk Yadgar was the place to be to hear all the jalsas—a local speakers' corner. He remembered how people going about their day's chores would pause to listen to speeches as the Chowk was located at the main artery of the city.

"People would listen irrespective of whether the person speaking was from the Muslim League, Congress or Khudai Khidmatgar."

The 100-year-old was there when the referendum was arranged by the British government at Cunningham Park – now Jinnah Park—in July, 1947.

"I can remember thousands of people thronged to the park to vote in favour of Pakistan," added Khan.


But Khan did not need a referendum to know what would happen next; "When Lord Mount Baton arrived in Peshawar by train in April 1947 amid huge cheers and fanfare, I knew we would become a part of Pakistan," said Khan.


Published in The Express Tribune, August 14th,2014.

 
COMMENTS (1)
Comments are moderated and generally will be posted if they are on-topic and not abusive.
For more information, please see our Comments FAQ