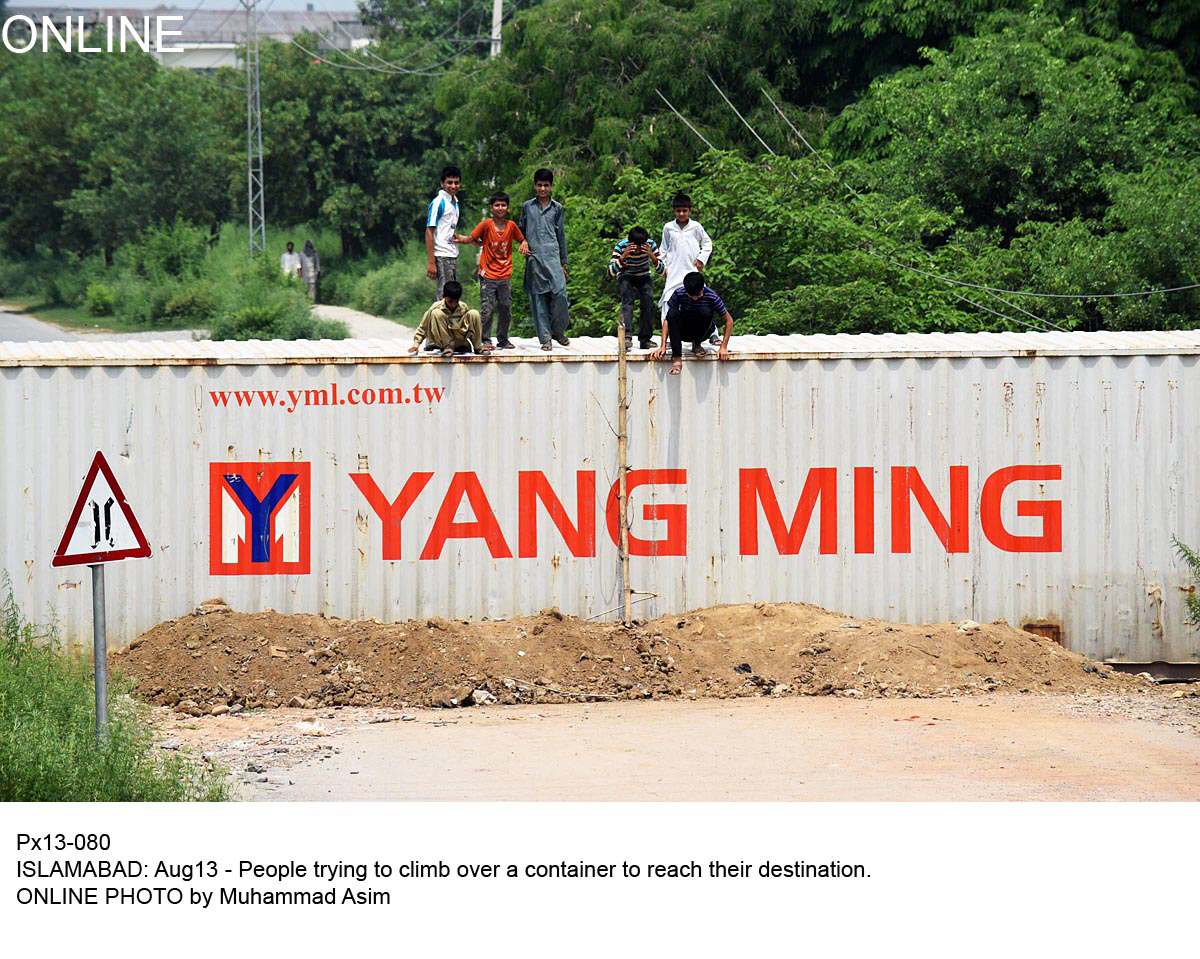 ---
RAWALPINDI/ ISLAMABAD:



As the long marches of Tehreek-i-Insaf (PTI) and Pakistan Awami Tehreek loom over the capital, the twin cities wore a deserted look on Wednesday as traffic and business remained almost non-existent.




Routine life of residents was disrupted with the closure of entry and exit points of Islamabad by placing of containers and other barricades.

To avert any untoward incident, over 10,000 policemen have been deployed at key points in the garrison city, said the Rawalpindi city police officer's spokesperson, Raja Fiaz. A senior police official, on the condition of anonymity, told The Express Tribune that they had not yet received any instructions from the authorities to open up the roads. When asked about the Lahore High Court orders regarding clearing of blockages from entry and exit points, officials said police have not yet been given any instructions about opening main thoroughfares and were following earlier orders.

SSP Islamabad Traffic Police (ITP) Asmatullah Junejo told The Express Tribune that 43 containers were placed on 14 spots on Wednesday which would be increased to 57 on Thursday. He said around 683 ITP personnel will be deployed in the capital to regulate traffic during the 'Azadi Parade' and the PTI's long march.

"We have been directed to seal-off all the roads of the capital on Thursday and there will be no VIP movement as well," said Junejo.

"All roads leading to public hospitals will also be closed and even hospital ambulances would not be allowed to transport serious patients to emergency wards," he said adding that only ambulances of the Red Crescent and the Islamabad district administration will be allowed on the road.

All wedding halls in the capital especially on the Kashmir Highway have also been asked to cancel their events, he said.

Islamabad Police spokesman Naeem Iqbal said around 20,000 personnel of police, Pakistan Rangers, elite force and Frontier Constabulary have been deployed in the capital.

Hospitals on high alert

All public-sector hospitals in the twin cities have been put on high alert in anticipation of the planned marches from Lahore.

The number of patients visiting PIMS also declined on Wednesday.

"In normal days, around 3,000 patients visit the hospital but on Wednesday only 700 patients visited the OPD," said Shaheed Zulfiqar Ali Bhutto Medical University Vice-Chancellor Prof Javed Akram, adding that "All routine surgeries have been postponed till August 17 and we are only carrying out emergency surgeries."

He said 150 beds, extra wheelchairs and stretchers have been arranged to deal with potential emergencies.

Meanwhile, staff, patients and attendants at Polyclinic hospital faced suspension of cell phone services due to its proximity to the Red Zone.

"Due to the suspension of mobile services, we are unable to locate doctors or the other staff in the hospital," said a doctor.

Lack of transport, business

Commuters in the twin cities faced immense difficulties due the shortage of public transport on the roads.

In Rawalpindi, CDA stop, Pirwadhai stop, carriage factory area and IJP Road were completely blocked with the help of earth-filled containers that were bolted with the road.

With little or no transport, citizens were left at the mercy of public transport operators who began overcharging customers.

"It has been an hour now and I am still struggling to get a van to reach home," said Saima Nawaz, who was waiting at the Zero Point bus stop with her three children.

She said that the cab drivers were demanding Rs500 to Rs600 from Zero Point to G-10 Markaz.

Traders and shopkeepers said businesses were badly affected due to the prevailing situation.

"There has been 90 per cent decline in the number of customers. People are scared to venture out and we have no business," said Ashfaq Ali, a salesman at a general store at Karachi Company.

Published in The Express Tribune, August 14th, 2014.