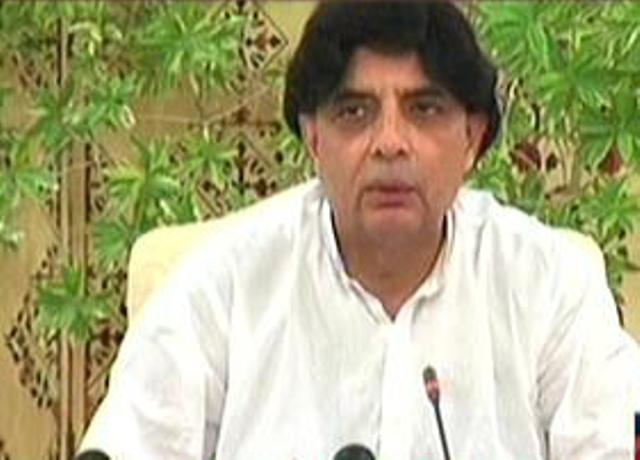 ---
ISLAMABAD: Interior Minister Chaudhry Nisar said on Wednesday that the marches have nothing to do with the army referring to PTI's 'Azadi' march and PAT's 'Inqilab' march to the federal capital on August 14.

Talking to the media in Islamabad, Nisar said that hurdles will not be created to obstruct any political activities that take place within the ambit of the Constitution, adding that "some elements" are threatening the democratic process and instigating the masses against the state.

He added that at a time when the Pakistan Army is fighting a war against militants in North Waziristan, the focus of the nation has shifted to a long march.

Referring to the Lahore High Court's (LHC) decision that no party will be allowed to hold an "unconstitutional long march" or any "unconstitutional sit-in", Nisar said that as long as any party respects this decision they can carry on with their marches after asking for due permissions.

He said that the PTI should write to the district administration seeking permission for their march.

Referring to PTI chairman Imran Khan's demands that Prime Minister Nawaz Sahrif should resign, Nisar said that an elected premier cannot resign on the request of violent crowds.

Attacking Imran's claims that he is leading a march to the federal capital to ensure free and fair elections, Nisar said that if that was Imran's agenda then he should have accepted Nawaz's offer to form a three-member judicial commission to probe rigging allegations.

Defending the road blockades and imposition of Article 245 in Islamabad, Nisar said that the government had intelligence reports from local and international intelligence agencies pointing towards serious security threats to the long march and that some leaders were the targeted. Hence, the decision was taken to implement strict security measures.

"We were damned if we did and we were damned if we didn't," he said.

Further, Nisar said that PAT chief Dr Tahirul Qadri has "no right to protest" and he has given the "license" to kill to his supporters which is unconstitutional.

He also raised concerns over PTI and PAT's decision to march together since now they could not differentiate who was who.