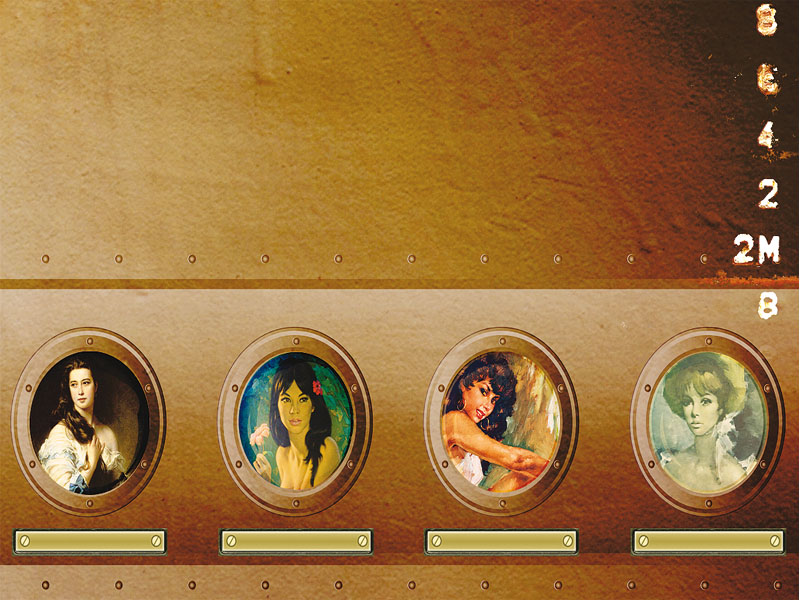 ---
Each of the Pakistan Navy's four Daphné class submarines, Hangor, Mangro, Shushuk and Ghazi, arrived from France in the late '60s and early '70s carrying portraits in oil on canvas. While Shushuk had a Polynesian girl, Hangor carried a gypsy girl by a Hungarian artist named Charles Roka. Mangro, on the other hand, was far apart as she carried a replica from a German grand master's work while Ghazi carried the work of some anonymous artist.


These portraits were gifted by the subamrines' French constructor, the Direction des Construction Naval (DCN) and adorned the vessels' tiny wardrooms. Except Mangro, all others belonged to an art form called the retro-Kitsch — a term used derisively to condemn exaggerated forms of art or that executed in poor taste. For more than 35 years, these portraits remained an integral part of these submarines and provided strange solace to the men who traversed deep waters in their metal confines. After their decommissioning in the mid-2000s, these portraits were removed to the submarine squadron's wardroom ashore, where they still remain on display.

The men at sea

The submariners sailing in these Daphnés were the enfant terrible, operating far away under the oceans. Since the Daphnés carried only enough water for drinking, the submariners remained unshaven, unkempt, and unbathed for long periods of time. But the body odour did not seem to bother them much as the human sense of smell quickly adapts to persistent smells and only detects newer stimuli. They lived surrounded by pipes, cables, noisy equipment, greasy weapons, loud pumps, compressors and an air conditioner that struggled to cope with warmer waters keeping everyone sweating in 90% humidity. Below the decks were hundreds of tonnes of battery cells that smelt of bittersweet hydrogen. There were two hungry V8 diesels that recharged the batteries once or twice a day. While doing so they sucked out the air from within the submarine and made everyone's ears pop. But the submariners felt happy as it was the only time they could puff on their duty-free cigarettes.




They breathed an artificially generated atmosphere that was high on hydrogen and carbon dioxide, and low on oxygen. The air was thick from diesel and hydraulic fluid fumes and sour-tasting vented compressed air. It got worse when their vaporised sweat mixed with it. They sailed several hundred feet below with no means to escape in case of an emergency. A few days into their interminable sea trips, these submariners needed something to remind them that they were human. That is when the DCN's gift became so important.

The girls from faraway lands

The Pakistan Navy fortuitously purchased Ghazi, the almost new, ex-Cachalot of the Portuguese Navy, in 1975. She came with her own retro-Kitsch —  probably given away to the Portuguese Navy in the '60s by the DCN. Its artist remains anonymous, but the poster prints of this work have never lost their popularity across Europe. Even now, a poster sits in an English café called The Cat's Café; another one is in Tunisia, while one turned up just a few months ago at an art auction in Munich.
Lambert, the Englishman responsible for Shushuk's portrait, worked for 40 years for Leyland Motors, a great name in the British automobile industry then. He famously had its female workers dress up and painted annually for the Leyland calendar. Lambert's paintings were the sensual, and not too explicit, centrefolds of that era, adorning the typical working-class teenager's room.



For Shushuk, Lambert took on a different subject. He painted a fictitious Tahitian girl that he named Tehura. This is where Paul Gauguin, the grand French master, had left off with his Polynesian girl series, in the late 1890s, before his death on the Island in 1903. Lambert, unashamedly borrowed from Gauguin's La Femme a la Fleur (The Woman with a Flower) and La Jeuene Femme a L'ventail (The Young Girl with a Fan). He peppered it up with a suggestive gaze, and added some sharp contours to the bodice that perilously clung on to her despite most submariners' lasting wish for a wardrobe malfunction. It smeared Gauguin's work, incensed the critics and did nothing to improve Lambert's reputation as an artist. But Lambert perhaps did far more good to the generations of submariners who sailed onboard Shushuk. His Tehura still remains a very well-known work that sells in poster prints all over the world.




If Lambert was a showman, Charles Roka, the Hungarian artist of the same era was even worse, according to the critics of that time. He churned out Kitsch after Kitsch of the same gypsy girl — referred endearingly as Kvinna by his Norwegian admirers. One of his gypsy pieces, the steamiest amongst the four submarines, was onboard Hangor on the night of December 8/9, 1971, when she torpedoed two Indian Navy destroyers, INS Kukri and INS Kirpan. Kukri broke into two and sank within two minutes with the loss of 172 officers and men while Kirpan was severely damaged. In all, Roka painted this gypsy girl three dozen times before his death in 1999. In 2005, he was honoured posthumously by the prestigious Haugar Vestfold Kunst museum in Tonsberg, Norway, where his work, under the title Kitsch, was displayed for the first time by a gallery of such repute. It seems that Roka's work has finally been recognised.




Bizarrely, Mangro's wardroom was saved from the onslaught of Kitsch. It had a well-made replica of an authentic piece by a German master, Franz Xaver Winterhalter, who was best known for his exclusive portraits of mid-19th century royalty in various European courts. In 1864, he painted a portrait of an aristocratic woman from Czarist Russia named Dmitrievna Mergassov who according to some was also the inspiration behind Leo Tolstoy's tragic heroine, Anna Karenina. Judging from the sadness in her eyes evident in the painting — the original of which remains on display at Musée d'Orsay in Paris — she certainly looks the part.

It seems that the DCN played it safe while refitting Mangro and experimented brazenly with the other three submarines. Its gift to Mangro in the form of Mergassov's portrait gave our submariners something to hold in awe — they gazed at her quiet elegance and modest dignity. She had a melancholy gaze but perhaps too much of blue blood in her for an average submariner's taste. Mergassov was clearly plain and Mangro perhaps was not the right submarine to take long trips on. But Winterhalter's great skill with the brush could be gauged from the way he brilliantly captured her long dark braid with its intricate twists. The several layers of her flowing white taffeta gown and its blue ribbons also bore a dazzling testimony of his prowess.




A journey through unchartered waters

Why did the DCN choose Madame Mergasso and why did it experiment with retro-kitsch for all others? Why not a Renoir replica with its burst of colours, or a Claude Monet, or a Delacroix, or a Degas, or a Tolouse-Lautrec? By carrying these grand masters' works, even if they were replicas, DCN would have given us a piece of France itself. Instead they gave us 1960's trash.

But it was just as well for the Kitschy art. The submariners loved it. It was a time when they took pride in owning art and loved them simply for the lack of knowing anything better. But they could not be faulted for their desire to discover, to experiment, and to develop a taste for the new, the exotic and especially the forbidden.

Learning to become a submariner at a time when less than 10 nations in the world owned and operated submarines was a challenge, and our submariners took it in their stride; much the same way they took these Daphné girls in and made them a part of their proud submarining tradition.

Thick skinned that they are, never the ones to believe in what the righteous might have to say, they simply adored these Kitschy paintings just as they loved their submarining profession. There were a few exceptions of brief religious command tenures in the 90s when these girls found their makeshift homes in lockers ashore — only to be recalled with the change of command. For the most part, these girls faithfully served the submariners.




Looking back at those decades with these girls, the '60s remind us of a progressive time in our nation's history. That was a time when we were asserting ourselves in the world as a fast-developing, modern, progressive and a tolerant new nation. That's when we stood taller than South Korea and Malaysia of that epoch. We did not have fixed ideas on morality and public piety either. We loved when something looked good and we did not seem to care about much else. That is indeed what art is supposed to do — inspire us and make us happy. Forty-five years later, we are still talking about these Daphné girls and that says much about their lasting effect on our submariners.

Saquib Saeed is a proud submariner who, like his predecessors, wistfully stared at all the kitschy ladies at sea. 

Published in The Express Tribune, Sunday Magazine, August 17th,  2014.
COMMENTS (14)
Comments are moderated and generally will be posted if they are on-topic and not abusive.
For more information, please see our Comments FAQ