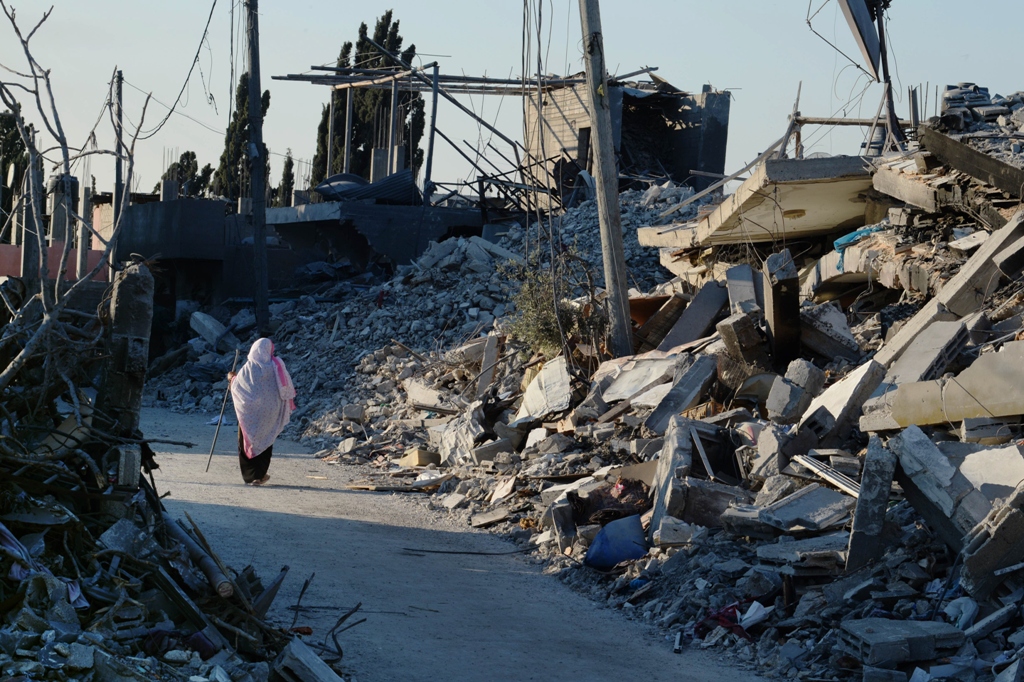 ---
JERUSALEM: Israeli and Palestinian negotiators in Cairo will readdress the thorny issue of a ceasefire and Israel's Gaza blockade Wednesday, as the clock ticks down to a 2100 GMT deadline ending a 72-hour truce.

By that time, Israeli and Palestinian negotiators in the Egyptian capital must have either agreed on a permanent truce, accepted an extension or risk a resumption of more than a month of bloody fighting.

"There has been progress, but not enough to sign an agreement, the negotiations will resume Wednesday", a member of the Palestinian delegation told AFP after the latest round of negotiations, without giving further details.

The Israelis flew back to Israel, airport officials said, for likely consultations with their government.

As Gaza's residents ventured out into the quiet to try to piece together their battered lives, negotiators held a second round of indirect talks Tuesday aimed at finding a durable end to the five-week confrontation.

A senior Israeli official earlier told AFP there was still a long way to go to agree an end to the conflict, which erupted on July 8 when Israel launched military operations to halt cross-border rocket fire from Gaza.

"The negotiations are difficult and gruelling," a Palestinian official had said of Monday's opening talks, which lasted almost 10 hours and which were described as "serious".

Before negotiators met Tuesday an Israeli official played down the chances of success.

"The gaps are still very wide. There has not been progress in the negotiations," he told AFP.

The teams gather in separate rooms at the headquarters of the Egyptian General Intelligence and never see each other, with mediators shuttling between them with proposals and counterproposals, a source said.

Hamas wants Israel to lift the blockade it imposed on Gaza in 2006 before it will stop rocket attacks. Israel has said it will only facilitate Gaza's reconstruction if the enclave is fully disarmed.

In Istanbul, a coalition of activists said on Tuesday they would send a flotilla of blockade-busting ships to Gaza by the end of 2014, four years after a similar attempt ended with a deadly raid by Israeli commandos.

"We plan to send the flotilla during 2014," the Freedom Flotilla Coalition, comprising activists from at least 10 countries, said in a statement.

It did not give a specific date or an estimate on how many vessels or people would participate.

In a sign that Israeli Prime Minister Benjamin Netanyahu faced domestic political battles to sell any deal to his fractious coalition government, he called off a planned meeting of his security cabinet on Tuesday.

Instead, he invited key ministers, mainly hawks, for private meetings, Israeli media reported.

Egypt brokered the three-day truce which took effect from 2101 GMT Monday, and has urged the warring sides to make every effort to reach "a comprehensive and permanent ceasefire".

Efforts to extend a similar 72-hour lull last week shattered after Hamas refused to hold its fire beyond the deadline, accusing Israel of rejecting a lifting of the blockade.

Both sides said they were ready to resume hostilities if the talks failed again.

Israeli Intelligence Minister Yuval Steinitz warned that without a reasonable outcome to the talks, there could be another ground operation in Gaza.

"Either there will be a reasonable resolution of the situation in Gaza, or, if the fire resumes, we will have to consider... an expansion on the ground, overthrowing the Hamas authorities and the demilitarisation of Gaza by ourselves," Steinitz told army radio.

Finance Minister Yair Lapid told AFP he was pushing for an international conference on Gaza's future that would involve regional players as well as Washington, the European Union and Arab states such as Saudi Arabia.

"We think that Palestinian Authority president Mahmud Abbas should take control of Gaza and be active in its reconstruction," the minister told AFP.

Palestinian negotiators have expressed a willingness to see the PA assume responsibility for Gaza's reconstruction and implement any deal signed in Cairo.

Israel has no direct dealings with Hamas, whose charter calls for the destruction of the Jewish state.

Meanwhile, Israel lashed out after the UN Human Rights Council named experts who would be involved in an inquiry into its Gaza campaign.

Canadian international lawyer William Schabas, who will head the commission, is widely regarded in Israel as being hostile to the Jewish state over reported calls to haul Netanyahu before the International Criminal Court.

"This commission's anti-Israeli conclusions have already been written, all it needs is a signature," railed foreign ministry spokesman Yigal Palmor.

Schabas denies being anti-Israel.

Speaking in Caracas, Palestinian foreign minister Riyad al-Maliki said Tuesday the UN probe would prove Israel committed war crimes and violated humanitarian law during its Gaza offensive.

"We are going to cooperate with this commission when it arrives in Palestine," he added.
COMMENTS
Comments are moderated and generally will be posted if they are on-topic and not abusive.
For more information, please see our Comments FAQ