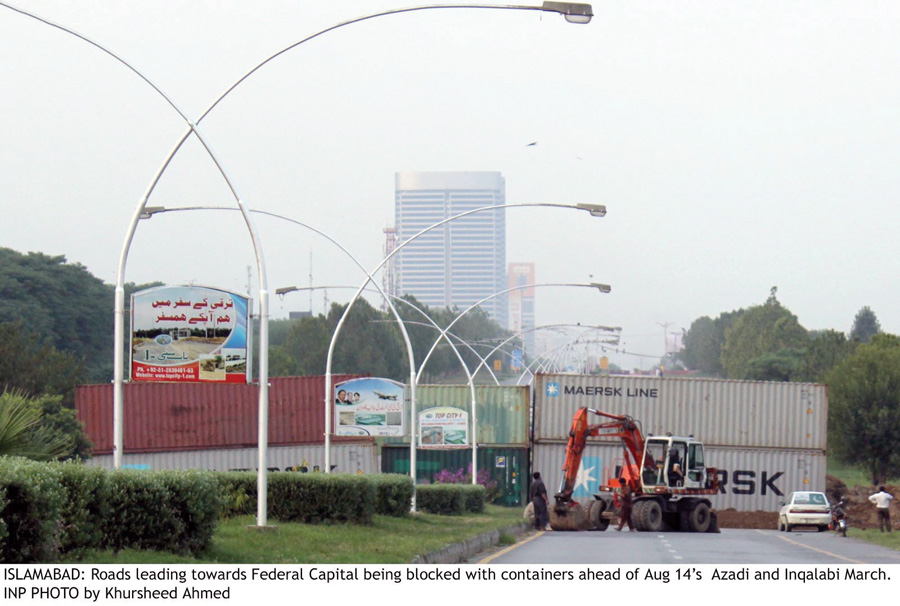 ---
ISLAMABAD: Authorities in the federal capital started placing containers and digging walkways on Tuesday in an effort to block the entry of long march protesters affiliated with the Pakistan Tehreek-e-Insaf and Pakistan Awami Tehreek on August 14.

All entrances to the city will reportedly be completely blocked by tonight (Wednesday) with a total of 900 containers. All mobile phone services in the Red Zone, Presidency areas and Islamabad Convention Centre have been suspended and will remain cut off until further orders from the National Counter-Terrorism Authority.

Additionally, 3,000 Frontier Constabulary personnel are expected to arrive in the city to bolster security arrangements on Independence Day.

Policemen deployed in the Red Zone have complained that they have not been permitted to return to their barracks. "We have not been allowed to go to our barracks to change our uniforms for the last three days," a policeman said. Police personnel deployed along the Expressway have orders to remain there round the clock. A total of 21,000 law enforcement personnel have been deployed in and around the federal capital.

"We have not been provided with waste bins and we have no option but to throw leftover food, plastic bags, glasses and used cigarettes along the green belt," said a police official from Azad Jammu and Kashmir.

On Tuesday, Interior Minister Chaudhry Nisar issued a statement saying the government will not allow any 'violent crowd' into the capital. "If a violent crowd is allowed in this time, a more violent crowd will come up in the next few months and grab power by force," the statement read. "We will not let Pakistan become Somalia, Iraq or Libya." The statement was issued after a meeting of the city administration to review the security situation.

The minister was earlier scheduled to hold a news conference, which was cancelled at the eleventh hour, without any reason provided. Security agencies have reportedly informed the government that once the PTI, PML-Q and PAT workers enter the capital, it will be difficult to control the situation.

"We cannot let loose in the federal capital those who are talking of breaking limbs of police and killing their own people," the minister's statement said. Administrations in the twin cities have been asked to coordinate and no 'unauthorised' person will be allowed to enter the Red Zone on August 14 or even after that.

Published in The Express Tribune, August 13th,2014.
COMMENTS (1)
Comments are moderated and generally will be posted if they are on-topic and not abusive.
For more information, please see our Comments FAQ