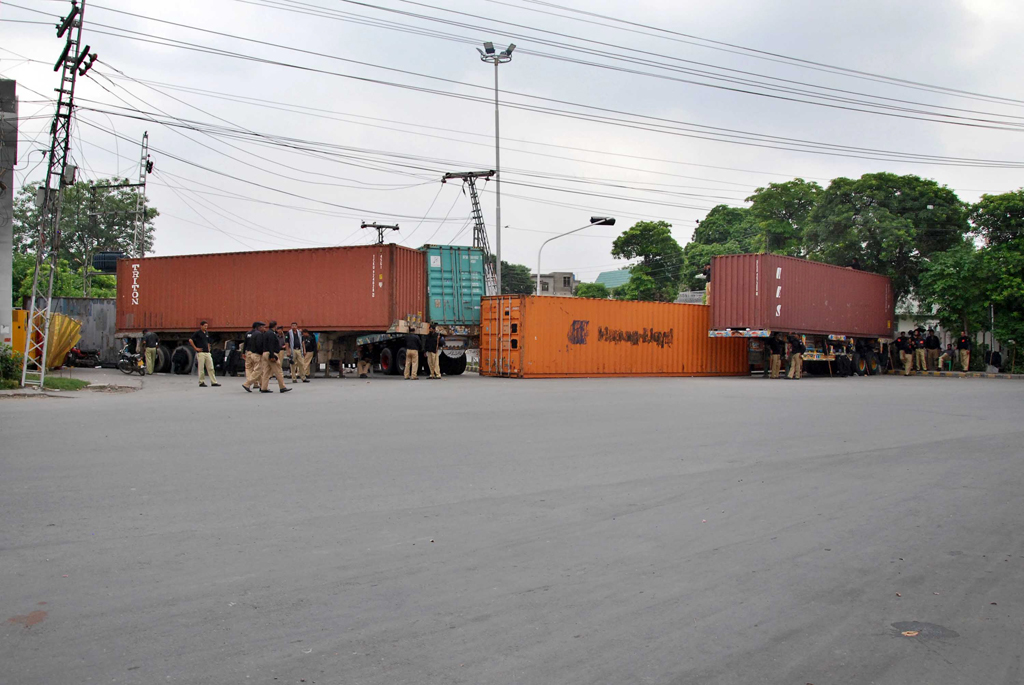 ---
LAHORE: The Punjab government has decided that Pakistan Awami Tehreek (PAT) chief Dr Tahirul Qadri and his workers will not be allowed to leave the Central Secretariat of Mihajul Quran International for the 'revolution march', a senior police official said on Tuesday.

All main roads, link roads and streets leading towards Qadri's residence and Secretariat's surrounding areas were sealed off in the early hours of Tuesday, as an estimated 50 additional shipping containers and barbed wire were placed in the area.

At least 120 containers have been placed at main roads, including Akbar Chowk, Faisal Town roundabout, Mariyan Stop and Barkat Market and all connecting streets. On main roads, where PAT activists removed containers three days ago, the administration has reportedly quadrupled the number of containers, placing them back-to-back.

Police officials said this is to prevent any removal of the containers by party workers. Even if these containers are removed, heavy police contingents with rubber bullets and teargas shells are prepared to stop the activists from leaving the area, a police official said.

Dozens of containers were transported overnight to Peco Road, Akbar Chowk, Faisal Town, Model Town, Garden Town, Barkat Market, Jinnah Hospital, Model Town Link Road, and Muhammad Pura (Mochi Pura). The containers have blocked routes leading to Model Town and M Block, where Qadri's residence is situated.

PAT workers have equipped themselves with sticks, gas masks, shields and swimming goggles to protect against the use of teargas. The PAT administration said gas masks would also be provided to the marchers.

Since the Model Town is under siege, PAT Punjab's vice president Muhammad Ilyas, who suffered a cardiac arrest, died after he was not allowed to be transported to hospital, Qadri's principal secretary GM Malik told The Express Tribune.

Shops at Maulana Shaukat Ali Road, outside Faisal Town, were forcibly shut and the route to the PM's residence was sealed. Mobile phone services in Model Town extension, Faisal Town and Township have also been suspended.

A police official said further contingents have been called on the orders of IGP Mushtaq Sukhera from police lines in Multan, Layyah, Bhakkar and Sheikhupura.

PAT supporters undeterred

Despite the blockades, a large number of PAT supporters, including women and children, continue to arrive at the party secretariat from Karachi, Hyderabad, Jamshoro, Bahawalpur, Multan, Rajanpur, Faisalabad, Peshawar, Quetta and other parts of the county.

"If the government tries to restrict Qadri sahib's movement, it will be the last nail in the corrupt government's coffin," said one supporter, 25-year-old Abubakr, an IT student from Hayatabad.

"I was stopped at a number of places but in vain," said 65-year-old Hajra Bibi, who arrived at the secretariat from Rajanpur. Muhammad Ali, a college student from Faisalabad, told The Express Tribune that he arrived via train and then on foot to reach the secretariat.

Meanwhile, the Lahore High Court directed police to remove all unnecessary containers from various points in Model Town in order to ease movements of residents. The AGP said police pickets will be established at points where the containers are removed.

Justice Syed Iftikhar Hussain Shah asked Advocate General Hanif Khatana and the IGP to meet with the petitioner's lawyers and decide if the blockaded points could be opened.

After the meeting, the law officer, IGP and the petitioner said they have resolved to remove containers from Model Town J-block, H-block and Jinnah Hospital. The petition also objected to containers at Ravi Bridge. But the police said containers have not been placed here.

Published in The Express Tribune, August 13th,2014.
COMMENTS (6)
Comments are moderated and generally will be posted if they are on-topic and not abusive.
For more information, please see our Comments FAQ