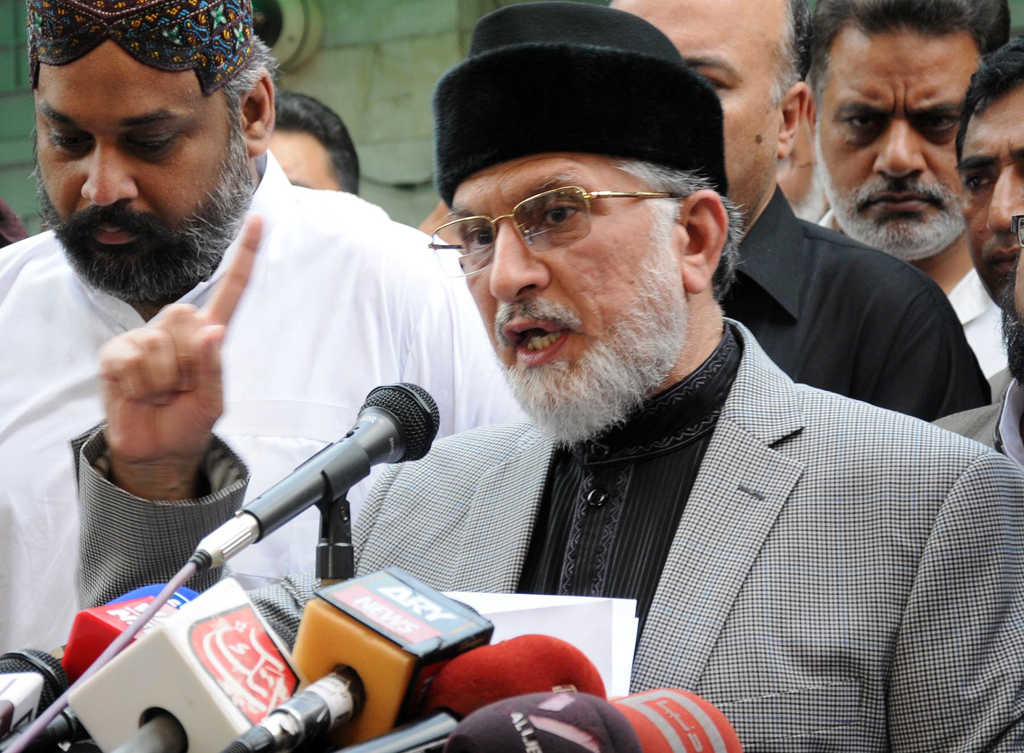 ---
LAHORE: Reacting to Prime Minister Nawaz Sharif's speech, Pakistan Awami Tehreek chief Dr Tahirul Qadri said the premier should have mentioned Model Town operation in his speech.

Qadri flayed the PM, saying the premier should have mentioned how his government did not even let the families of 14 workers who were killed and 90 others who were injured to register FIRs.

Asking Nawaz to take credit for incidents of firing at PAT activists who were travelling in buses to attend Yaum-e-Shuhada, Qadri said Nawaz should have also mentioned how thousands of women who are missing are still in police custody.

Qadri further lamented that the Prime minister should have also mentioned how his government had successfully converted Lahore's Model Town into Gaza by sealing the area using containers.

Claiming that only casting votes is not democracy, the PAT chief said democracy is a system of governance which delivers the most to the people. That it was the name of accountability, provision of rights, and dispensation of justice.

PAT Punjab vice-president passes away

Pakistan Awami Tehreek (PAT) Punjab's vice president passed away on Tuesday after police allegedly refused to allow him access to a hospital, The Express Tribune has learnt .

According to GM Malik, the Principal Secretary to Dr Tahirul Qadri, Dr Muhammad Ilyas, a resident of Rahim Yar Khan and vice president of PAT Punjab had suffered a cardiac arrest.

PAT workers sought help from Rescue 1122 while also moving him in their own ambulance, but police deployed around Minhajul Quran secretariat did not allow him to be shifted outside the cordon.

Malik claimed that for several hours ambulance carrying PAT vice president moved around the besieged area, requesting police officials allow him passage. But police officials deployed at every check point allegedly turned him back.

He further claimed that Lahore police have sealed all the routes leading towards Minhajul Quran secretariat and Qadri's residence by placing containers and barbed wires in order to stop PAT workers from joining the August 14 march.