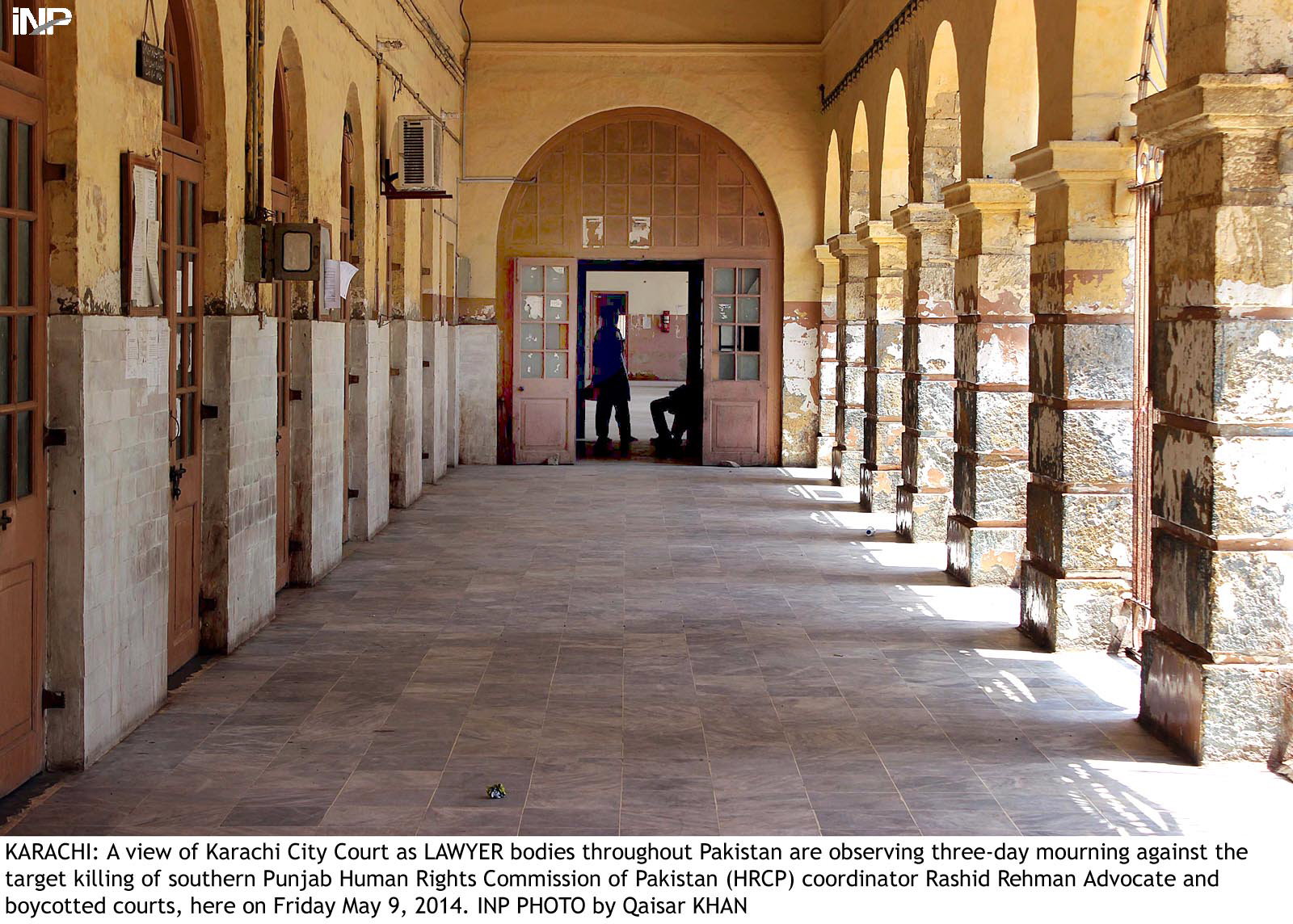 ---
FAISALABAD: The Faisalabad District Bar Association protested against police on Tuesday for arresting lawyers and political workers belonging to the Pakistan Tehreek-i-Insaf (PTI) and the Pakistan Awami Tehreek (PAT).

Addressing a press conference on Tuesday, Bar Association President Chaudhry Tanveerur Rehman Randhawa criticised the government for ordering a crackdown on PTI workers.

"Using illegal tactics to prevent people from taking out protest rallies represent a failure of the government," he said.

Randhawa said that peaceful protest was a legal and constitutional right. "The government is using illegal tactics to deprive people of this right and thus provoking disobedience," the DBA president said.

"The PAT and the PTI want to hold peaceful protests, but barriers put up by police have paralysed normal life. These steps are tantamount to state terrorism," Randhawa said.

He said that police were arresting lawyers, workers and activists of the PAT and the PTI while they had committed no offense.

"Patients cannot be taken to hospitals because the roads are blocked. Police are not allowing anyone to pass through," Randhawa said.

He said that the bar members had passed a resolution condemning police raids at the houses of lawyers and political workers.

Randhawa said that the lawyers could start a protest movement of their own if the crackdown continued. "We will force the rulers out of power if police do not stop arresting people without any justification," he said.

Bar Secretary Chaudhry Ejaz Ahmad Wahla criticised the Pakistan Muslim-League-Nawaz (PML-N) government, saying the government had failed to come up with an effective policy to deal with the PAT and the PTI protests.

"The PML-N had promised to resolve problems like inflation and loadshedding. That is why the people voted for the PML-N in the 2013 elections. However, they have not fulfilled their promises after coming into power. That is why people have started looking towards Imran Khan and Dr Tahirul Qadri," Wahla said.

He said that the government had panicked when the PAT and the PTI announced protest rallies. "The government has lost all sense of reality and has started terrorising people using unconstitutional tactics," he said.

"The PML-N should not forget the long march it had launched. The lawyers had supported it. The same lawyers are being harassed today," he said.

Earlier, the bar meeting decided to observe a strike on August 12 and 13 to protest the government's "unconstitutional behavior".

The meeting also demanded the establishment of divisional benches of the Lahore High Court at Faisalabad, Sargodha, Sahiwal, Gujranwala and Dera Ghazi Khan. The bar members said that lawyers of these divisions would stage a long march if their demands were not met.

Published in The Express Tribune, August 13th, 2014.


COMMENTS
Comments are moderated and generally will be posted if they are on-topic and not abusive.
For more information, please see our Comments FAQ