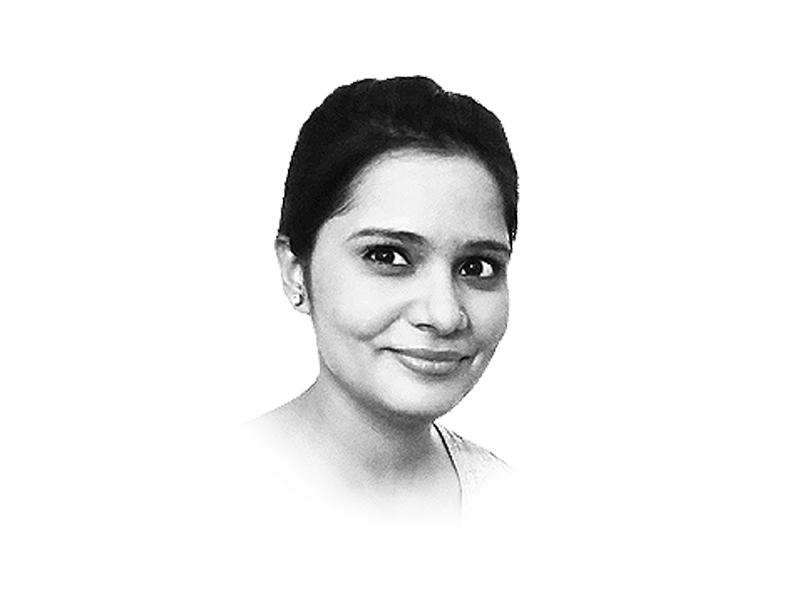 ---
Right after the May 2013 election, unknown armed assailants opened fire on PTI's Zahra Shahid Hussain in Karachi. Her party chief did not hint, murmur, allude. He lost no time at all in declaring that a certain political party was "directly responsible" for the murder, and the British government a party to it. Such a direct — and rapid! — condemnation from Imran Khan not only took his opponents by surprise; it also appeared to disconcert senior members of his own party who were seen trying to play down the directness and haste of an accusation which had come in before there had even been time for a proper police investigation to happen through the due process of law. Some criticised Imran's move as demonstrating his 'siyaasi na-pukhtagi' — experienced politicians did not play the game in this way. Yet these seemingly crude methods did seem to yield results.

Sagacity — one of those slightly difficult English words which Pakistanis end up continuously favouring over more typical, less high-brow equivalents. Sagacity is required — this is not the first time we've heard it. The focus on just four constituencies won't change the election results, you know. The principle? Oh, yes, upholding the principle is no doubt important. And, well, it can't be denied that we do need electoral reforms, so I'm with you on that. But the timing is quesionable. It looks suspect. Imran needs to show sagacity. Our democracy is still so fragile, let's just play it slow and easy for now. But the principle? Yes, well, I do concede the principle.

Matters would be simpler, of course, if disapproval would remain absolute, and even the principle would not be conceded while the timing is being criticised. And also, what does happen when Imran seems to demonstrate sagacity? The PTI is just like any other party. Imran is no different from any other political leader. Their claim to be different is really just a sham, and what they're really no different from the rest.

Assessing any and all actions of the PTI's as short-sighted, if not downright delusional, has perhaps become such a habit with us for various interesting reasons that for many of us, in all honesty, it would be difficult to express unqualified agreement with anything the party does. It is sagacity we argue for, but audacity that we expect and what really draws our eyes to the party. Imran doesn't appear to be under any illusion that what his public expects from him is anything but the latter. It is this relative rawness of political style that may actually be appreciated by the people who have turned their support from 'experienced' politicians to Imran. While in casting their vote, they had endorsed the value of democracy, what they had really counted on was a politician who was not like a politician, someone who would not simply negotiate the existing structures, but shake them by the root and reinvent them.

Consider what happened to the PPP. Arguably, since the 80s, this party has shown sagacity time and time again — be it agreeing to fight elections in unfavourable conditions, or agreeing to rule in a situation where their autonomy and powers have been severely curtailed by the military. So did the public appreciate these handicaps and continue to grant them their support?

While Benazir Bhutto could still be accused of certain firebrand tendencies, Asif Zardari's actions in office are now increasingly acknowledged as being almost exemplary in their sagacity — his term saw civil-military relations that successfully steered clear of any major conflagration, as well as relatively smooth and friendly relations with other political parties. In other words, a quite masterful performance of 'mufaahimat ki siyasat' (politics of compromise).

However, the party proved unable to translate its achievements of democratic transition and a successful completion of term into a decent amount of votes. Even pushing through the Eighteenth Amendment with success, arguably their most major political achievement, failed to help them secure much support even from the smaller provinces. Of course, there's the argument that pre-election terror attacks inhibited their campaign activities; but to that there is the counter-argument that the responsibility to counter terror in the past five years had also been theirs even if they found their hands tied over the matter.

Civilian governments in Pakistan have frequently found their hands tied over various aspects of government policy. They have frequently had limited room for manoeuvre, and have had to constantly look over their shoulder in fear of direct military intervention. They have, in other words, been forced to employ sagaciousness. But does the public ultimately reward them for this when results show little sign of rolling in in most other areas? After all, for a good many decades, the PPP has really been riding on the memory of the original Bhutto. And for what is Bhutto, for all his sins, remembered by his friends, and even admired by his enemies, today? Certainly not his ultimate sagaciousness.

Imran Khan has built up his image as someone who operates outside the established system, and who evidently manages to thrive in doing this. As has been argued well elsewhere, sections of the media, most particularly the English media, have also done their part in reinforcing this image of him as someone who stands alone against a blank wall of criticism. The English press has in some ways woven itself into a rather tight corner by taking its love of satire to such an indiscriminating, and often times even frivolous, level that there remains little incentive for Imran to give its arguments very much credence. Meanwhile, since the bottom line of his support is based on perceptions of his financial incorruptibility rather than political sagacity, until a contender with similar promise appears, the PTI chief's popularity is unlikely to be severely affected even if events of August 14 lead to some sort of anti-climax.

Published in The Express Tribune, August 13th, 2014.

Like Opinion & Editorial on Facebook, follow @ETOpEd on Twitter to receive all updates on all our daily pieces.