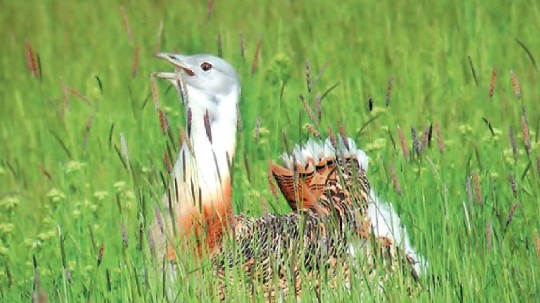 ---
KARACHI: The migratory Houbara Bustard has succeeded where a series of constitutional amendments have failed — it has united the four provinces.

Representatives met on Saturday to discuss the threat to the species as part of the inter-provincial coordination committee's efforts. "Pakistan is a signatory to the convention on migratory bird species and according to the convention, hunting can only be done for ten days," said Federal Minister for Environment Hamidullah Jan Afridi while speaking to the media afterwards.

"However, members of royal families belonging to the United Arab Emirates, Saudi Arabia and Qatar exceed their time limits, owing to which the bird has become endangered."

The Pakistan government issues visas to Arabs and other foreigners to hunt the bird but they start indiscriminate hunting for months once they set up their tents, complained the participants of the meeting, blaming them for the threat that the bird now faces. Afridi said that all provincial ministers expressed their concern on this issue.

A five-member committee, comprising members from the four provinces, is going to make a plan to protect the Houbara Bustard. This committee, that was formed by the federal environment minister, held a meeting of the Inter-Provincial Coordination Committee at the Sindh Secretariat on Saturday.

The meeting was chaired by Federal Minister for Inter- Provincial Coordination Aftab Shah Hussain Jilani and was attended by representatives from Sindh, Punjab, Balochistan and Khyber- Pakhtunkhwa - namely Rukayya Hashmi, Zulfiqar Ali Khosa and Mian Iftikhar Ahmad. They have decided that committee members would submit their report on a strategy to resolve this issue within one month by involving different stakeholders.

According to wildlife experts, the Houbara Bustard is primarily a resident of the colder Central Asian regions of the Kyzyl Kum desert, which lies east of the Aral Sea in the former USSR. The bird follows the Indus Flyway, one of the most important routes taken by migratory birds during their annual journey to the warmer South Asian regions. "This bird reaches here [Pakistan] in November," WWF Coordinator Nasir Panhwar told The Express Tribune.

"Members of the royal families set up camps with the help of local landlords in the hilly and sandy areas of Sindh, where the birds make their abodes," said Panhwar, adding that locals are not allowed to enter the areas where the foreigners hunt during peak season. "There are rules that regulate hunting but their implementation is a problem," he complained.

"We have started reviewing the Sindh Wild Life Ordinance, 1972, as there is a dire need to make a few amendments to it." Fishing The committee also discussed concerns raised by Khyber-Pakhtunkhwa members that since the Tarbela power project was set up by the Water and Power Development Authority (WAPDA) on their lake, the fishing rights of the all federally administered lakes should be given to the provincial government. Another meeting will be arranged in the coming month to discuss WAPDA-related problems.