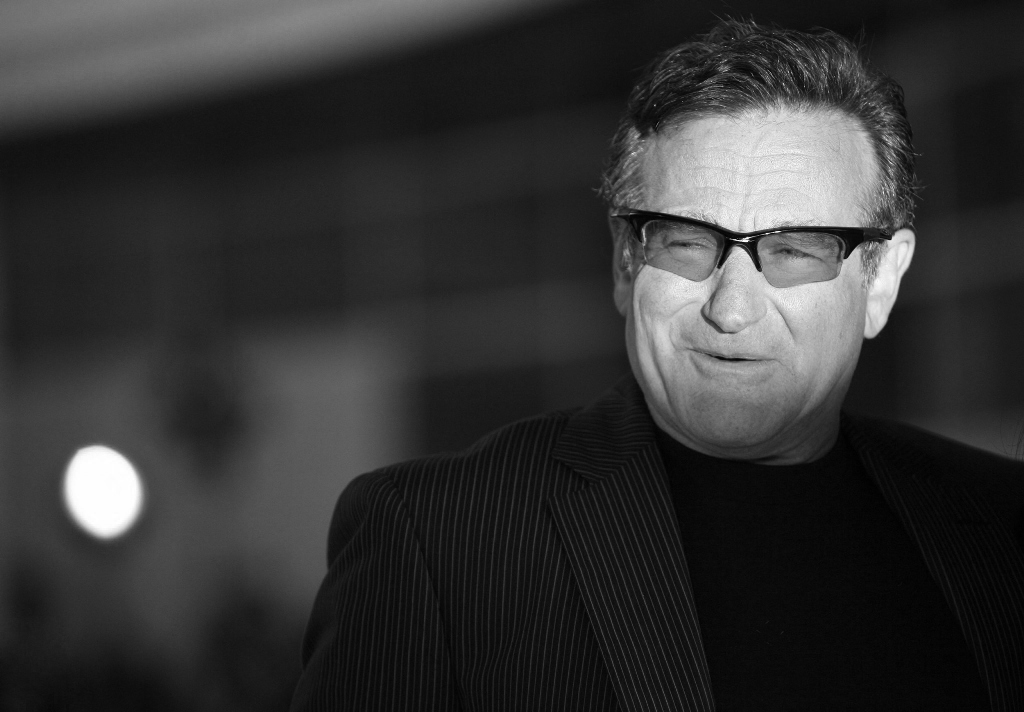 ---
LOS ANGELES: Oscar-winning actor and comedian Robin Williams was found dead at his home in California from suspected suicide, police said Monday.

A statement from the Marin County Sheriff's Department said the 63-year-old funnyman was found shortly before midday at his home in Tiburon, northern California.

"At this time, the Sheriff's Office Coroner Division suspects the death to be a suicide due to asphyxia," the statement said.

According to US media reports, the veteran actor had been battling depression.

One of the most beloved American entertainers of his generation, Williams rose to fame in the iconic US television sitcom "Mork & Mindy".

He later reeled off a string of big-screen hits, which included 1987's "Good Morning Vietnam", where he played a motormouth US military disc jockey, 1989's "Dead Poets Society" as a maverick English teacher and 1997's "Good Will Hunting" which earned him a best supporting actor Oscar.


I can't take the Robin Williams news. I've never cried over someone I've never met but I can't stop 😿😿😿😿

— Miley Cyrus (@MileyCyrus) August 11, 2014
Yo R.I.P. to comedy legend Robin Williams. What a loss. He was the nicest man. #robin williams

— godfrey (@GodfreyComedian) August 11, 2014
RIP Robin Williams, you will be missed! http://t.co/XrnI3U5T3Z v @takhalus

— Raza Ahmad Rumi (@Razarumi) August 11, 2014
Mork from Ork: Rare evidence that aliens can be smart, clever, articulate & funny. Robin Williams, RIP

— Neil deGrasse Tyson (@neiltyson) August 11, 2014


Tributes to Robin Williams after the actor's death:

"Robin Williams was an airman, a doctor, a genie, a nanny, a president, a professor, a bangarang Peter Pan, and everything in between. But he was one of a kind.

"He made us laugh. He made us cry. He gave his immeasurable talent freely and generously to those who needed it most" - President Barack Obama

"Robin was a lightning storm of comic genius and our laughter was the thunder that sustained him. He was a pal and I can't believe he's gone" - Hollywood director Steven Spielberg

"I can't believe the news about Robin Williams. He gave so much to so many people. I'm heartbroken" - comedienne Ellen DeGeneres

"Robin Williams made the world laugh & think. I will remember & honor that. A great man, artist and friend. I will miss him beyond measure" - actor Kevin Spacey

"I could not be more stunned by the loss of Robin Williams, mensch, great talent, acting partner, genuine soul" - actor and comic Steve Martin

"Absolutely stunned to hear the news about Robin Williams. It's unimaginable to me that we've lost such a genuinely funny and sweet man" - talk-show host Conan O'Brien

"I can't believe my lovely friend is gone. My heart goes out to his wife and his beloved children. He brought us so much joy and laughter" - Monty Python stalwart Eric Idle

"No! Robin Williams you were so loved" - actress Mia Farrow

"RIP Robin. I will always remember you as one hell of a friend. I love you and will miss you terribly" - disgraced cyclist Lance Armstrong

"A tweet cannot begin to describe the hugeness of Robin Williams (sic) heart and soul and talent. This is so sad" - actor/director Ben Stiller

"Heartbroken" - Danny DeVito

"Robin Williams made the world a little bit better. RIP." - actor Steve Carell

A selection of quotes, wisecracks and offbeat wisdom from Robin Williams:

"Nanu Nanu" - Williams' extra-terrestrial greeting from hit television show "Mork & Mindy"

"Cocaine is God's way of telling you you are making too much money" - Williams on the perils of substance abuse.

"A woman would never make a nuclear bomb. They would never make a weapon that kills, no, no. They'd make a weapon that makes you feel bad for a while" - Williams on the battle of the sexes.

"You're only given one little spark of madness. You mustn't lose it" - Williams explains his comic style.

"Most of all, I want to thank my father, up there, the man who when I said I wanted to be an actor, he said, 'Wonderful. Just have a back-up profession like welding.'" - Williams pays tribute to his father in his 1998 Oscar acceptance speech for "Good Will Hunting".

"I went to rehab in wine country just to keep my options open," - Williams jokes about his stint in rehab.

"You're not perfect, sport. And let me save you the suspense, this girl you've met, she's not perfect either. The question is whether or not you are perfect for each other" - Williams' character Sean Maguire offers relationship advice in "Good Will Hunting".

"It's all part and parcel of the whole genie gig: phenomenal cosmic powers, itty bitty living space" - Williams as the Genie of the Lamp in Disney's 1992 hit "Aladdin."

"Goooooooood morning, Vietnaaaam!" - Williams as motormouth armed forces DJ Adrian Cronauer in "Good Morning, Vietnam".
COMMENTS (32)
Comments are moderated and generally will be posted if they are on-topic and not abusive.
For more information, please see our Comments FAQ