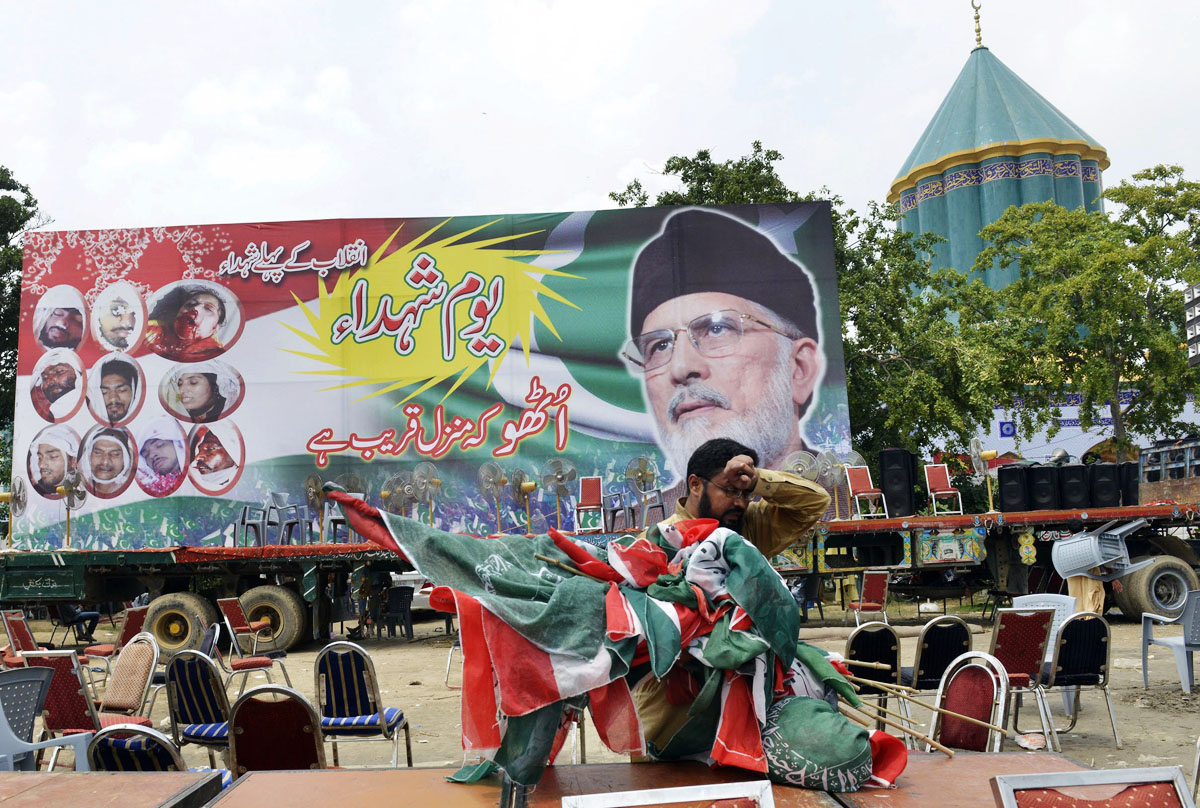 ---
FAISALABAD/ LAHORE:



Pakistan Awami Tehreek (PAT) chief Dr Tahirul Qadri said that although both his party and the Pakistan Tehreek-e-Insaf (PTI) are holding long marches on the same day, each would have their own "distinct and separate identities and objectives".




Addressing a news conference on Monday, he dispelled the impression that the PAT is joining PTI's Azadi march and that he had decided on organising a long march on August 14 during the end of June, but had decided not to disclose it. The PAT chief reiterated that no party or individual owns these protest marches. "We would cooperate with each other as our goal is one."

He said there would be two phases of his march. In the first phase, he said, the present government, including its assemblies with a 'fake mandate' and corrupt officials and police, would be dissolved. And during the second and final phase, a new reformed system would be introduced under which elections would be held.

The PAT will not let any other elections take place under the current political system, Qadri said, adding that he would introduce amendments in the Constitution. "The country cannot progress until the rule of the Sharifs ends."

The lies of the government have been exposed and the rulers will face the music for their wrongdoing, Qadri said. He added that the government blocked roads by placing containers and ground public life to a halt. "They stopped life, blocked the provision of medicines to patients and blocked ambulances. I have not seen this kind of aggression in the country's history."




Qadri challenged the Sharif brothers to mobilise their supporters for protests in a bid to counter the PAT march. No PML-N MNA can even arrange a protest of 200 workers, he claimed, adding that members of the ruling party are frightened, which is why they avoid coming into the public and instead speak only on TV shows.

He requested Model Town residents and civil society members to help his activists who have been staying at his residence at the Minhajul Quran Secretariat during the past week. He requested them to provide them food and open their houses for them.

The PAT chief also criticised newspapers for reporting that in his Sunday speech he had asked his supporters to kill those participants who would return from Islamabad before the revolution. He claimed that he was joking and the statement was about Imran and himself, not party supporters.

241 PAT activists rounded up

Faisalabad police have rounded up 241 workers and activists of the PAT during the last two days, including 74 from Faisalabad, 79 from Jhang, 51 from Chiniot and 37 from Toba Tek Singh.

A police spokesman confirmed the arrest, saying that these workers and activists were trying to travel to Lahore while wearing helmets and carrying gas masks, 'armed' with iron rods and clubs.

He said the government has banned PAT workers and activists from travelling to Lahore. Following these instructions, the police blocked all roads and interchanges leading to the Punjab capital.

Published in The Express Tribune, August 12th, 2014.