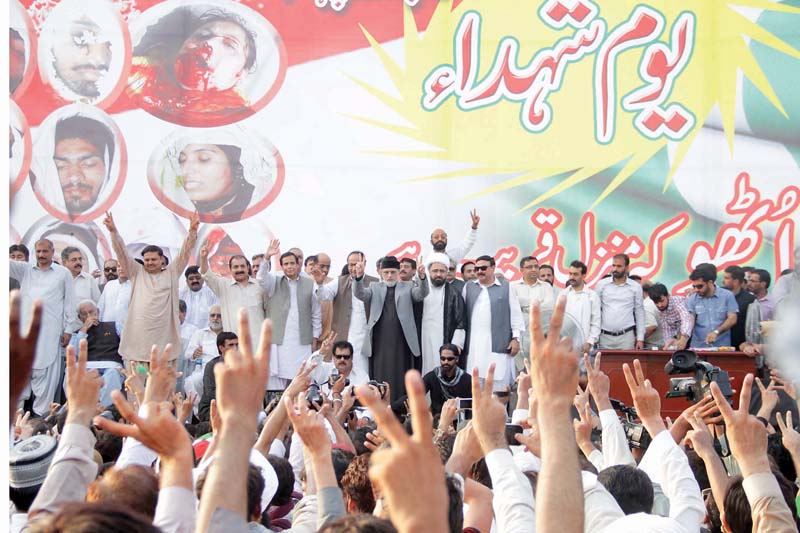 ---
LAHORE:

Upping the ante in his campaign against the government, Pakistan Awami Tehreek (PAT) chief Dr Tahirul Qadri announced on Sunday that his 'revolution march' will begin on August 14 – the same day Pakistan Tehreek-e-Insaf (PTI) will lead its 'million-man Azadi march' to the federal capital.


"Inqilab (revolution) march and Azadi march will begin the same day – but separately," Qadri told his supporters at the Central Secretariat of Minhajul Quran International in the upscale Model Town neighbourhood of Lahore.




Thousands of zealous PAT workers – including a sizeable number of women – showed up at the Minhajul Quran Secretariat to observe a 'martyrs' day' their party had organised to honour over a dozen of its workers killed in a police crackdown on June 17.

"We will not return from Islamabad without bringing about revolution and without changing the system," Qadri said to the thunderous applause of his supporters. "Kill anyone who returns [to Lahore] without completing the job," he said.

There are reports that Qadri could be arrested anytime as the police have registered several cases, including on murder and terrorism charges. The PAT chief scoffed at the 'concocted cases' and took an oath from thousands of his supporters gathered at the PAT Secretariat that they would stay put and would not waver until August 14.

Calling upon his followers to be vigilant, Qadri disclosed that he had credible information that the government was planning to assassinate him. However, he said he was unafraid of death. "If you want to kill me, come I'm sitting here, not in some [bullet-proof] container," he said, addressing the government. "I will embrace martyrdom with open arms for the noble cause I'm espousing," he added.

At the same time, he called upon his followers not to spare the Sharif brothers – Nawaz Sharif and Shahbaz Sharif – and members of their 'kitchen cabinet', if he was assassinated.

In an impassioned speech punctuated by vociferous slogans and interspersed with references to Islamic history and Islamic teachings, Qadri listed the benefits of standing up to a tyrant or despot. He said that revolution demands blood and sacrifices. "History stands witness that revolution doesn't come without sacrifices," he added.

Qadri said that he was well aware of the immense problems faced by his supporters who have been "besieged at the PAT Secretariat by the police for the last seven days".  He castigated the government for denying food and water to his supporters.

He said that the entire Punjab province has been barricaded in an attempt to stop PAT workers from travelling to Lahore to attend the martyrs' day. He also claimed that 25,000 of his supporters have been arrested on concocted charges, many more harassed and tortured by the police. He claimed that a large number of PAT workers were also missing.

Qadri promised that PAT workers would remain 'non-violent' – nonetheless he directed his supporters to 'teach a lesson' to anyone who tried to attack them. He was referring to the police who have clashed with Qadri's supporters over the last three days in Model Town and elsewhere in the province.

The PAT chief, who switched to English during his speech to address Western audience, said that his party didn't support dictatorship and would not accept a military takeover. "We want to rid Pakistan of the monarchy of the Sharif family and restore real democracy in the country," he added. "We want the same rights for all Pakistanis that Americans and citizens of other Western democracies enjoy."

Qadri said that the Sharif family and their kitchen cabinet were running the country like a personal fiefdom. "They have huge business empires across the globe, while the common Pakistanis were deprived of t he basic necessities of life," he said, adding that his struggle was for eliminating corruption, alleviating poverty, ending terrorism and radicalism and ensuring the rule of law.

Defying all obstacles and despite all odds, thousands of PAT activists had reached the football ground adjacent to the PAT Secretariat to observe the martyrs' day.

Leaders of other likeminded parties – including Pakistan Tehreek-e-Insaf, Pakistan Muslim League-Quaid, Awami Muslim League, Muttahida Qaumi Movement, Majlis Wahdatul Muslimeen and Sunni Ittehad Council – were also present to express solidarity with the PAT.

Chaudhry Shujaat Hussain and Chaudhry Pervaiz Elahi of the PML-Q said that the convergence of the Inqilab march and Azadi march reflected the sentiments of the people. "Allah Almighty will help us because we are sincere in our struggle," they said. They added that the revolution would change the destiny of the downtrodden people of Pakistan.

Published in The Express Tribune, August 11th,2014.