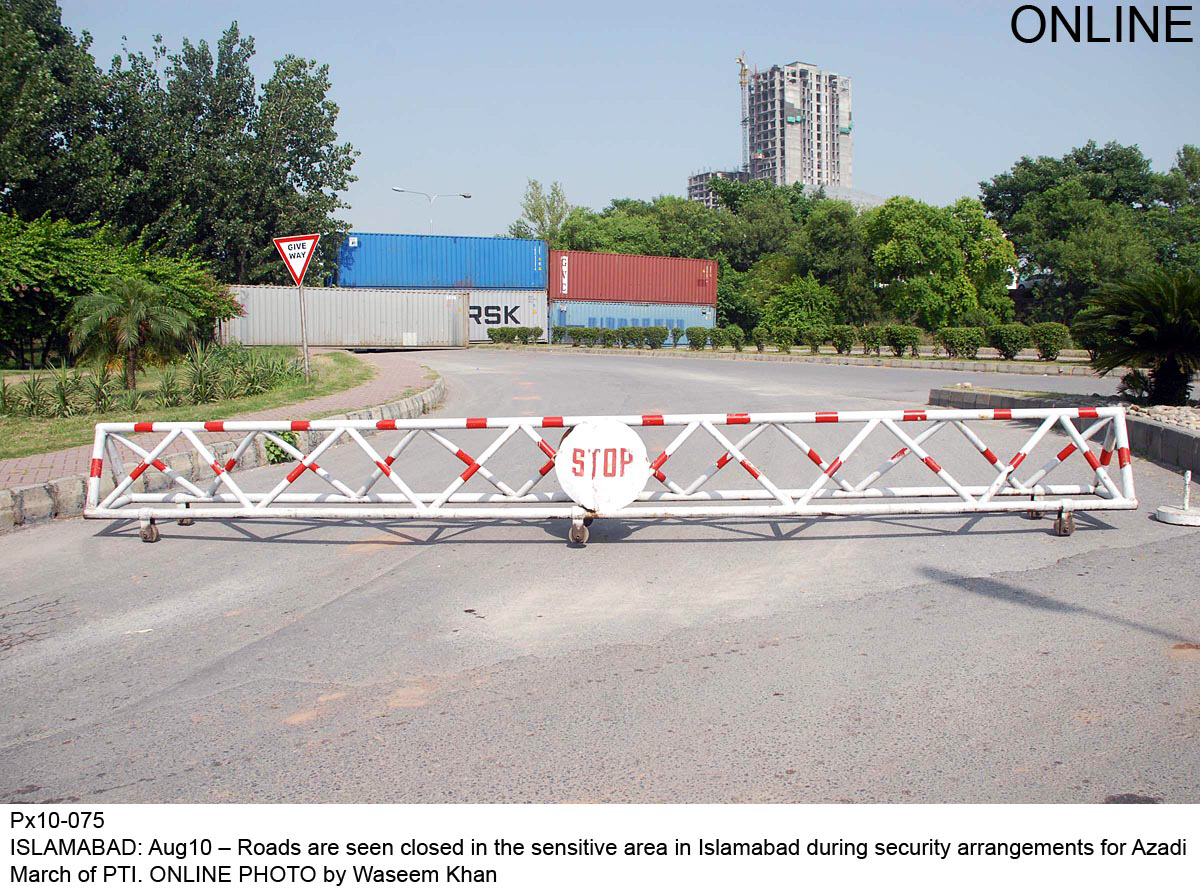 ---
LAHORE: Abdullah's wedding was scheduled four months ago. It was set for Sunday so that most of the friends and relatives could attend. They had no idea the day would turn into a nightmare for them.

Abdullah and his family and friends were among thousands of people who struggled to make their way into the city on Sunday through containers and barriers placed on Ravi Bridge.

Apart from heavy vehicles, motorcyclists remained unable to cross the bridge which the authorities had blocked from both sides to keep Pakistan Awami Tehreek workers from attending the Youm-i-Shuhada observance called by the party.

In addition to the bridge, the railway crossing in Imamia Colony also remained blocked for the second day on Sunday.

"We are going to Gujranwala. Last night, we watched news on television that containers have been removed. We heaved a sigh of relief and decided to take the barat as planned," Abdullah, dressed in a red sherwani, told The Express Tribune.

"We left for the venue at around 10am. Some of the vehicles have crossed the bridge but then containers were placed again. We can now neither go back nor move ahead."

Several passers-by expressed sympathy and waved to him as he crossed the bridge on foot.

"We have been walking for a mile. We will do this for another 1.5 miles before boarding rickhsaws at Shahdara Chowk," said a relative of the bridegroom.

"We can never forget this day. We will never forget those responsible for bringing the misery and embarrassment to us."

Abdullah's was not the only bride to suffer.

Another bridegroom said he had left Gujranwala at 9am for Islampura. "It's been four hours and we are still stuck at the closed bridge."

He said normally it took around an hour to cover the distance.

Several streets in the city were closed for traffic on Sunday although Inspector General Mushtaq Sukhera had ordered removal of the containers on Saturday.

Even ambulances were not allowed through.

"We are unable to help ambulances. The containers cannot be moved without cranes," said a police constable on Ravi Bridge.

"We have come all the way from Hafizabad to take our patient to Lahore General Hospital. He is in critical condition and needs immediate treatment," said relatives of the patient, Gulzar.

"We have spent hours arguing but police have not let us through."

The attendants later carried Gulzar to other side of the bridge on a stretcher.

"This is very inconsiderate on part of the government and those staging protests."

Later in the evening, Adviser to Chief Minister on Health Khwaja Salman Rafique went to the bridge and took Gulzar to Lahore General Hospital.

Sub-Inspector Karamat, in-charge of security at the bridge, said they had orders to block the road.

Published in The Express Tribune, August 11th,2014.
COMMENTS
Comments are moderated and generally will be posted if they are on-topic and not abusive.
For more information, please see our Comments FAQ