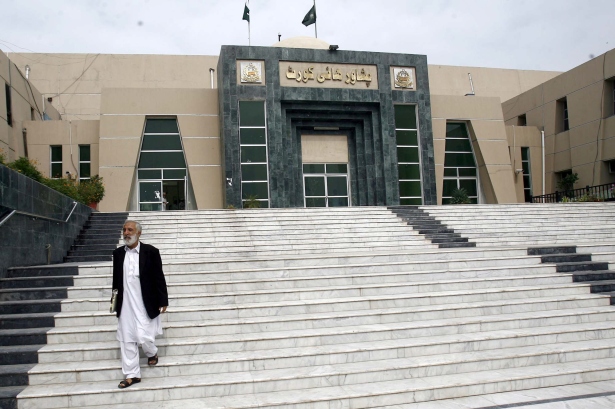 ---
KOHAT:



A former chief justice of the Peshawar High Court has appealed to the Kurram Agency political administration to revoke its decision to expel an imam from the agency which led to a protest ongoing since Eid.




During a meeting with Kurram Agency Political Agent Riaz Mehsud in Parachinar on Saturday, Syed Ibne Ali, a former PHC CJ, said the issue should be resolved through mutual consensus.

Ali was calling on the political agent accompanied by a 60-member delegation of tribal elders which included Nasim Abbas, Mian Shah Raza, Haji Imdad Hussain, Hameed Agha, Maulana Abdul Hussain, Haji Alladad Khan and Maulana Syedain.

Speaking at the meeting, Ali said if the issue is resolved peacefully "there would be no chance for conspirators and enemies to interfere in the matter." The former CJ added they would soon be successful in finding a solution to the crisis.

Taking a stand

Since Eid, a sit-in is being held at Shaheed Park, Parachinar in support of Allama Muhammad Nawaz, also known as Allama Irfani, who was expelled by the political administration some seven months ago under the Frontier Crimes Regulation (FCR) for alleged hate speech.

Roughly around the same time, nearly 60 tribal elders were arrested, also under the FCR, for supporting Irfani and their privileges as elders were revoked. For nearly two weeks now, protesters have been asking for the reversal of all three decisions. They ask that Irfani, the imam of Markazi Jamia Masjid, should be allowed to remain in the agency. The protesters also claim that the perks and privileges afforded to the Turi tribesmen were revoked sometime back and demand these be reinstated.

The movement gained tempo after the political administration prevented journalists from covering the protest and deployed heavy contingents of law enforcement personnel across Kurram's headquarters. This led to women and children joining the protest, which is said to have remained peaceful.

On August 1, Arbab Hussain, Muhammad Gul Tori and other tribal elders told journalists in Hangu that since the political administration in Kurram has prevented them from speaking to the media, they came to the district to get their voices heard.

According to the elders, the situation in Kurram took a turn for the worse on July 29 when locals pushed back against the administration's decisions regarding the imam and his supporters.

They added the protest would continue until the political agent and assistant political agent are suspended and transferred.

Published in The Express Tribune, August 10th, 2014.
COMMENTS
Comments are moderated and generally will be posted if they are on-topic and not abusive.
For more information, please see our Comments FAQ