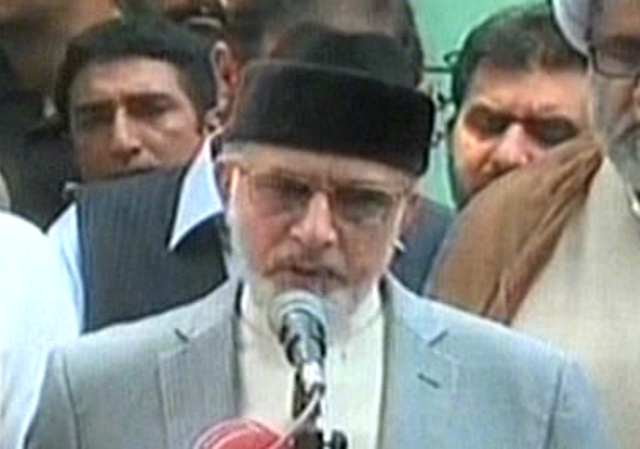 ---
LAHORE: A day before the Pakistan Awami Tehreek's 'Martyrs' Day' rally, PAT chief Tahirul Qadri announced on Saturday that Youm-e-Shuhada would be observed in every street of every city of Pakistan starting from today (Saturday).

Speaking to media in Lahore, Qadri asked his supporters not to limit Youm-e-Shuhada to Lahore and start observing it wherever they were as soon as his press conference was over.

The PAT chief claimed that Prime Minister Nawaz Sharif and Punjab Chief Minister Shahbaz Sharif "want to set the country ablaze," stating that Punjab has been turned into a battlefield by the Sharif brothers.

He also claimed that eight of his "innocent and unarmed" supporters who had come to observe Youm-e-Shuhada were killed, adding that most of them were shot right in the chest.

Qadri also said that the 14 workers who lost their lives in the clashes outside the Minhajul Quran secretariat on June 17 should also be added to the total death toll, which was now 22.

"Stop fighting the police in your attempts to reach Lahore," he advised PAT workers, asking them to observe Youm-e-Shuhada in all tehsils, union councils and provinces of the country.

The PAT chief claimed that over 1,000 of his supporters were injured and some of them were in critical condition.

He added that PAT workers, both men and women, were being deprived of basic necessities like food and water, alleging that this was being done so that these people would die of hunger.
COMMENTS (10)
Comments are moderated and generally will be posted if they are on-topic and not abusive.
For more information, please see our Comments FAQ