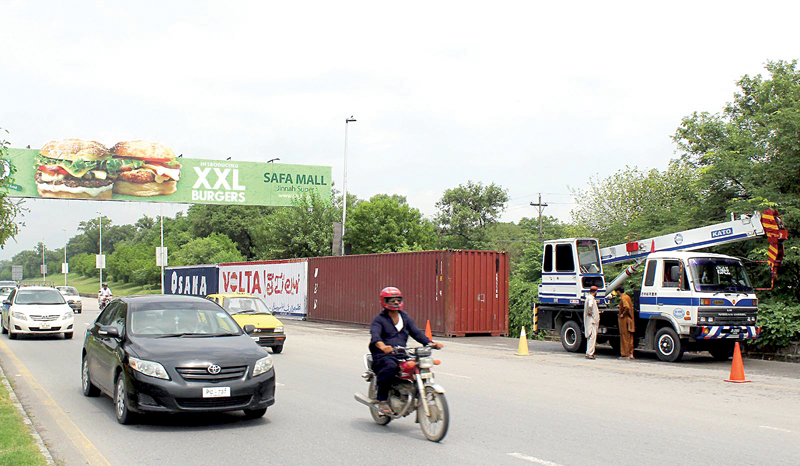 ---
ISLAMABAD:



Residents of the twin cities are apprehensive as the capital's political temperature rises ahead of Pakistan Tehreek-e-Insaf (PTI)'s 'Azadi March' next week.




With imposition of Section 144 and containers being placed on the roadside at all major entry points of Islamabad, residents are worried as to how things will play out around August 14.

Hospitals on high alert

All major public hospitals in the twin cities have been put on high alert to deal with any untoward situation during the PTI's planned march to the capital.

Talking to The Express Tribune, Shaheed Zulfiqar Ali Bhutto Medical University Vice-Chancellor Dr Javed Akram, who is also the head of Pakistan Institute of Medical Sciences (Pims), said the hospital had been put on high alert since August 4 and the status will continue till the situation normalises.

He said the blood bank in-charge at Pims has been directed to stock at least 100 blood bags, for all blood groups, while senior doctors have been asked to take rounds in the evenings as well.

"Pims has also arranged a mobile hospital which will be there on the spot to provide first aid  to participants, police personnel and media persons who will be at the Azadi March", he said.

Furthermore, the hospital administration has reserved five ambulances for the day.

He further said the hospital administration has requested the government to provide 20 police and elite force personnel to beef up security at the hospital in the wake of the PTI march.

"So far we have not received any response from them," he revealed.

According to sources at the Polyclinic, Holy Family and Benazir Bhutto hospitals, special arrangements have been made in all departments of the hospitals to deal with potential emergencies during next week.

'Sign of terror'

Talking to The Express Tribune, Traders Action Committee President Kashif Chaudhry strongly condemned the government's act of sealing roads by placing containers.

"These containers have become a sign of terror for the residents of the twin cities. It seems like a war is going to take place on the roads," he said.

He said over 50 per cent of the fuel stations have stopped giving fuel due to which public transporters are apprehensive as to how business will carry out next week.

"On Friday, wholesalers at Sabzi Mandi asked trucks drivers who transport fruits and vegetables not to come around August 14 due to security concerns. This will cause severe food shortage in the markets and ultimately people will suffer," he said.

He said the traders associations and unions are not against such rallies but all they want is for the Islamabad Capital Territory Administration to allocate a specific area where such rallies can be held peacefully and without disturbing routine life.

He said they are ready to close their shops on August 14 but not a single day before or after.

Transporters' reservations

Haji Nawab Khan, president of the wagon association, said they have called a meeting with the heads of all public transporters on August 11 in which they will decide their next move.

"However, we have clearly told the city administration that all public transport vehicles will be on the road if we are provided security, otherwise none of the drivers will bring his vehicle on the road," he said.

Panic prevails

With numerous developments taking place in the city and as the date comes closer to August 14, panic seems to be running high among the capital's residents.

"We are scared to go out even nowadays. The containers, the army and the extra police all paint an ominous picture," said Sajjad Haider, a private banker.

Amna Ali, a housewife who came to Aabpara Market to shop, said, "I am trying to stock food for the coming days as it seems like a curfew will be imposed and people will become hostage inside their homes." She said she was scared to send her kids to school from Monday and would rather keep them with her, inside the safety of her home.

Sumaira Hussian, another housewife, said, "It seems like a war is going to break out in the capital. The roads will be sealed and the shops closed. Only terror will reign."

Published in The Express Tribune, August 9th,2014.
COMMENTS
Comments are moderated and generally will be posted if they are on-topic and not abusive.
For more information, please see our Comments FAQ