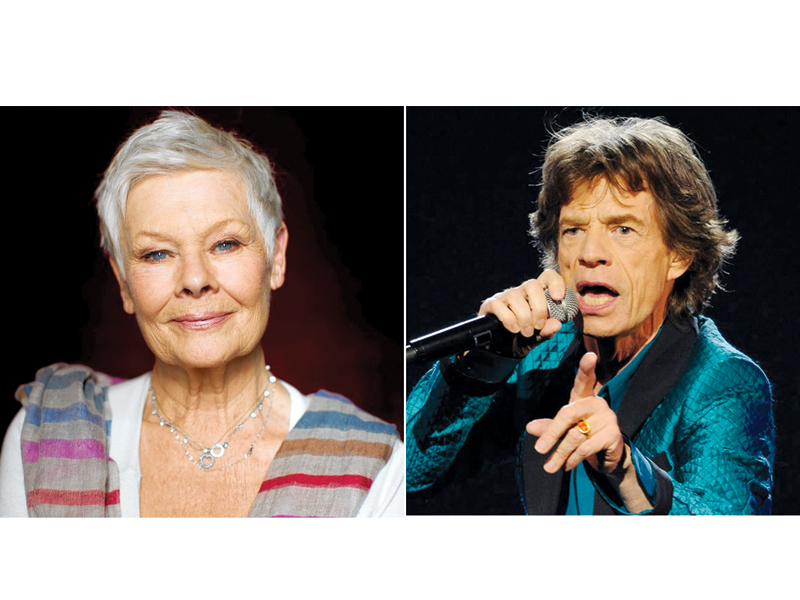 ---
LONDON: Scientist Stephen Hawking, Singer Mick Jagger and actor Judi Dench are among 200 British stars who have signed a letter urging Scotland to remain part of the United Kingdom, six weeks before a historic referendum on independence.

The letter, an attempt to sway Scots before the September-18 vote was organised by Let's Stay Together, a group which says it aims to give a voice to the millions of Britons outside Scotland who don't have the right to vote.

Released at an event on the banks of the River Thames in London close to Tower Bridge, organisers said an extraordinary list of famous Britons had signed the letter, reflecting the fact that non-Scots were not indifferent to Scotland's fate.

The letter, signed celebrity heavyweights, many of them English, was organised by Dan Snow and Tom Holland, well-known TV historians in Britain. "The decision on whether to leave our shared country is, of course, absolutely yours alone," said the letter, which was addressed to "Dear Voters of Scotland."

"Nevertheless, that decision will have a huge effect on all of us in the rest of the United Kingdom. We want to let you know how very much we value our bonds of citizenship with you, and to express our hope that you will vote to renew them." Only Scots residents can take part in the referendum, meaning people who live in the three other constituent parts of the UK — England, Wales and Northern Ireland — don't have a say.

Other big names who signed the appeal included actor Helena Bonham-Carter and composer Andrew Lloyd Webber, singer Cliff Richard, show business impresario Simon Cowell, and actor Dominic West, star of cult US series The Wire.

Between them, organisers said the signatories had 18 Olympic gold medals, 44 Bafta awards, one Nobel prize and two Turner prizes. Other celebrities, notably singer David Bowie and Harry Potter author JK Rowling, had already spoken out against independence, but not in such numbers and at the same time.

Some pro-independence Scottish nationalists have suggested that the English, who have a long and at times bloody history of rivalry with the Scots, would be glad if Scotland left the UK.

The pro-independence camp has its own celebrity backers including James Bond actor Sean Connery, actor Brian Cox, Russell Brand and novelist Irvine Welsh. "Yes Scotland", Scotland's main pro-independence movement, parroted the letter's language to say Scots didn't value being governed by a British government it described as "dreadful."

An independent Scotland could still be "best friends" with the rest of the UK, it said in a statement. 

Published in The Express Tribune, August 9th, 2014.

Like Life & Style on Facebook, follow @ETLifeandStyle on Twitter for the latest in fashion, gossip and entertainment.
COMMENTS
Comments are moderated and generally will be posted if they are on-topic and not abusive.
For more information, please see our Comments FAQ