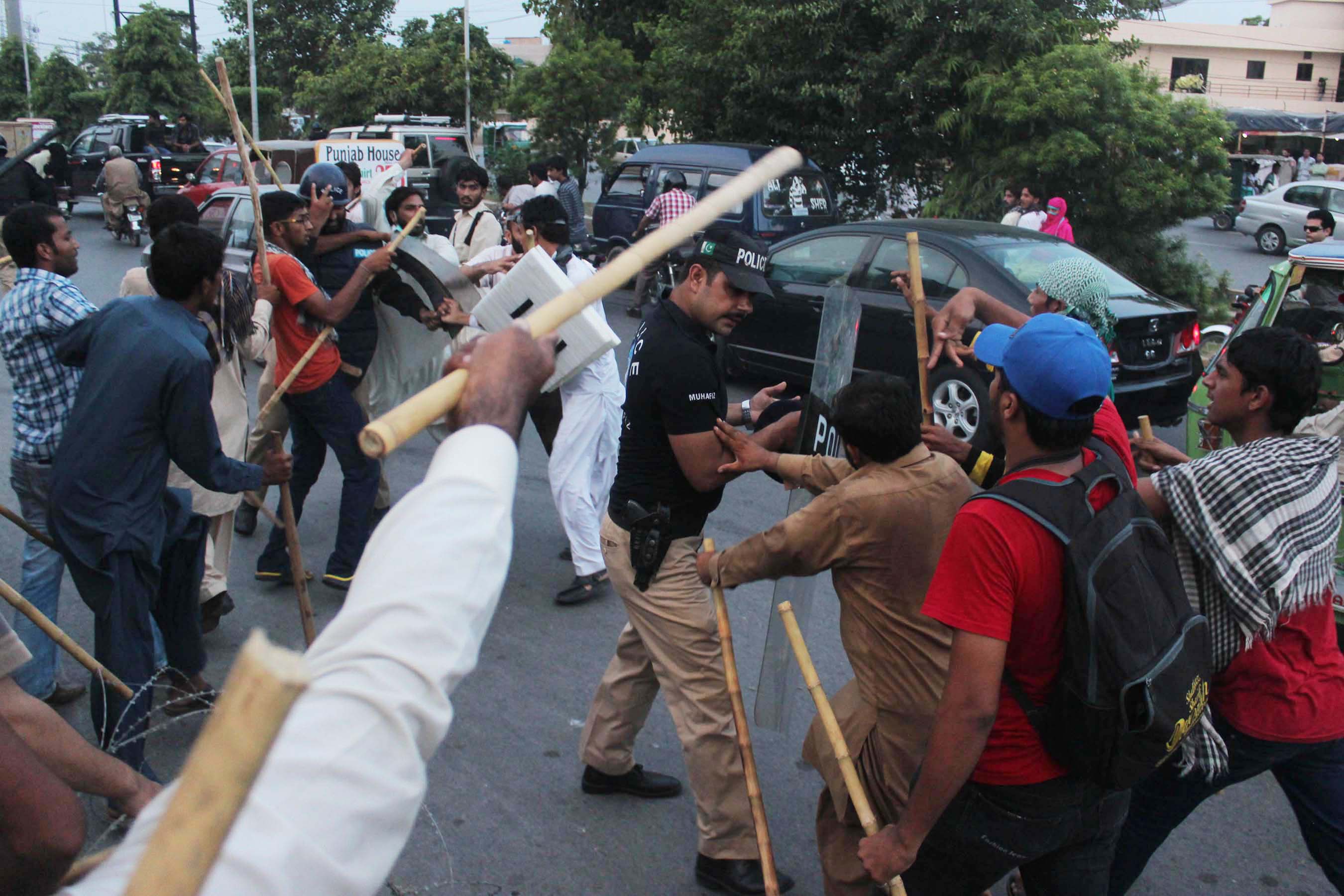 ---
FAISALABAD/ LAHORE: Clashes between Pakistan Awami Tehreek (PAT) workers and the police have started once again, ahead of PAT's Youm-e-Shuhada rally on August 10.

On August 8, scores of stick-wielding activists of PAT clashed with policemen in Lahore's Model Town neighbourhood after the city and the province of Punjab were virtually sealed off by the authorities.

The clashes had broken out when PAT activists attempted to remove large shipping containers that blocked roads and alleyways leading to the Secretariat of Minhajul Quran International. At least seven policemen and at least four PAT activists were wounded in the melee.

Pitched battles are being fought in Lahore and other cities of Punjab as  policemen try to stop PAT workers from travelling to Lahore to attend Youm-e-Shuhada.




August 9, 5:42pm

Talking to Express News, Lahore DIG Operations Dr Haider Ashraf said that efforts to remove barriers from roads in Punjab are underway.

Ashraf ensured that fuel will be provided in areas where there is a fuel shortage.

"Our main priority is the law and order situation of the city," he said responding to a question whether containers can be placed again.

………………………………………………………………………………………………………………………………………..

August 4, 5:10pm

Inspector General Punjab has ordered that all roads and interchanges in Punjab that were sealed off should be re-opened, Express News reported.………………………………………………………………………………………………………………………………………..

August 9, 4:50pm

Pakistan Muslim League-Quaid (PML-Q) chief Chaudhry Shujaat Hussain, PML-Q Punjab president Chaudhry Pervez Elahi and Awami Muslim League chief Shiekh Rasheed were stopped at Model Town by police en route to Qadri's residence.

However, they managed to reach his residence on foot.

………………………………………………………………………………………………………………………………………..

August 9, 4:45pm

Mobile phone services have been suspended in the general area surrounding the Minhajul Quran secretariat in Lahore, according to Express News.

………………………………………………………………………………………………………………………………………...

August 9, 4:18pm

Clashes between police and PAT workers are also ongoing in Jhelum.

Express News reports that during the clashes a policeman from the elite force, Muhammad Faiz, has been killed.

………………………………………………………………………………………………………………………………………...

August 9, 4:10pm

During clashes in Khewra, 30 policemen have been injured.

Further, PAT workers have kidnapped 16 policemen.

………………………………………………………………………………………………………………………………………....

August 9, 3:25pm

PAT chief Dr Tahirul Qadri has claimed that eight of his "innocent and unarmed" supporters who had come to observe Youm-e-Shuhada have been killed, adding that most of them were shot right in the chest.

Further, he said if he is arrested the whole country will be set on fire.

Qadri also announced that Youm-e-Shuhada would be observed in every street of every city of Pakistan starting from today.

For more details, read the full story here.

………………………………………………………………………………………………………………………………………....

August 9, 3:00pm

Rangers have been deployed outside the residence of Prime Minister Nawaz Sharif in Raiwind, Lahore, following the deteriorating security situation in the city with clashes between Pakistan Awami Tehreek (PAT) activists and the Punjab police, Express News reported.

Two different Rangers' companies will be assisting in the provision of security in Raiwind for the premier's residence.

Further, several containers have been set up in various parts of Lahore, and clashes between the police and PAT party workers is still ongoing.

………………………………………………………………………………………………………………………………………....

August 9, 2:45pm

Angry Pakistan Awami Tehreek (PAT) workers set eight police vehicles on fire in Sargodha, Express News reported.

PAT workers were travelling from Sargodha to Lahore when motorway police fired at their car tyres to prevent them from travelling, resulting in the clashes.

Thirteen policemen as well as a few PAT workers have been injured during the clashes and have been taken to a hospital.

………………………………………………………………………………………………………………………………………....

August 9, 12:15pm

A worker of the Pakistan Awami Tehreek (PAT) was killed and six female party workers were injured as they clashed with the police in Kamoke, a city in Gujranwala district in Punjab, Express News reported on Saturday.

Three policemen were reportedly injured in the clashes while three vehicles of the police were damaged as well.

………………………………………………………………………………………………………………………………………....

August 9, 1:30am

According to Express News, PTI's central information secretary Shireen Mazari has denied reports that Imran Khan will participate in PAT's Youm-e-Shuhada on Sunday.


PTI will send a team to participate in the Yom e Shuhda today being observed by PAT.

— Naeem ul Haque (@naeemul_haque) August 8, 2014


………………………………………………………………………………………………………………………………………....

August 9, 00:40am

Muttahida Qaumi Movement chief Altaf Hussain has expressed grief and sorrow over the death of a PAT worker in Bhakkar.

In a statement released late on Friday, Hussain said that the use of force against peaceful processions from Bhakkar was beyond comprehension.

A PAT activist was reportedly killed allegedly by firing from police in Bhakkar.

Hussain urged on the government to desist from using state power to suppress protests. He said that it was the right of political parties in government as well opposition to carry out protest demonstrations provided they do not harm public property.

The MQM chief extended his sympathies to the PAT chief Dr Tahirul Qadri.

………………………………………………………………………………………………………………………………………....

August 8, 11:2opm

PAT chief Dr Tahirul Qadri says things have gotten so bad that people are not being allowed to congregate for Youm-e-Shuhada.

"I announced categorically and I gave guarantee to the Punjab government that there will be no violence on August 10. So please let them come to participate in this spiritual cogregation for prayers for martyrs."

But Qadri said Model Town has been sealed. This has exacerbated the situation for those who had reached the Minhajul Quran central secretariat since food and water has run out and they cannot resupply. He alleged that those who go to a store to get food, they are detained.

He urges people of Lahore to help get food for the people at Minhajul Quran secretariat.

"I hold Shahbaz Sharif is responsible for the death of 15 PAT activists," Qadri said, alleging that one worker was killed by police firing in Bhakkar.

Qadri urges supporters to continue their trajectory towards Minhajul Quran secretariat and not to "surrender".

He says that a decision on a future course of action will be taken after reviewing the situation and consultation with allied parties on Saturday.

Qadri reiterated that he personally guarantees that if containers are removed, no act of violence or terrorism will take place.

………………………………………………………………………………………………………………………………………....

August 8, 11:05pm

Pakistan Tehreek-e-Insaf (PTI) chief Imran Khan told Express News that Fridays clashes showed that the government was acting out of fear in Lahore.

Pointing out that things were never this bad even when former president Pervez Musharraf was in power, Khan alleged that the government was resorting to illegal acts of impounding cars and motorbikes.

He added that they had decided to boycott the security council meeting called by the prime minister on Saturday with Khyber Pakhtunkhwa chief minister Pervez Khattak advised not to participate.

"We will not participate in any such meeting where the premier tries to be king."

………………………………………………………………………………………………………………………………………....

August 8, 10:45pm

DIG operations Lahore Dr Haider Ashraf said that the barricades will not be removed at any cost, and that an additional contingent of law enforcement personnel has been called in to quell the situation.

………………………………………………………………………………………………………………………………………....

August 8, 10:20pm

According to Express News, Chaudhry Shujaat Hussain and Chaudhry Pervez Elahi of Pakistan Muslim League-Quaid have arrived in Model Town to hold talks with Dr Tahirul Qadri.

………………………………………………………………………………………………………………………………………....

August 8, 9:55pm

According to Express News, check posts have been established throughout Sheikhupura and 23 PAT activists have been detained.

………………………………………………………………………………………………………………………………………....

August 8, 9:40pm


Express News reports that entry and exit points to Lahore have been sealed.

………………………………………………………………………………………………………………………………………....

August 8, 9:20pm

While talking to the media, PAT spokesperson Qazi Faiz gave a two-hour ultimatum to the Punjab government to remove all barriers in Model Town, warning that upon failure of doing so Youm-e-Shuhda would transform into Youm-e-Inqilab.

According to Express News, police have launched a crackdown against PAT workers in Model Town.

"If the government doesn't remove these barriers within two hours, PAT workers will remove them themselves," said Faiz, adding that Punjab police should allow workers to enter the secretariat peacefully to mark Youm-e-Shuhuda.

Earlier, Express News footage showed police running away from protesters as they poured into Model Town. An Express News correspondent present at the location said workers wanted the protests to remain peaceful but were forced by the police to step out and remove the barricades themselves.

"Police cracked down on those activists who were sitting at home," said PAT spokesperson Raheeq Abbasi.

Earlier today, Qadri urged his supporters to remove all barriers and overcome all obstacles and continue gathering at his residence to transform the future of the country and fight for their rights.

Five policemen injured during clashes in Faisalabad  

As many as five police officials including an assistant sub inspector have sustained serious injuries during clashes between the police and PAT activists in Quaidabad district of Khushab.

PAT workers also allegedly set a police station on fire in Quaidabad, Express News reported.

Police on Friday had conducted raids to arrest PAT workers and activists. They also blocked all important intersections of Bhakkar, Khushab, Sargodha, and other districts of the regions to hinder PAT workers from travelling towards Lahore to participate in Youm-e-Shuhuda.

Police officials have also started to check vehicles and identification cards of passengers to compare it to a PAT workers' database compiled by the police.

In Sargodha, police detained more than 35 PAT workers and heavy police contingents were deputed at Sial Mor, Makhdoom and Salam Interchanges to monitor PAT workers departing the city.

Police contingents also conducted raids in Daggar Olakh, Bhakkar to arrest PAT workers. However, the residents of the area overpowered the police and hijacked an official vehicle. High ranking police officials rushed to the spot and after hectic efforts succeeded in recovering the police party.

Similarly, a police contingent conducting a raid in Quaidabad in Khushab but PAT workers overpowered the policemen and severely beat them up.

As a result of these clashes, five police officials including Assistant Sub Inspector (ASI) Ghulam Ishaq, Rafiq Akhtar, Naveed Haidar, Fayyaz Hussain and Muhammad Hasnain received serious injuries and were rushed to the hospital for medical treatment.

On receipt of information, the senior police officers also rushed to the spot and after long negotiation they recovered the other police officials who were detained by PAT workers.
COMMENTS (49)
Comments are moderated and generally will be posted if they are on-topic and not abusive.
For more information, please see our Comments FAQ