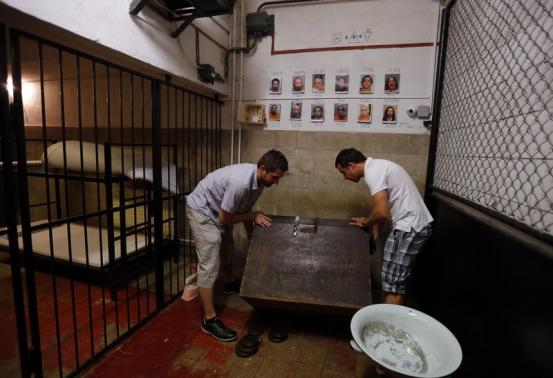 ---
BUDAPEST: In a ramshackle old building in Budapest, tourists pay to be locked up in a room and try to escape by solving a series of mysterious clues, opening locks and finding their way out.

"Rabbit Hole", inspired by the 19th Century English novel "Alice's Adventures in Wonderland", is one of some 100 or so escape-room games that have sprung up in the Hungarian capital in the last three years, becoming a top attraction for tourists.

Escape games take advantage of Budapest's many decrepit cellars and old rundown houses. These same spots served as venues for the city's popular "ruin bars" in the past decade.

Hungary last week held its first nationwide festival of escape games, with hundreds of teams, Hungarian and foreign alike, entering dozens of rooms across the country.

"We are caught up in the daily grind ... but in this game we can drift into a different world where problems disappear," said Adam Pattantyus, who organized the festival and runs games called Sweet Escape.

Andras Maldrik and Zeno Zoltan Ferencz, the owners of ExitPointGames which operates three escape rooms in the "ruin bar" Fogaskert, opened their first room in Budapest two years ago with an investment of only about $2,100-$3,000.

Now they are exporting their ideas abroad, designing and building escape rooms in Vienna and Bucharest.

They say games work well when they require various skills, with team members searching for clues and resolving puzzles by using logic and mechanical skills.

Ferencz said ExitPointGames attracts repeat visitors who come back to try their luck at the other two games: Madness, which is set in an imaginary psychiatric ward, and Mirrors. Visitors can recover with a bite and beverage after their escape.

On TripAdvisor, two other escape room games, TRAP and Claustrophilia, now rank as the second and third most popular attractions among travelers to Budapest. TRAP also has rooms in other European cities.

At one of TRAP's two Budapest locations, tourists can do a bit of time travel back to ancient Egypt in a cellar room that looks like a burial chamber, or to the Middle Ages in rooms that resemble the interior of a medieval castle.

"There was a program on television in England many years ago, called 'The Crystal Maze' ... This is like that," said Scott Ward, 46, from England, who came to try one of the games at TRAP with his wife and children.

"We fly home today, so if we don't get out, we'll stay longer," he added.

Games cost about 12,000 forints ($51) per team.

Istvan Karacsony, a manager at TRAP, said game assistants watch the players via closed-circuit television and give them hints if they seem to be stuck.

Boom times

Nekme, 19, is a student who traveled from Britain to get stuck in the Middle Ages at TRAP.

"It tested our limits and got us working together. It tested everyone's strengths and weaknesses," she said.

Video games inspired the first escape rooms at ParaPark, owned and run by Attila Gyurkovics since opening in 2011.

"I wanted to invent something that drags people out of the grey of everyday life, and I thought that this game could work really well as a team game too, in reality," Gyurkovics said.

With over 50 companies running more than 100 escape rooms, competition is now fierce in Budapest, and newcomers have to offer something unique if they want to succeed.

On Csepel Island in the Danube river, TrapFactory opened in December in a former Communist-era manufacturing plant with six escape rooms and a modern conference room to cater to corporate team-building events.

With this many competitors, Maldrik at ExitPointGames said the boom times may soon be over for Budapest's escape rooms.

"We have many ideas on how to develop the escape room game further," he said, but refused to divulge more details. Plans, for the time being, should remain shrouded in mystery, he said.