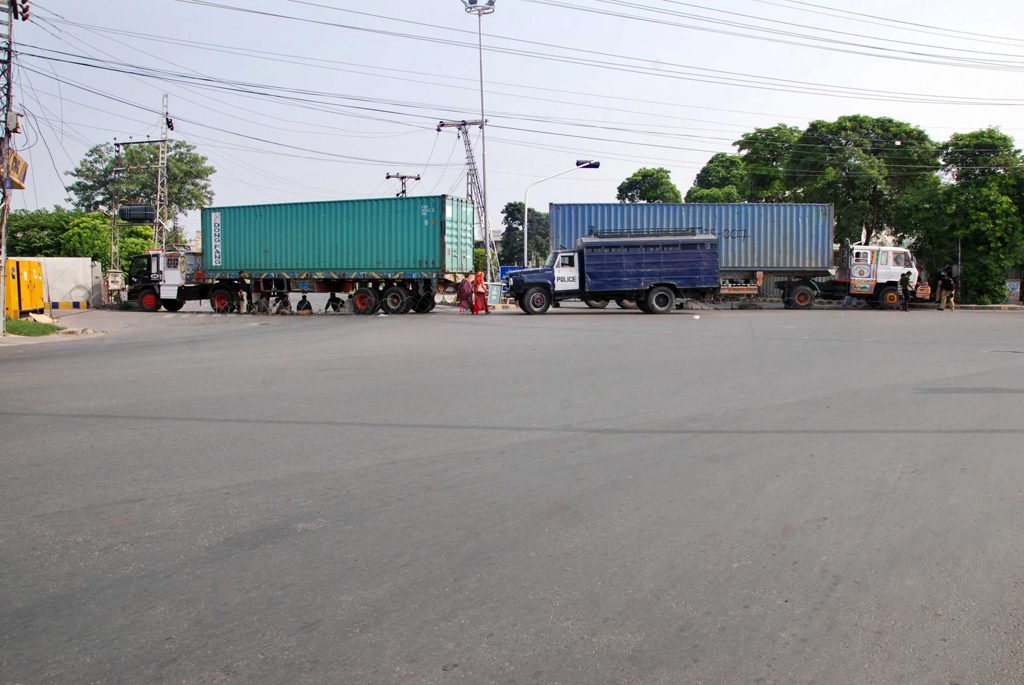 ---
FAISALABAD/ ISLAMABAD/ LAHORE:



Dozens of policemen and hundreds of Pakistan Awami Tehreek (PAT) supporters squared up for a confrontation in and around the residence of Dr Tahirul Qadri as the government attempted to stop him from leading any anti-government movement.




Some 2,000 PAT supporters carrying sticks and homemade shields camped in a ground right opposite their leader's besieged Model Town residence as police blocked all roads leading to the area by placing heavy containers.

The police also blocked all entry and exit points leading to the Minhajul Quran Secretariat as part of a plan to block PAT's August 10 protest call.

The tense stand-off came hours after the police registered a case under the Anti-terrorism Act against Qadri for allegedly inciting people to revolt against the government.

Soon after that, heavy contingents of police were deployed around the PAT headquarters and Qadri's residence nestled in the heart of Lahore's Model Town neighbourhood, making it a 'no go area.' The move ignited tension between the already angry PAT supporters and the administration.




Police officials erected makeshift barriers lined with barbed wire on all roads connecting to main Faisal Town road. Some 15 containers in all were placed along various points.

Emotionally charged and prepared to deal with the worst possible scenario, most of Qadri's supporters warned the government of dire consequences if the so called 'siege' around their leader's residence was not lifted.

Among the activists, there were scores of women belonging to Munhajul Quran who later staged a sit-in alongside with the men, who assembled outside the party's headquarters armed with batons and stones.

For much of the day, female PAT activists, who had gathered outside Qadri's residence indulged in regular chores, some of them prepared food over portable stoves using gas cylinders they had carried along with them.

According to PAT principal secretary G M Malik around 3,000 activists had gathered at the Minhajul Quran secretariat ahead of the planned Youm-e-Shuhada slated for Sunday.

However, life around much of Model Town came to a grinding halt. The heavy deployment of police force and various barriers irked local residents as traffic snarled and the streets choked.

Residents of Faisal Town and Model Town extension area had to face extreme difficulties in reaching their destinations as containers blocked roads near Barkat Market, Garden town, model town, Akbar chowk and Jinnah hospital.

Eyewitnesses said that a few ambulances were also seen stuck in the traffic mess near the Jinnah Hospital on Thursday evening. Yasir Hashmi, who was shuttling his ailing father to the hospital, said that "this is not what we had expected from the government. "If we can't even reach the hospitals, what good is it?" the commuter questioned.

Similarly, all roads leading out of Faisal Town were also blocked with containers; barriers were also placed near Akbar Chowk.

The cordoned area, which houses several colleges and offices, left citizens utterly frustrated. Rida Malik, a student at a local college in the area, said that " I couldn't sit for the exam because my car was stopped by the police"

On the other hand, Model Town extension area residents had to face extra difficulties reaching the desired destinations, at hands of the baton-wielding supporters of the PAT chief, who also blocked streets in the area leading to the party's headquarters.

Arrests in Faisalabad

Over 103 Pakistan Awami Tehreek (PAT) supporters were rounded up by police in Faisalabad division on Thursday in an effort to quell the demonstration campaign proposed by the party.

Imprisoned under Article 16 of Maintenance of Public Order (MPO), a 90-day detention order issued by district magistrate, most PAT workers have been shifted to Central and District prison facilities in Faisalabad.

In a desperate attempt to quell protests, security forces also staged pre-dawn raids and carried out arrests in Faisalabad, Chiniot, Jhang and Toba Tek Singh Districts.

According to the District Coordination Officer (DCO), Noorul Amin Mengal, detention orders for more than 50 PAT activists have been issued under Article 16 of MPO.

He said the arrests were made to maintain public order and to prevent planned demonstrations from sprouting across the city.

Meanwhile, PAT's district president, Rana Tahir Saleem Khan, condemned the crackdown against party workers and office bearers. Khan said that such acts would not deter PAT workers as they are ready to lay down their lives for their leader.

However, bluntly denying claims made by Qadri's party, Punjab Law Minister, Rana Mashhood Ahmad said that 32 of Qadri's supporters had been arrested. "We have received intelligence reports that Qadri's activists are collecting weapons and preparing barbed sticks to attack law enforcers, Mashhood added.

Some support for PAT

In a rare show of support, Pakistan Tehreek-e-Insaf (PTI) on Thursday criticised Punjab police for setting up barricades along all routes leading to PAT chief's residence.

"The barricades erected by Punjab Police to block roads leading to PAT chief's residence reflect the undemocratic approach and dictatorial mindset of  the Pakistan Muslim League – Nawaz (PML-N), such acts will only make matters worse for the ruling party," said PTI's Central Secretary Information Dr Shireen Mazari in a statement.



Published in The Express Tribune, August 8th, 2014.
COMMENTS
Comments are moderated and generally will be posted if they are on-topic and not abusive.
For more information, please see our Comments FAQ