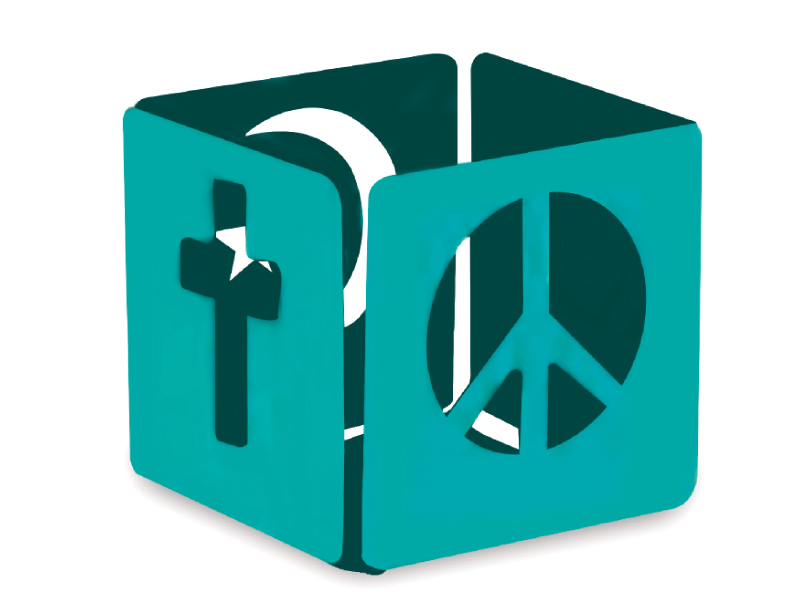 ---
ISLAMABAD:



A number of representatives of religious minorities as well as sects of Islam were present at the launch of "Charter of Peace" here on Wednesday evening.




The initiative, an effort of the Peace and Harmony Network Pakistan (PHNP), managed to engage a total of 10,000 religious institutes in the province of Punjab to promote a message of peace and tolerance.

Hundreds of members of various religious communities came together for the ceremony. The attendees wore clothing and headgear representative of their respective religious backgrounds.

Though distinct in appearance, they echoed a similar message – promoting tolerance for peace in the country.

Through the charter, the religious scholars endorsed their commitment to restoring compassion, respect and tolerance as the centerpiece of religious education.

The charter encourages religious scholars to educate the public about the fact that any interpretation of scripture that breeds hatred and violence is illegitimate.

With a special focus to engage women, it also ensures that youth must be given accurate information about other religions, traditions and cultures. The charter encourages encourage a positive appreciation of religious and cultural diversity, as well as inter-faith and inter-cultural harmony.

Speaking to The Express Tribune, PHNP Secretary General Javaid William said that the organisation faced severe resistance while making an effort to engage religious institutes for the initiative.

"Some members also received threatening messages for being a part of the programme," he said. "It took us three years, but we managed to get the Punjab governor and others to become signatories," William added.

He said that out of a total of 45,000 religious institutions in Punjab, they managed to convince 10,000. The programme aims to extend its efforts to other provinces soon.

Sister Genevieve, who hails from Lahore, said that great efforts were being made to engage women at grassroots level for promoting tolerance through religious teachings. "A total of 34 Christian missionary schools have added 'value education' as a new subject to its syllabus solely for this purpose. It is hard but not impossible," she said.

Taranjeet Singh, a representative of the Sikh community said that efforts were being made to alter curriculum of subjects such as Pakistan Studies to remove prejudice towards Hindus.

Speaking to The Express Tribune, All Pakistan Hindu Rights Movement (APHRM) Vice-Chairman Ashok Chand said that over the past few years a number of Hindus had changed their identities on their national identity cards and passports due to insecurity.

Sardar Paratab Singh, a resident of Hasanabdal said that while three Sikhs were target killed in Peshawar, Sikh community due to their distinct look found it difficult to conceal their identities.

The Sikh community numbers 15,000 in Pakistan. Since 2005, a total of 40 to 50 families have migrated to India due to increasing insecurity. Most Sikhs have also migrated from KP and Fata to Hasanabdal for the same reason.

Federal Minister for Religious Affairs and Interfaith Harmony Sardar Muhammad Yousaf said that the government was committed to protecting freedom of every Pakistani at any cost, as the Constitution of 1973 already declared all citizens equal.

"We are trying our level best to ensure peace and coexistence in Pakistan," he said. "We must remember tolerance is the key to ensuring peace," Yousaf said, adding that the government would extend all possible support to the PHNP in its future endeavours.

According to the European Organisation of Pakistani Minorities, events of violence against minorities in terms of target killing, sectarian killing, torching of holy books and temples, rape, murder, forced conversion, and abductions in the past six months have effected up to 150 Shias, 45 Hindus, 21 Sikhs, 66 Christians, 22 Ahmadis and 13 others.

Over 27 incidents of desecration of temples and holy books of religious minorities have occurred in the past six months. Around 5,000 Hindus migrate from Pakistan to other countries, primarily India, every year due to religious persecution.

Published in The Express Tribune, August 8th, 2014.
COMMENTS
Comments are moderated and generally will be posted if they are on-topic and not abusive.
For more information, please see our Comments FAQ