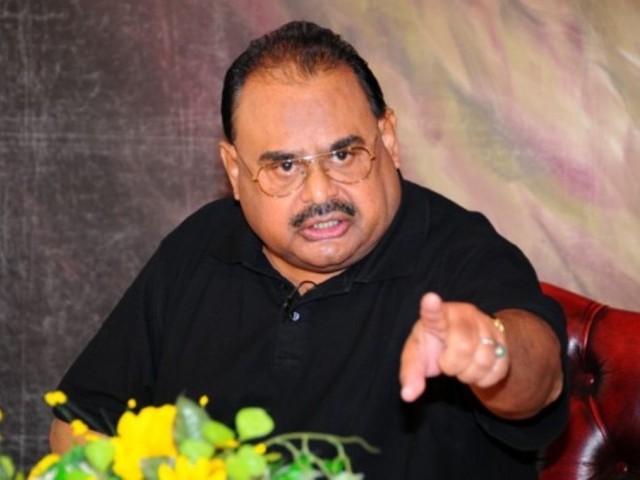 ---
KARACHI:



Muttahida Qaumi Movement (MQM) chief Altaf Hussain urged the government on Wednesday not to arrest Pakistan Awami Tehreek (PAT) leader Dr Tahirul Qadri, saying that cases against him should be dismissed.




"I would like to tell the ruling party not to arrest Dr Tahirul Qadri on political grounds. Don't arrest him or his people," said the MQM chief while addressing a meeting of his parliamentarians and senators at the Khursheed Begum Secretariat in Karachi.

Altaf was speaking a day ahead of a meeting between Prime Minister Nawaz Sharif and an MQM delegation in Islamabad to discuss the current political situation. The delegation comprising Senator Babar Ghauri, MNA Dr Farooq Sattar, MNA and deputy convener Khalid Maqbool Siddiqui and Rabita Committee member Kunwar Naveed will meet the premier in Islamabad today (Thursday).

"Protesting and demonstrating is the right of every party and citizen. It is the right of Dr Qadri to protest and to defend himself. The government should solve the matter through discussion and not use its power, and refrain from aggressiveness and threats," said the MQM chief in favour of Qadri, although the party has not shown any willingness to be part of the PAT's long march.

The government was criticising the upcoming long marches and protests but when the ruling Pakistan Muslim League-Nawaz (PML-N) were in the opposition, they were doing the same.

He said Qadri was observing Martyrs Day on August 10 to commemorate the deaths of its workers, which included men, women and children. "All these people were martyred and killed."

The MQM chief said the country was passing through a critical stage and all matters should be solved through dialogue. However, if protests are held, they should be peaceful, non-violent and free from any bloodshed.

On a separate issue, he said if his party comes to power, a law regarding new administrative units will be passed and local government bodies would be made compulsory. Meanwhile, he said a party that supports Pashtuns is sheltering the Taliban that are coming to Karachi, but it is the same party, which was destroyed by the Taliban.

MQM wants to bring a fair system in the country, where everyone including judges, should be accountable, Altaf said. He criticised his senators Babar Ghauri and Tahir Mashhadi for their role in passing the Protection of Pakistan Bill, which he called a black law. He said that now that the PPB has been passed, changes should be introduced in it.

Published in The Express Tribune, August 7th, 2014.
COMMENTS (9)
Comments are moderated and generally will be posted if they are on-topic and not abusive.
For more information, please see our Comments FAQ