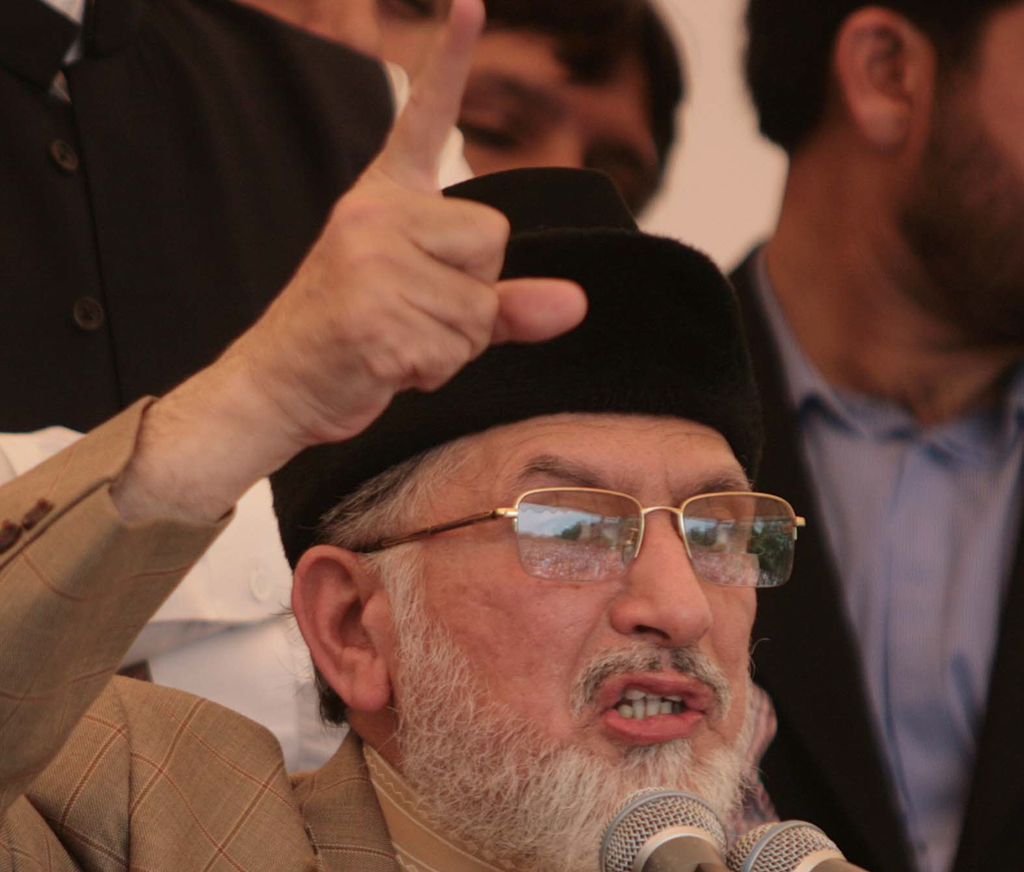 ---
LAHORE:



While the government is working out a strategy to deal with the upcoming protest marches, Pakistan Awami Tehreek (PAT) chief Dr Tahirul Qadri guaranteed on Wednesday that the August 10 Martyrs Day will be peaceful. "But if PAT workers are stopped from travelling to Lahore, the government will be responsible for the ensuing unrest," Dr Qadri told a news conference at the residence of PML-Q chief Chaudhry Shujaat Hussain in Lahore.




He was flanked by the Chaudhrys of Gujrat, Majlis Wahdatul Muslimeen president Allama Raja Nasir Abbas and Sunni Ittehad Council Chairman Sahibzada Hamid Raza.

"The Punjab government's role is murderous. Two months have passed, but the police haven't registered the FIR of the June 17 Model Town tragedy," he said. "The champions of democracy should tell me 'is this democracy'? Forcing people to cast their votes is not democracy," he added. "In Western countries even if someone injures a dog or a cat, he is sent to jail. Conversely, here in Pakistan, human beings are mercilessly murdered and nobody can raise a question."

Dr Qadri also responded to his critics who accuse him of sabotaging the democratic system. "We believe in constitutionalism and the rule of law. We only want to free the Constitution from the clutches of the rulers," he said.

He alleged that violence and bloodshed is the basis of the federal and Punjab governments."Foreign countries have told the FIA that I'm not involved in laundering of even a single rupee. This report has also been submitted to the prime minister and the interior minister. The rulers should now resign for lying to the nation," he added.

The PAT chief also said that he would not settle for midterm elections. "We have come on the streets for Roti, Kapra aur Makan (bread, clothing and shelter) for all," he added. "This real freedom will come as result of a revolution."

He once again predicted that neither Nawaz Sharif would remain the prime minister nor Shahbaz Sharif would be the chief minister of Punjab after August 31. He revealed that the PML-N has been trying to contact him for a month – but he refused to meet any PML-N leader.

On his part, the PML-Q chief, Chaudhry Shujaat Hussain, said the 'revolution' would herald a better Pakistan for all Pakistanis.

When asked by a journalist, Shujaat refused to respond to the 'nonsensical statements of the PML-N ministers'.  He said there was uproar in the country over perceived threats to democracy. "Some years back, there was a similar uproar that, God forbids, Islam was in danger, but nothing happened. Likewise we assure the nation there will be no harm to democracy."

Referring to rampant poverty and unemployment and en masse suicides by financially hard-pressed families, he said: "If the rulers call this democracy, we don't accept such democracy." He added that everyone was talking about revolution and freedom.

"This is a universal principle that freedom warrants a revolution. Our revolution is not only for real democracy but also for securing basic rights of the people, for ending unemployment and alleviating poverty."

Published in The Express Tribune, August 7th, 2014.
COMMENTS (1)
Comments are moderated and generally will be posted if they are on-topic and not abusive.
For more information, please see our Comments FAQ