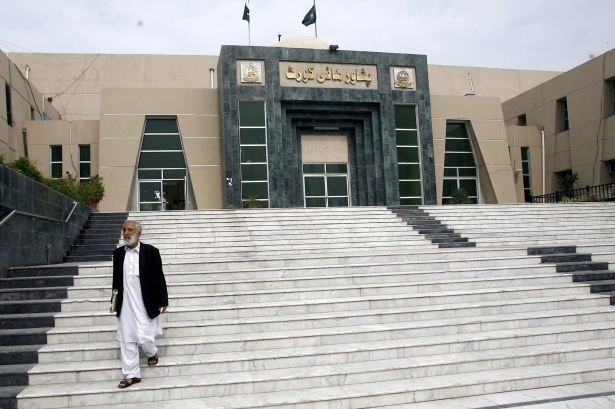 ---
PESHAWAR:



While rejecting the application of former commissioner Income Tax Department Abbottabad Asif Haider Orakzai, the Peshawar High Court released three suspects on bail in an income tax refund scam.




Orakzai, Muhammad Siddiqui and Ali Asfar were arrested on March 25 and accused of preparing bogus income tax refunds in 2008-9 by collecting signed cheques from victims of the earthquake that devastated Abbottabad in 2005. It was suspected that the accused deposited the cheques in their own bank accounts.

A PHC bench comprising Justice Ikramullah Khan and Justice Musarrat Hilali granted bail to three suspects in the income tax scam, including upper division clerk Muhammad Siddiqui, lower division clerk Ali Afsar, and another man named Jehangir Hussain.

NAB has filed a corruption reference worth Rs83.3 million against seven suspects, including the three released on bail.

In a separate case, five people allegedly involved in embezzlement while acquiring land for an official housing scheme were released on bail.

Former PHA director general Muhammad Javed and two other suspects were arrested for allegedly embezzling nearly Rs100 million while acquiring land for a scheme to house government servants and the general public in Abbottabad in 2012.

Those released on bail in this case are Director Planning Salahuddin, Assistant Director Planning Muhammad Yaqoob, front man Muhammad Asif, former Secretary Housing Zakiullah and a member of the inspection team of the Provincial Housing Authority, Sharifullah.

Barrister Mudassir Amir, the counsel for Muhammad Asif, and Qazi Jawad Ihsanullah, Zakiullah's lawyer, told the bench that their clients were wrongly implicated in the case.

Amir told the court that there was a housing scheme in Mouza Darwazi of Nathiagali where the government bought around 161 kanals at the cost of Rs1.45 million per kanal.

He said Rs298 million was paid to the owner of the land, while the government had released Rs394 million for the purchase. NAB suspected that Rs96 million had been embezzled.

Another suspect in the case, Naveed Qadir, who was the land acquisition collector at the time, confessed that Rs96 million had been illegally withdrawn from his account and he was ready to repay the amount.

After hearing the arguments, the court ordered that suspects should pay the amounts they are accused of embezzling as their bail bonds.

Published in The Express Tribune, August 7th, 2014.