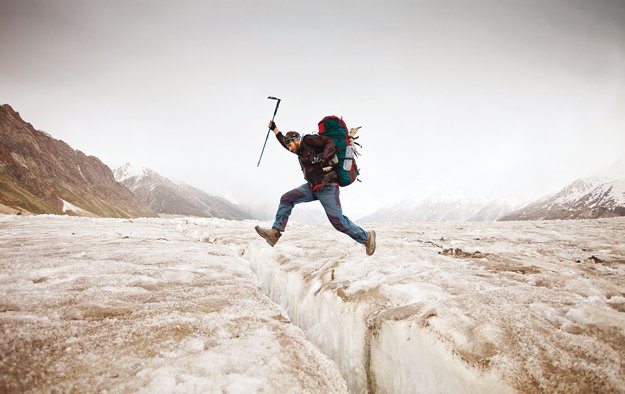 ---
Travelling and adventure treks feature high on everyone's bucket list. The rush of adrenaline, pushing boundaries and being one with nature — the feeling is sublime.




But what drives one to abandon the familiar and give into wanderlust? It can be the thrill of a challenge, a desire to explore or a quest for the perfect shot. But reasons are usually the last thing on the minds of these adventure-seekers once they set forth to scale the unknown.


Getting high

"Once you're in the middle of the Karakoram Range, surrounded by nature's magnificence, your perception of urban life changes entirely," says Saad Niazi, who has been a travel aficionado since the time  he  was a young backseat passenger squashed between his elder brothers. "All professional trekkers I've met say [that the] Karakoram Range has no equal — not Switzerland, not Italy, not France, not Canada or even Nepal. Pakistan is where the mountain and the terrain hold their own... It's the most difficult in the world."

They might be difficult but Pakistan's northern areas are one of the safest and most hospitable places you will ever traverse, shares the young, enthusiastic trekker. Even though families usually get paranoid about letting their children travel up north, most of it can be traced to the media sensationalism of the security situation there. "Initially it took time to convince my parents that this was a good idea," says 33-year-old Bilal Allawala, an avid photographer whose 'Karakoram love affair' began five years ago when one of his friends showed him a picture of Snow Lake — a glacial basin on the confluence of the Biafo and Hisper glaciers. He immediately decided to see the place for himself.





Mountains overlooking the Zardgaben campsite in Shimshal. PHOTO COURTESY: SAAD NIAZI




"People think I'm going to places surrounded by militants," shares Bilal. In reality, the problems faced by the adventure traveller there are the same as any other route — vehicle breakdowns, bridge collapses, protests, heavy rains, turbulent weather conditions and landslides — not many are security-related. On the road to Gilgit that has seen sectarian clashes in the past, the government has taken certain precautionary measures such as barring tourists from travelling at night or requiring them to travel in a convoy. "On my first trip, our bus broke down between Chillas and Juglot (bordering Gilgit-Baltistan and Kohistan, south of Gilgit). Luckily, Juglot was an army cantonment and they fixed our vehicle in 15 minutes. They also served tea and biscuits to the 20 boys and six girls on the trip," says Saad.

Tales of help and hospitality displayed by the local population in these areas are not unusual. Afterall, they know the area like the back of their hand and usually respect those who show curiosity to do the same. "They can guide you best when it comes to planning food, the number of Balti porters, tents, and so on," says Bilal. The porters are agile and tireless people who ferry massive loads of gear on their backs. While most people know about the Sherpa people of the Himalayas, the Baltis are the unsung heroes of high altitude mountaineering in the Karakoram.

"The Balti porters I have met during my treks never ceased to amaze me. Their ability to run up the mountains wearing the simplest of shoes, while we 'trekkers' follow behind with our fancy boots, is humbling. It is their strength and guidance that make all the treks possible," he says. In return, one should be courteous and take local culture and values into consideration, advises Saad.

Jet, set, go!





Bilal Allawala with porters and fellow trekkers at the Mango campsite near Biafo glacier. PHOTO COURTESY: BILAL ALLAWALA




Crossing boundaries is second nature to most adventure seekers, be it physical, psychological or those conditioned by society. Rawalpindi-based trekker Sabrina Quamber is no exception. She has traversed extreme terrain, jumped off cliffs into Khanpur Lake, paraglided, climbed rocks, skied and snowboarded, crossed two passes and attempted to summit a mountain. But it is the simple pleasures such as the encouragement from a local on her Boissum-Chafchingol and Sonia peak (a 6,400 metre peak close to the Chinese border) trek that really keep her going. After crossing the daunting Chafchingol pass, when the trekkers were walking back to the Karakoram Highway on the last day, the group split as everyone was walking at their own pace. "I had been trekking alone for an hour when I came across this shepherd with his sheep. He congratulated me for successfully crossing the pass because I was a girl. He then gave me an apple as a gift," she recalls. "It was a small token of his appreciation and that's what made the whole trip worthwhile."





A shooting star over K2. PHOTO COURTESY: BILAL ALLAWALA




The 10-day trek through the remote district of Shimshal remains Quamber's most memorable experience. Unfortunately, right after reaching the 6,000 metre mark, the ridge the group of trekkers was crossing started to crack and they had to double back. "On a trek like this, your greatest asset is a good pair of shoes," she says. "And a backpack — you won't be able to walk well or enjoy if your shoulders are all cramped. But what will really get you through is will power."





Attabad Lake. PHOTO COURTESY: MOIN KHAN




That said, it is equally important to start the journey with adequate supplies. Saad's trekking checklist includes dates, sweets, water, a sleeping bag, a buffer of at least Rs10,000, a list of local and law enforcement agencies' contacts and of course, good company. It is also important to keep your physical and skill limitations in mind — a big ego can get you into a lot of trouble in places where help is far away. When planning a trip like this, one should also be prepared for unexpected incidents. "Your plans will fall apart, your schedule will be at the mercy of the weather; you will get to use muscles you never knew you had. It will be cold and you'll get wet, hungry, and more exhausted than you have ever felt in your entire life."





Bilal often travels for miles in search of the perfect shot. PHOTO COURTESY: BILAL ALLAWALA




But according to Moin Khan, the man with a 20,000-mile motorcycle journey from San Francisco to Lahore behind him, when you are on the road for so long, you learn to trust your gut. Khan recently led a two-week motorcycle expedition with a group of eight Americans and a Malaysian from Lahore all the way to Khunjerab Pass and back. There were several accidents on the way, seven crashes to be precise. "The trick is to get right back up. The riders know what is at stake," he says. All the accidents that took place on the trip were due to rider-error. "Sometimes you're not used to the terrain or the road. Sometimes you struggle with visibility and at other times, you just try to push your luck. But it's absolutely imperative to keep your helmet on at all times," advises Moin.





Moin Khan at the Pakistan-China border on the Passu to Khunjerab Pass expedition. PHOTO COURTESY: MOIN KHAN




However, most of them agree that the hardest part is to find a group of people to go with. Because these treks end up spanning weeks, it is hard for everyone to sync their schedules accordingly.

"Putting together the right group of people to go on an adventure expedition together is very important," says Moin. Since the trip was all about letting foreigners experience a side of Pakistan they had never seen before, the right mix of people was all the more critical. The group — comprising a nurse, a musician, a person who has had survival training and a member of the police department — first spent three days visiting various historic sites in Lahore after which they took their Piaggio Storm 125cc motorcycles and headed for Islamabad, on to Mardan, Chitral, Shandur, Gilgit, Hunza, Khunjerab Pass and back. "You have to be on the crazy side to do what we do. So far I haven't planned anything." He claims he has never had trouble finding a place to spend the night or experienced security issues.

Put on your adventure cap





Sabrina going down the Chafchingol.  PHOTO COURTESY: SABRINA QUAMBER




For those with itchy feet and an appetite for adventure within Pakistan, these experts recommend the time period between March and October when the weather is most conducive. For particular routes, Bilal recommends consulting a guide book or speaking to a local guide, as various treks are organised in different seasons depending on the weather and snow conditions. "I would recommend visiting the Deosai Plains. It is a few hours' drive from Skardu and, in my opinion, the world's most breathtaking jeep ride. You can also choose to camp there, hike, or go on a bear safari." For those who are looking for something longer and more challenging, you can't go wrong with the Concordia trek, in which you will get to see K2, Broadpeak, Mashabrum, Gashabrums, and the Trango Towers.





Chittaboi Glacier — the Wakhan Corridor. PHOTO COURTESY: SABRINA QUAMBER




Moin has already planned another motorcycle expedition up north and will be revving up again for his travel initiative, A Different Agenda, in the next few weeks. "Pakistan is truly a biker's heaven. That is what I want the world to know." And his claim is certainly not without merit.





Sabrina crossing a glacier on the day of the Sonia Peak summit attempt. PHOTO COURTESY: SABRINA QUAMBER



Sarah Eleazar is a sub-editor on The Express Tribune's Lahore desk. She tweets at @SarahEleazar
Published in The Express Tribune, Sunday Magazine, August 10th,  2014.
COMMENTS (4)
Comments are moderated and generally will be posted if they are on-topic and not abusive.
For more information, please see our Comments FAQ