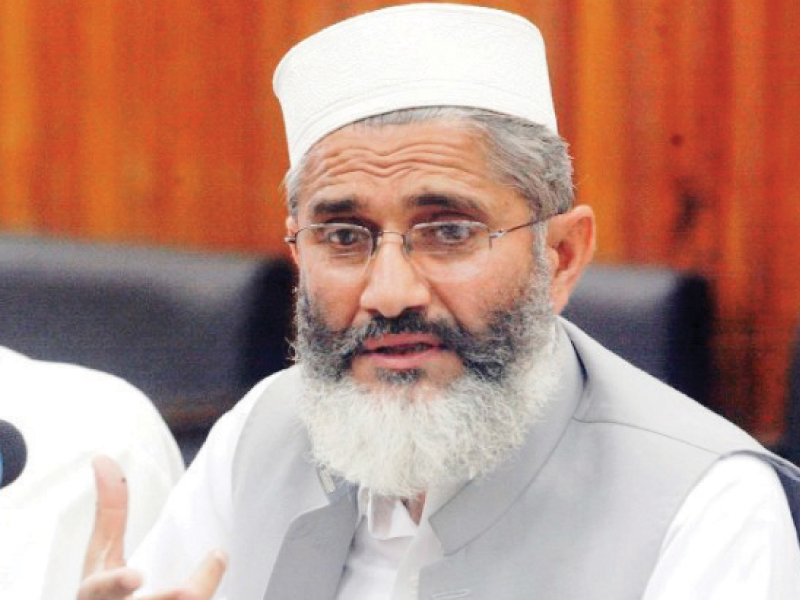 ---
ISLAMABAD: Throwing caution to the wind, Jamaat-e-Islami (JI) chief Sirajul Haq said on Wednesday that his party had yet to decide whether to participate in Pakistan Tehreek-e-Insaf' (PTI) 'Azadi march.' 

Speaking to the media outside Bani Gala on Wednesday, he confirmed that Imran had invited his party to participate in the long march, extending that invitation again today, but Siraj said he had yet to make a final decision on participation.

Siraj said his party had plans for a large programme, which would be in solidarity with Gaza, on August 10 in Islamabad, and added that there would be a Million March in Karachi.

"We are against the rigging that took place in the May 11, 2013 elections," he said, adding that rigging also took place in Karachi and that they too want a transparent electoral process.

Speaking about the responsibility of the government, he said "the government should listen to Imran Khan's complaints," adding that it was unfortunate that no action had been taken so far.

The JI chief said the prime minister should take the initiative to amicably resolve the situation, adding that the federal government still has time to solve these problems.

"We want these problems to be solved peacefully, even though some people wish for there to be conflict in the government," the JI leader said.

He added that he wishes for those responsible in the rigging to be punished, and there should be an inquiry in regards to their activities of rigging.
COMMENTS (4)
Comments are moderated and generally will be posted if they are on-topic and not abusive.
For more information, please see our Comments FAQ