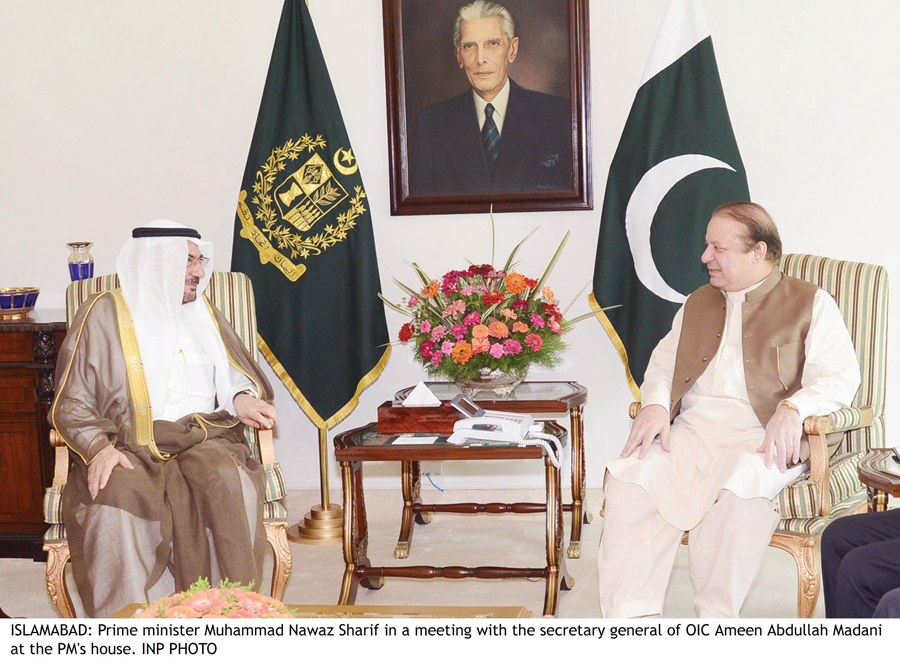 ---
ISLAMABAD: Prime Minister Nawaz Sharif has asked the Organisation of Islamic Conference (OIC) to step forward as the voice of the Muslim Ummah and take concrete measures to resolve the political and humanitarian crisis in Gaza.

"This is the time for the OIC to not only raise its voice against Israel's atrocities but also take concrete measures to facilitate a long-term solution to the issue," the prime minister said in a meeting with OIC's secretary general Iyad Ameen Madani.

According to a statement issued by the PM office, Nawaz paid particular attention to the situation in Gaza. He underscored the deep anguish of the people of Pakistan over the plight of their Palestinian brothers and sisters who were being subjected to persistent and indiscriminate attacks by Israel for nearly a month.

"It was particularly worrying that hundreds of women and children have also died in Gaza," he said.

Nawaz appraised the human cost of the Israeli offensive and expressed alarm over the mounting death toll in Gaza that has increased to 2,000.

The prime minister pledged that Pakistan was prepared to assist the OIC and the Muslim Ummah to stave off this political and humanitarian crisis, the statement added.

The statement revealed that Nawaz shared with the secretary general a copy of the resolution adopted by the National Assembly of Pakistan on August 4 regarding the situation in Gaza.

Madani shared the prime minister's concerns and apprised him of the measures that the OIC has taken to address the situation. The secretary general specifically lauded Pakistan's contribution in the adoption of a resolution titled 'Ensuring respect for International Law in Occupied Palestinian Territory, including East Jerusalem' at the 21st Special Session of the UN Human Rights Council in Geneva on July 23.

Published in The Express Tribune, August 6th,2014.
COMMENTS (1)
Comments are moderated and generally will be posted if they are on-topic and not abusive.
For more information, please see our Comments FAQ