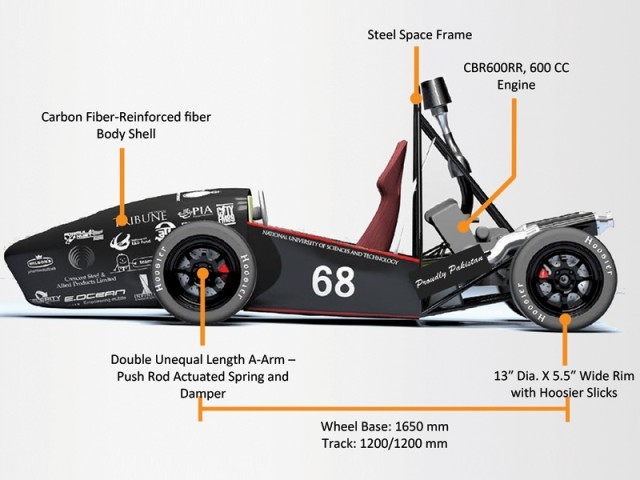 ---
ISLAMABAD: Named after late Naval Captain Nadeem Ahmed (Shaheed), the concept car manufactured by the students of National University of Science and Technology (NUST) improved its position by 33 steps in comparison to its performance last year and stood 51st out of 106 teams from all over the world.

The annual formula student competition that was held at the famed Silverstone Circuit in England between the 9th and 14th of July also declared Team Pakistan as the team with the best media support, as the participation of the car at the competition was covered 88 times in the print media and 30 times in the electronic media, said a press release.

Shah Talha Sohail, driver of the NAS 14 sports car and a member of the team, paid special kudos to the Pakistani media for supporting the car. "When we arrived at Silverstone, everyone was skeptical about the performance of the team among [opponents from] developed nations, however the excellent support by the Pakistan media and its recognition at the competition was a big boost for the whole team ahead of the competition," he stated after his return from the trip.

According to Talha, the NUST team managed to surpass a number of experienced teams including India, Turkey and Egypt. He shared that NAS14 also managed to clear five out of six inspections and tests. "Last year none of the tests were cleared," he remarked. The Formula NUST Racing team was supported by Interactive Group, O3b Networks and Sri Lanka's EZY Racing. Interactive Group CEO Shahid Mahmud and EZY Racing CEO Shafaraz Hamzadeen paid tribute to the young NUST students for their "big leap forward".

Formula Student, run by the Institution of Mechanical Engineers, challenges student engineers from all over the world to design, build and race a single seat racing car in one year. These sports cars are then judged on their speed, acceleration, handling and endurance in a series of time-trial races, while the teams are also tested on various counts..

Published in The Express Tribune, August 6th,2014.