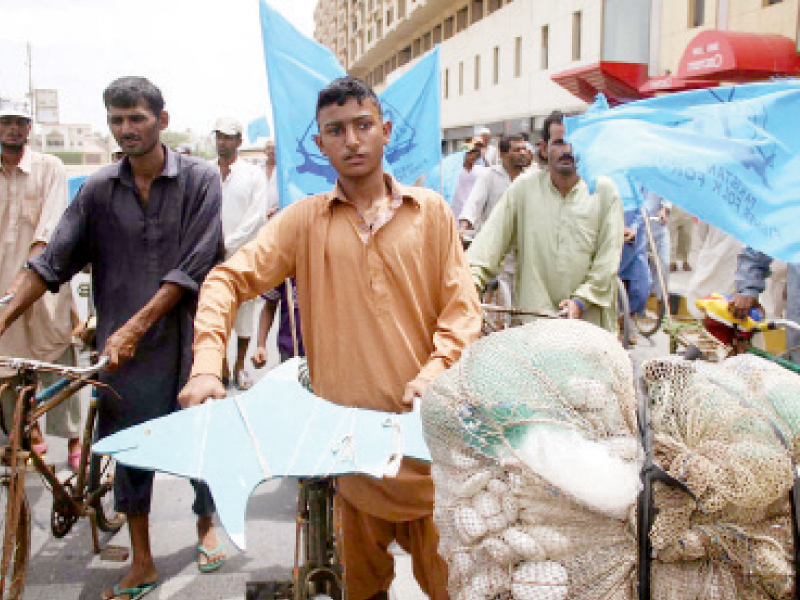 ---
KARACHI:



The fishermen of Gizri continued their protest for the second day at Sea View on Monday against the authorities over the fishing ban imposed in the area.




The fishermen warned that they will protest in the entire province if the ban is not removed soon. Fishermen from Keamari, Shireen Jinnah Colony and Ibrahim Hyderi joined hands with the fishermen of Gizri, who are not being allowed to fish at the Sea View and its surrounding areas.

The protest was organised by the Pakistan Fisherfolk Forum (PFF) and the fishermen marched around the area and held a sit-in for at least two hours, shouting slogans against the administration. "The government should make laws to prevent people from visiting the beach but must not restrict the fishermen," said Karachi division PFF president Majeed Motani. "This is an illegal act," he added, saying that thousands will suffer because of the ban.

"We are not being allowed to fish," said Motani. He said that the government should instruct police and other officials deployed around the beach to allow the fishermen into the sea as their livelihood depends on it. "We'll launch province-wide protests if our demand is not met," Motani warned.

The fishermen alleged that the authorities, including DHA, were not allowing them to fish even before the drowning tragedy.

On the other hand, the DHA has denied the allegations. "We haven't stopped any fishermen," clarified DHA chief engineer Brigadier (retd) Syed Hasan Raza, adding that fishing does not come under the DHA's jurisdiction.

Published in The Express Tribune, August 5th, 2014.