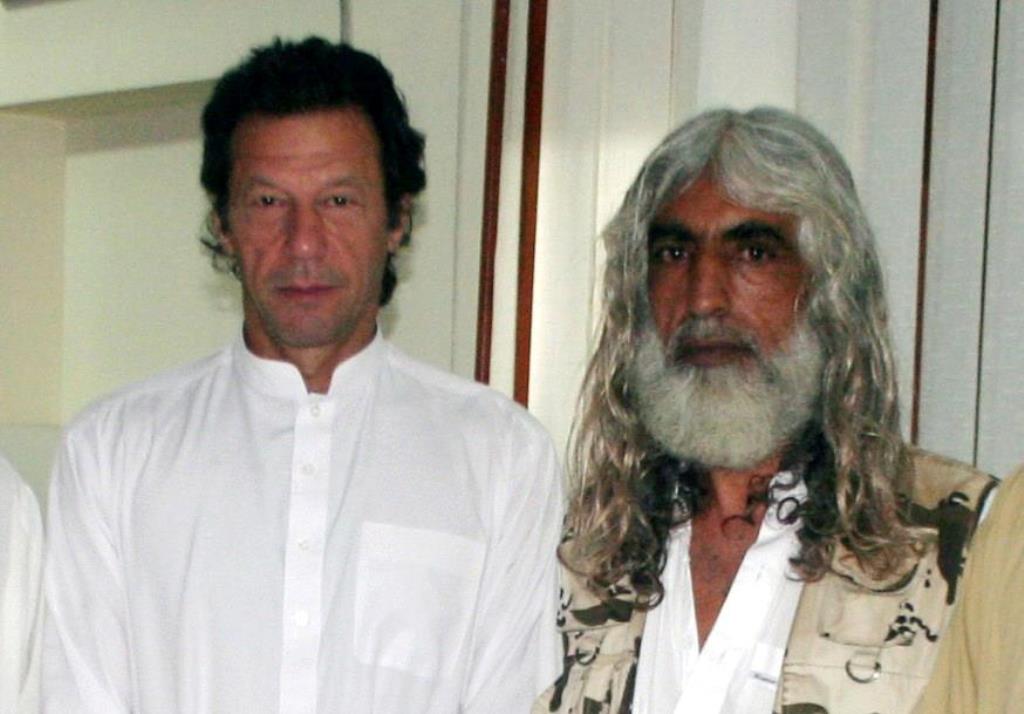 ---
PESHAWAR:
Life in a constant state of flux is what would be an apt description for Faqir Jamshed Ahmad, a geologist-turned-Sufi who then raised his own militia against the Taliban before he joined the Pakistan Tehreek-e-Insaf (PTI).
Even then, Jamshed contested elections from the Pakistan Saraiki Party's (PSP) platform, taking a more nationalistic stand, albeit, without much choice.
On Monday, that flux turned static. An improvised explosive device planted on the road exploded just as Jamshed's car passed by Maddi outside DI Khan. The impact killed Jamshed, his driver and his guard.
Jamshed's death is the second major political assassination in DI Khan in a second consecutive year. Khyber-Pakhtunkhwa's lawminister Israrullah Gandapur was killed in a suicide attack in October 2013 during Eid celebrations at his house.
Coming full circle
"He died the day he was born." His brother Faqir Haroon told The Express Tribune that Jamshed was born on the same day in the August of 1961.
Jamshed belonged to Kulachi tehsil in DI Khan, a predominantly Saraiki area. He completed his early education in DI Khan but went on to earn a master's degree in geology from the University of Peshawar in the mid-80s, according to his brother.
Born in a family which followed the famous Sufi scholar, Sultan Bahu, Jamshed also adhered to the same spiritual leanings. After the death of his grandfather Faqir Noor Muhmmad Kolachi, Jamshed was appointed the Sajda Nasheen (successor) of the local order.
That is when Jamshed's spiritual journey began, said his brother. His disciples are not just in Pakistan but as far as India, South Africa and the United States.
According to Haroon, Jamshed helped translate a number of works which were published in Sanskrit, French and eight other languages.
"There are more than 15,000 followers of the same Sufi order in South Africa and we run it, through the Noor Bahu Foundation International, in the United States," said Haroon.
Friction with the Taliban
Jamshed's views of religion and the Sufi order were in direct confrontation with the rising influence of the Taliban in and around DI Khan, bordering South Waziristan.
He had been threatened and attacked by then TTP chief of the DI Khan chapter, Anwar Jannapur.  It was then that Jamshed raised a lashkar of about 500 men to counter the influence of the Taliban in Kulachi.
Although his family says that they did not know that Jamshed had received direct threats, Jamshed himself made sure around 150 armed men were standing guard in his area for protection.
Officials, however, confided, saying there were indications that such targeted attacks were to increase. They were well aware of the situation that had developed as a fall out of Operation Zarb-e-Azb in North Waziristan.
The political man
Jamshed's political affiliation with the PSP was a direct result of PTI's decision against allotting him a party ticket to contest elections. Standing from NA-24, DI Khan against political stalwarts like Maulana Fazalur Rehman , Jamshed did not stand a chance and lost.
But according to a close aide, "Jamshed wanted to do something for his people."
Jamshed is survived by two daughters.
Published in The Express Tribune, August 5th,2014.