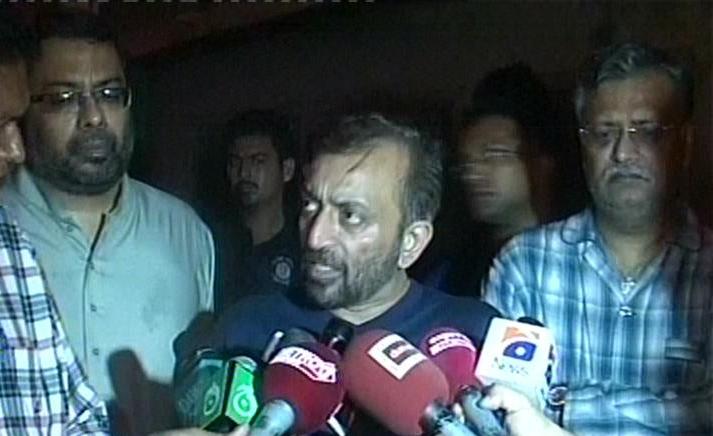 ---
KARACHI: Rangers laid siege to the house of Muttahida Qaumi Movement (MQM) leader Farooq Sattar and removed all barriers around his residence during a search operation early Monday morning, Express News reported.

The security personnel also took Sattar's guards into custody and seized their weapons. The raid, which took place in the Pir Ilahi Baksh (PIB) Colony, started at 2am and lasted for half an hour.

Two of Sattar's neighbours, Yasir and Shamshad, and visitor Kashif were arrested during the search operation. The area was blocked for traffic as Rangers personnel swept the neighbourhood.

In a press conference following the raid, Sattar said that, "I am left unprotected after the arrest of my guards and seizure of my 9mm pistol".

Requesting Chief Minister Sindh Qaim Ali Shah and Corps Commander Karachi to take notice of the incident, Sattar said one of his neighbours arrested in this raid was a party member.





An Express News screengrab of Haider Abbas Rizvi, Dr Sagheer Ahmed and Farooq Sattar outside Sattar's house after the raid.


Rangers personnel claimed they had not raided Sattar's residence and that the search was conducted in a street next to where the MQM leader lives. They further said that the two suspects arrested during the early morning raid were allegedly involved in target killing and extortion.

Stating that no barriers were removed, Rangers officials added that negative propaganda against the ongoing search operation should be avoided.