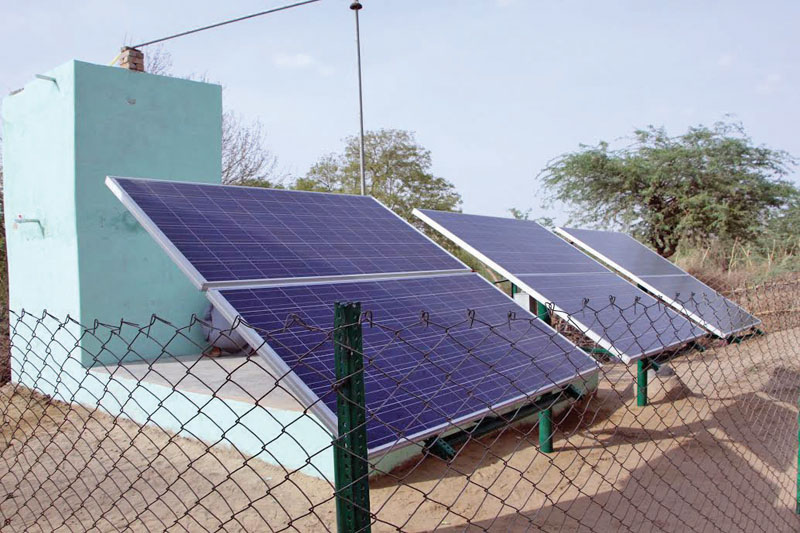 ---
KARACHI:



Every day, at 9 am, Bashir Ahmed leaves home for a job he takes very seriously. Making a meagre Rs1,000 a month, the 21 year old solar-powered water pump operator is content. "I am helping people get clean water. I am doing a good deed." 




Ever since one of the few and perhaps most innovative solar-powered pumps started pulling out water for the people of village Nasrullah Sand in Tharparkar district, Sindh, life has changed for the residents. For the women of this village who normally spent an average of four hours every time they went to pull out water from dug wells, the solar pump is a Godsend. "I used to work to earn for my family only on alternate days, as I had to carry water home with my children every alternate day," says Fatima, 31 years old and a mother of four. Fatima who contributes to the family income by doing embroidery and sewing clothes will now be able to earn more. The physical stress will also be lesser on Fatima. But not every woman of this village was lucky enough to witness this change in time. "A woman called Amna from my village had no option but to carry heavy water home like most of us, while she was pregnant. She lost her baby. No Amna should have to lose her baby because of carrying water," says Fatima.

This solar-powered water pump has a capacity to drag out 19,000 liters of underground water daily. The well is some 300 feet deep. But the most innovative part of this well is that it has the metering system. This system ensures keeping a measure of how much water the houses where the water is supplied are using. Until now, lines of water have been set up to some 30 houses in the village. Water is transported from the water tank where water is dragged. The villagers pay the village committee responsible for taking care of the problems of villagers 20 paisas per litre for the water.

With droughts almost a regular feature in Tharparkar, locals rely on dug wells and have traditionally pulled out water manually since generations. Entire families and their animals spend a big chunk of their lives pulling out water. This dragging out of water poses its own set of problems and dangers. "We Thari people survive on Than (cattle) and Kan (grains). Our animals become weak due to pulling water loads. So do our women and children. The rope that pulls out the bucket, when pulled by animals, is dragged into animal waste and soil. The same rope goes into the well. Thus the water would get contaminated. With this technology we are getting clean water at home," says a relieved Haji Jeearo Sand, a social worker of the area.  "I can't have enough of this clean water," adds Fatima.

"Every day, three to four family members plus their animals have to go through this exhausting process for most of the day," says Jan Muhammad Samoo who works for AWARE (Association for water, applied education & renewable energy). The solar-powered water pump has been introduced in Nasrullah Sand by AWARE with the support of (ADP) Association for Development of Pakistan. The drop-out rate from school of children in Tharparkar is high, and this process of water carrying is a major reason.

Apart from tedious and time-consuming, the process of dragging out water is also risky. On July 16 this year, three labourers were buried alive while digging a well in the village of Unaro Bheel, Nangarparkar. Normally dug wells are dug manually. The diameter of these wells is usually three and a half to four feet, which means if a person slips and topples into it, he has nothing to hold on to. He will fall into the abyss of the well, some 300 meters deep. In many cases, if the earth experiences unfelt vibrations, that is all it takes to topple people into the well.

Tharparkar district is almost always in the news on account of water scarcity, malnourishment, food insecurity and droughts.  The district spread over 22,000 square kilometres has a population of more than 1.4 million and about 5 million in livestock. Between January and March this year, some 200 children lost lives in Tharparkar due to malnourishment and water-borne diseases as a result of drought and scarce clean drinking water. "Water issues lead to migrations, malnutrition and vulnerability to many socio-economic problems," says Ali Akbar Rahimoo, executive director of AWARE.  "What we need is an integrated water policy for Thar," he says, adding that the donors investing in this region as well as the government should give priority to solving water issues.

Published in The Express Tribune, August 4th,2014.
COMMENTS (8)
Comments are moderated and generally will be posted if they are on-topic and not abusive.
For more information, please see our Comments FAQ