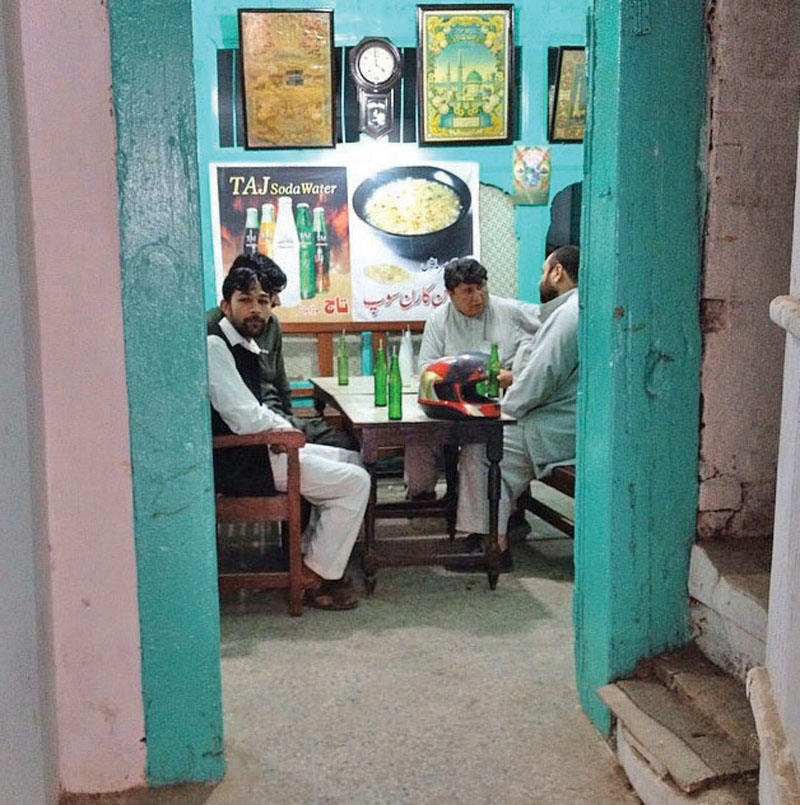 ---
PESHAWAR:



Smack in the middle of Peshawar's Qissa Khwani Bazaar is a soda shop where residents of the area­—loyal customers, have been going to quench their thirst since 1936.




These days Taj Soda Shop is run by Waqas Hussain Taj, his brother Zahir Husain Taj and their father Mukhtar Husain Taj.

"This place was set up by my grandfather, Taj Muhammad Khan in 1936. At that time, there was our shop and another soda shop not too far from here," said Waqas. "I joined my father and brother right after I graduated. It was expected of me. My grandfather had asked my father to start working with him as soon as he took his matric exams."




The summer and monsoon months are the busiest at the shop. "Tourists, shoppers and residents come here a lot in the summer," Waqas told The Express Tribune. "Our milk soda which is made of fresh milk, soda and gas is most popular. There was a time we used to serve more than 12 flavours; these days we only have orange, milk and lemon."

Till a couple of years ago, Waqas said, they also had rose, raspberry and vanilla flavors, but as the demand died, so did the flavours.

"Many of our old customers, who have been coming here since my grandfather started the shop, still visit," he said. "They order their favourite drinks and sit, chat and remember the good old days." He added that these days business was really suffering due to the city's law and order situation.

"The bombs don't make business easy for us," claimed the young businessman. "We used to make 10 to 15 crates of drinks but now we are down to five which means around a 100 bottles."

Waqas said his brother comes to the shop in the evenings to make the drinks.

The process of making the drinks is quite simple. First the bottles are filled with a mixture of fruit essence or milk and sugar and then with gas and water from the soda machine.




His personal favourite is the milk soda. "It's perfect after a heavy meal," he said as he took a sip of his favourite drink. "A doctor from Lady Reading Hospital told me that it was also good for patients suffering from typhoid and malaria."

Niaz, according to Waqas, has been working with them for the last decade or more. "Niaz helps us serve, make the drinks and clean up," said Waqas. "Since the shop is small—at our busiest we can seat up to 50 people, we only have one person working with us."

For Niaz, working at the soda shop means he can take a break anytime during the day, sit back and drink a bottle of milk soda. Sometimes, when he feels adventurous, he has the lemon soda.

Published in The Express Tribune, August 4th,2014.