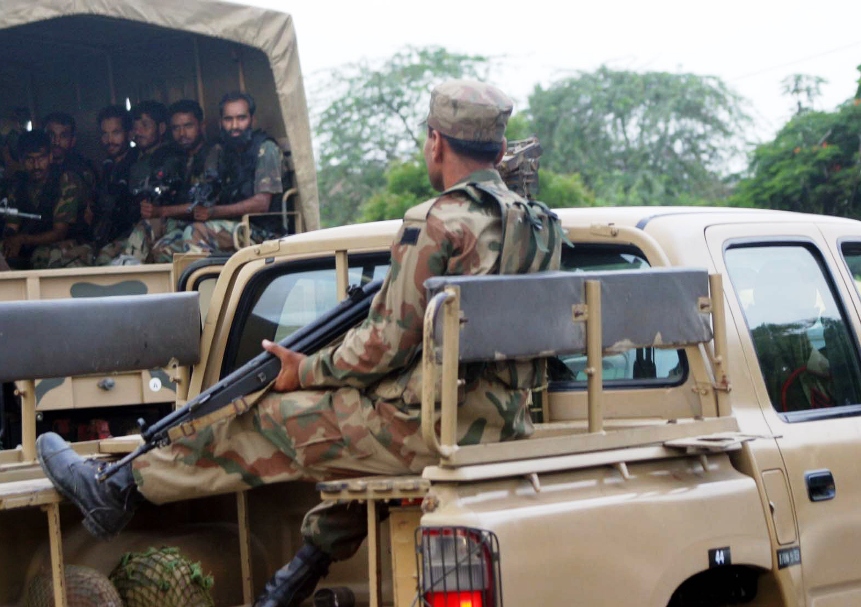 ---
ISLAMABAD:



A defence official said on Saturday that the June 14 call up of 352 troops in the federal capital was only a forward position and not a deployment of forces, explaining the invocation of Article 245 by the Pakistan Muslim League-Nawaz government.




The decision was taken in an effort to assist the police and Rangers for the security of Islamabad. "No more troops will be called and they will have no political function," the official added.

The federal government is poised to clarify the decision in the upcoming session of the National Assembly on Monday.

The official, meanwhile, explained to The Express Tribune that soon after Operation Zarb-e-Azb was launched against militants, troops were moved to forward locations in Islamabad to quickly respond to any possible blowback.

Therefore, there is nothing new in the order and now it is up to the federal government to decide how long it wished to post soldiers at important installations.

Confirming that the capital was not being handed over to the army, an interior ministry official said that a contingent from of the military would only assist the police and civil administration at sensitive installations and serve as a rapid response force.

Currently, five companies of the army have been deployed on forward locations in Islamabad. They have been tasked with securing the Benazir Bhutto International Airport Islamabad, main offices of the judiciary, the Parliament, the Presidency and the Prime Minister Houses, foreign missions, foreign office and other important installations.

While the government claims the decision was taken on June 14, a notification implementing Article 245 was not issued before July 24. According to the notification, the request for the deployment of army had been forwarded by the Chief Commissioner Islamabad.

As per the notification, the army would have powers under the Anti-Terrorism Act 1997 and the armed army men would have the same authority as that of a police officer. The armed forces would be also permitted to use force after giving due warning and hold the authority to rummage any building without a search warrant.

The government's move has been roundly criticised by the opposition parties, including PPP, PTI and ANP, who cite its grave implications for political stability and civil-military relations in the country.

Published in The Express Tribune, August 3rd, 2014.